Analysis by Nadim Majeed and Yudhanjaya Wijeratne

Visualizations by Yudhanjaya Wijeratne

Edited by Aisha Nazim
What parts of our government are most often marked for corruption?
In 2021, the Commission to Investigate Allegations of Bribery or Corruption (CIABOC) raided these institutions the most:
Since 2016, 40 institutions have been raided by CIABOC from 2016. We've put them in a database (but we excluded 2018 no institutional breakdown was provided)[1].
Of these, the Sri Lanka Police usually hold the top spot. Every year, there's a handful of officers of the law who are accused: be they Assistant Superintendents of Police, Police Inspectors, Sergeants, or constables.
Apart from the Police, other officials who are most often the target of raids tend to be either from the Department of Education (mostly school principals), or from local Public Administration; specifically Divisional Secretariats (DS) and Local Government Authorities (LGA) — ranging from Grama Niladharis to the Divisional Secretaries, and the heads of local councils (Pradeshiya Sabha, Urban Councils & Municipal Councils).
According to CIABOC's Annual Report, 2018 seems to have been an exceptionally fruitful year in targeting high level officials, with suspects including the former President's Chief of Staff, the Chairman of the State Timber Corporation, and the Chairman of the National Livestock Development Board. Suspects in 2018 also featured a Chief Inspector of Police, a Sub Inspector, the Inspector of Fisheries, and the Import and Export Controller. 2019 had your everyday policemen, and the Railway General Manager, former Railway General Manager, the Commercial Superintendent of Railways, and the Former Aviation Minister, amongst others.
What about taxes and money laundering?
The Tax Justice Network, which focuses on matters of finance, estimates that we lose 78 million US dollars because of tax evasion.
To put it in context, this amounts to approximately the cost of fully vaccinating about 21.37% of the population against COVID-19. About 67 million USD of these annual losses are caused by global tax abuse committed by multinational corporations. The other 11 million USD on average seems to be because of tax evasion by private individuals.
We aren't great in the Tax Justice Network's Financial Secrecy Index (FSI) but then gain, we're small fry in the international arena.
scroll through the viz below for a neat little breakdown
The FSI tries to be the 'world's most comprehensive assessment of the secrecy of financial centres and the impact of that secrecy on global financial flows.' Various records regarding company ownership and taxes are very secretive in Sri Lanka, making this an easier place than most to hide money. Overall, we ranking 39th in the world (1st being the worst). However, we account only for 0.05 per cent of the global market for offshore financial services_,_ making us a 'tiny player'. [2]
How is our corruption viewed by the international private sector?
The Global Advice Network's Sri Lanka Corruption Report for 2020 puts us in bad shape.
The Global Advice Network isn't a government or NGO construct; rather, it's a private corporation with public sector ties. This particular portal was originally financed by the Governments of Austria, Denmark, Germany, Netherlands, Norway, Sweden and the UK, and uses a lot of qualitative analysis - often citing newspaper reports. Think of it as an example of how international private sector reports would view Sri Lanka. [3]
We converted their rating scale for corruption (five divisions from low to high) into numbers for visualisation. In 03 out of 08 categories, we hit the maximum score for corruption. No score in any category goes below a 03, or a 'moderate' corruption score.
To hear it from them: There is a moderately high risk of corruption for businesses in Sri Lanka. The most common forms of corruption include facilitation payments paid to avoid bureaucratic red tape__, bribe solicitation by government officials, nepotism and cronyism__. There is a high-level of corruption in the public procurement sector . . . while Sri Lanka's government has started to enforce the anti-corruption laws, enforcement remains constrained by a lack of resources and technical expertise, and powerful political elites often go unpunished for committing corruption crimes.
What is the mainstream international perception of how corrupt we are?
On the most recent Transparency International's Corruption Perception Index (CPI), Sri Lanka scored 37 out of 100. This gives us a world rank of 102.
Transparency International's Corruption Perception Index (CPI) uses data sets from multiple surveys and indices to calculate each country's score.
0 being highly corrupt, and 100 being very clean, this puts us at a solid F on the report card. Sri Lanka's score has been pretty stagnant since the new CPI methodology was introduced in 2012, indicating that perception of public sector corruption has remained unchanged for most of the last decade [4].
Selective blindness, inconsistencies and challenges:
Whilst we relied on CIABOC's reports for the data, disclaimers are warranted. Firstly, whilst the Commission withdraws cases in the courts, several high profile corruption allegations also seem to have flown under CIABOC's radar.
Here's a few that don't show up here:
That business involving kickbacks to purchase Airbus aircrafts for SriLankan Airlines. The last the public heard of Kapila Chandrasena, former SriLankan CEO and Priyanka Wijenayake, his wife, who Newsfirst noted were arrested in March 2020 before being granted bail, there doesn't seem to have been much progress in the case. Questions regarding the involvement of Nimal Perera, popular High Net-worth Investor (HNI) and stock market guru, remain unanswered by investigators. In March 2021, SriLankan announced that they were planning to sue Airbus SE, seeking damages amounting to $1 billion (Sidenote - Airbus' bribery scheme resulted in the largest global corruption settlement, amounting to $3.9 billion in penalties). The Criminal Investigations Department (CID) led the investigation while CIABOC was seemingly uninvolved; strange, as the Commission was set up to investigate crimes specifically of this nature.
The controversial bond scam of 2015, where flawed indictments resulted in the dismissal of certain charges against the accused, including Ravi Karunanayake (former Finance Minister) and Arjuna Mahendran (former Governor of the Central Bank).
When the Pandora Papers leak exposed offshore wealth held by former MP Nirupama Rajapaksa and her spouse Thirukumar Nadesan, President Gotabaya Rajapaksa ordered the CIABOC to conduct an investigation and furnish a report within a month. This was last October; as of the time of writing, this report has not yet been made public. Given, the Tax Justice Network's estimated annual loss of tax revenue of 78 million USD highlighted above, off-shore holdings by Sri Lankan nationals that have been exposed through various leaks so far, may only constitute a drop in the ocean.
Furthermore, the presentation of data — for us at least — is quite a bit inconsistent. While scraping through the Commission's progress reports and annual reports, we encountered a few more blatant errors. For example, the report screenshotted below says it covers 2017-2020. The subheading points to a table covering years 2005-2019. However the data in itself if for the years 2014-2020.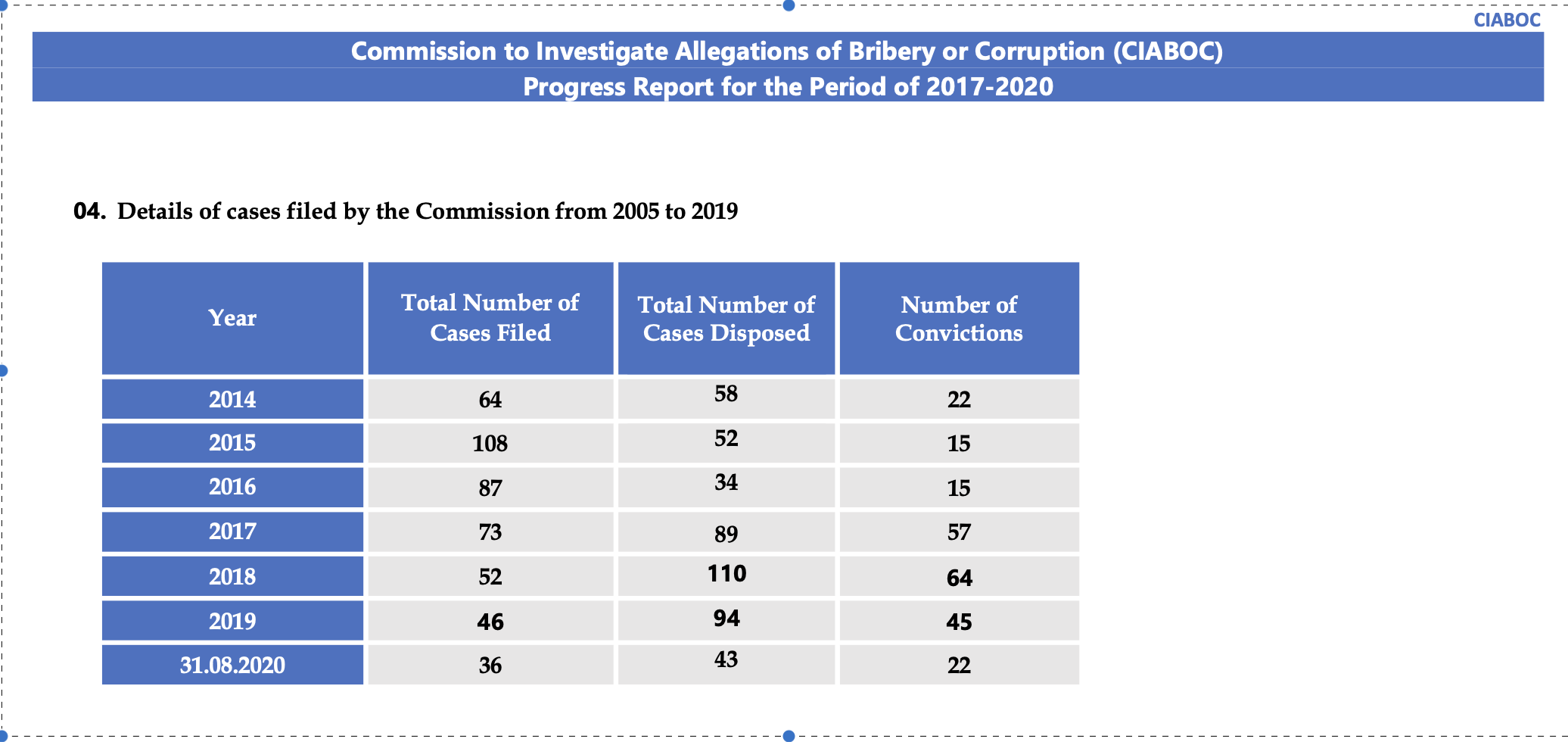 You can probably see how this was confusing.
Likewise, formats of each report were ad hoc. Whilst somewhat detailed annual reports were available for 2016 through 2019 - meaning they included a table of contents, an executive summary, breakdowns of the types of complaints, finances and whatnot, consequential reports for 2020 and 2021 lacked most of these.
As at 31 December 2021, a total of 263 bribery and corruption trials were ongoing in the courts. These include 60 in the Magistrates Courts, 201 in the High Courts and 02 cases at the Special High Court Trial-at-Bar. No new cases have been filed at the Special High Court since 2019.
The Commission also faces numerous challenges which impact its ability to function as an effective Anti-Corruption Agency – low salaries for their legal officers, the continuous postponing of cases, and lack of experienced judges for 'complicated corruption cases' as per CIABOC's own Progress Report for 2018. A particular point of concern is also the volume of acquittals. In response to a recent RTI application, CIABOC noted that they had withdrawn 38 cases, filed at the Magistrates' Courts and the High Courts.
Footnotes
Estimating corruption is incredibly difficult. The nature of crime is that you don't know exists it until you catch it, and even then, getting it to public perception - let alone a court case - is a difficult task.
For this explanation, we've had to rely on a number of indicators.
[1] In a bid to 'create a society free from bribery and corruption', the Government of Sri Lanka established the Commission to Investigate Allegations of Bribery or Corruption (CIABOC) back in 1994. This Commission is tasked with enforcing two key pieces of legislation: the Bribery Act and the Declaration of Assets & Liabilities Law.
In a nutshell, this is the branch of law enforcement that is tasked with keeping all of our public officials honest; from Members of Parliament and Judges, right down to Police Constables and Grama Niladharis (local administrators).
[2] The TJN's methodology is here: https://fsi.taxjustice.net/en/methodology
Sri Lanka does not currently feature in TJN's Corporate Tax Haven index (CTHI), which may change in the future with the Port City Colombo designated to function as an international financial centre.
[3] The GAN integrity portal, once called the Business Anti-Corruption Portal, was used because among the private sector analyses, it's one of the better-cited. This doesn't make it or its sources any more high-quality than any other report produced by a think tank or a business research company - we use it here to show perception as picked up by the general private sector toolkit.
[4] Transparency International's methodology is not perfect; there are plenty of critiques about it. Its data sources include the Bertelsmann Stiftung Sustainable Governance Index, Economist Intelligence Unit Country Risk Service, World Bank Country Policy and Institutional Assessment, World Economic Forum Executive Opinion Survey, and the World Justice Project Rule of Law Index Expert Survey. Anja Rowher, while arguing that 'generally speaking, corruption can be measured' they also acknowledge weighting issues and skewed data (such as relying on interviews with elite business people) in the CPI and World Bank's Governance Indicators. Budsaratragoon & Jitmaneeroj took a more interdisciplinary approach and even suggested modifications to the process.
Data for this piece
GAN Integrity's corruption profile for Sri Lanka, 2020
https://s3-us-west-2.amazonaws.com/secure.notion-static.com/df82d20c-61e1-4a15-81d3-3d285649f96f/FSISriLankaReport2020.pdf
https://s3-us-west-2.amazonaws.com/secure.notion-static.com/fd77ec2f-1ef7-449a-846e-3ce0a9c776f5/CIABOC_2014_Annual_Report.pdf
https://s3-us-west-2.amazonaws.com/secure.notion-static.com/52d72af7-dea7-40e8-846f-85e6b923bea8/CIABOC_2014-2020_Report.pdf
https://s3-us-west-2.amazonaws.com/secure.notion-static.com/497fe072-260c-4b79-859c-da223872f03c/CIABOC_2015_Annual_Report.pdf
https://s3-us-west-2.amazonaws.com/secure.notion-static.com/e5370cc9-f52a-4656-a3f0-59bc25df8fd4/CIABOC_2016_Annual_Report.pdf
https://s3-us-west-2.amazonaws.com/secure.notion-static.com/d3e24563-d95a-4076-a27e-da6a361b3677/CIABOC_2017_Annual_Report.pdf
https://s3-us-west-2.amazonaws.com/secure.notion-static.com/52a59ddb-326e-4ded-b0bf-ecb5981c382c/CIABOC_2018_Annual_Report.pdf
https://s3-us-west-2.amazonaws.com/secure.notion-static.com/ac54f3a6-95ab-4da2-ae7e-3187d8d75bfe/CIABOC_2018_Progress_Report_to_Parliament.pdf
https://s3-us-west-2.amazonaws.com/secure.notion-static.com/59f3331d-9755-4c3a-af78-d2c087b0d67f/CIABOC_2019_Progress_Report.pdf
https://s3-us-west-2.amazonaws.com/secure.notion-static.com/070e7ea9-3745-42bb-b167-59a83a211599/CIABOC_2019_Annual_Performance_Report.pdf
https://s3-us-west-2.amazonaws.com/secure.notion-static.com/2ffdebd9-d808-4a69-8742-f54a1e6fa3a5/CIABOC_2020_Progress_Report.pdf
https://s3-us-west-2.amazonaws.com/secure.notion-static.com/3be50851-9e3c-4b0b-88e8-4f217647a12a/CIABOC_2021_Progress_Report.pdf