Over the next six months, we'll need millions of units of medicine and equipment. Here's introducing Elixir, and how you can help out.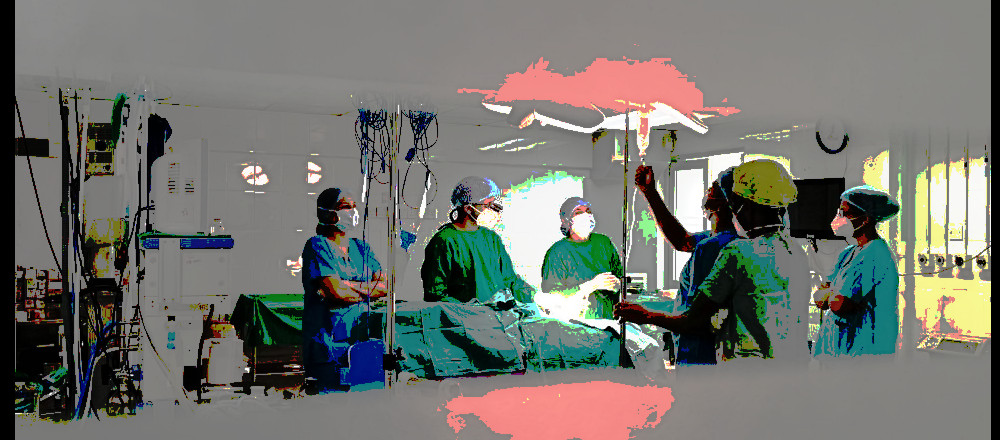 Note: this article has been updated to be a summary of the situation as of May 4, 2022. If you're looking for the guide on how to donate, click here.
Sri Lanka is experiencing a critical shortage of medicines and equipment. Medical staff across the country, unions like the Government Medical Officer's Association (GMOA), and even international news outlets have been banging the drum on this.
The reason for this crisis is simple: the majority of the medicines used by the Sri Lankan healthcare system are produced elsewhere. National economic mismanagement has made it difficult for hospitals to procure what they need. Doctors from hospitals all over the country have been taking to WhatsApp, Instagram, Facebook and Twitter to raise awareness of massive shortages in critical medicines.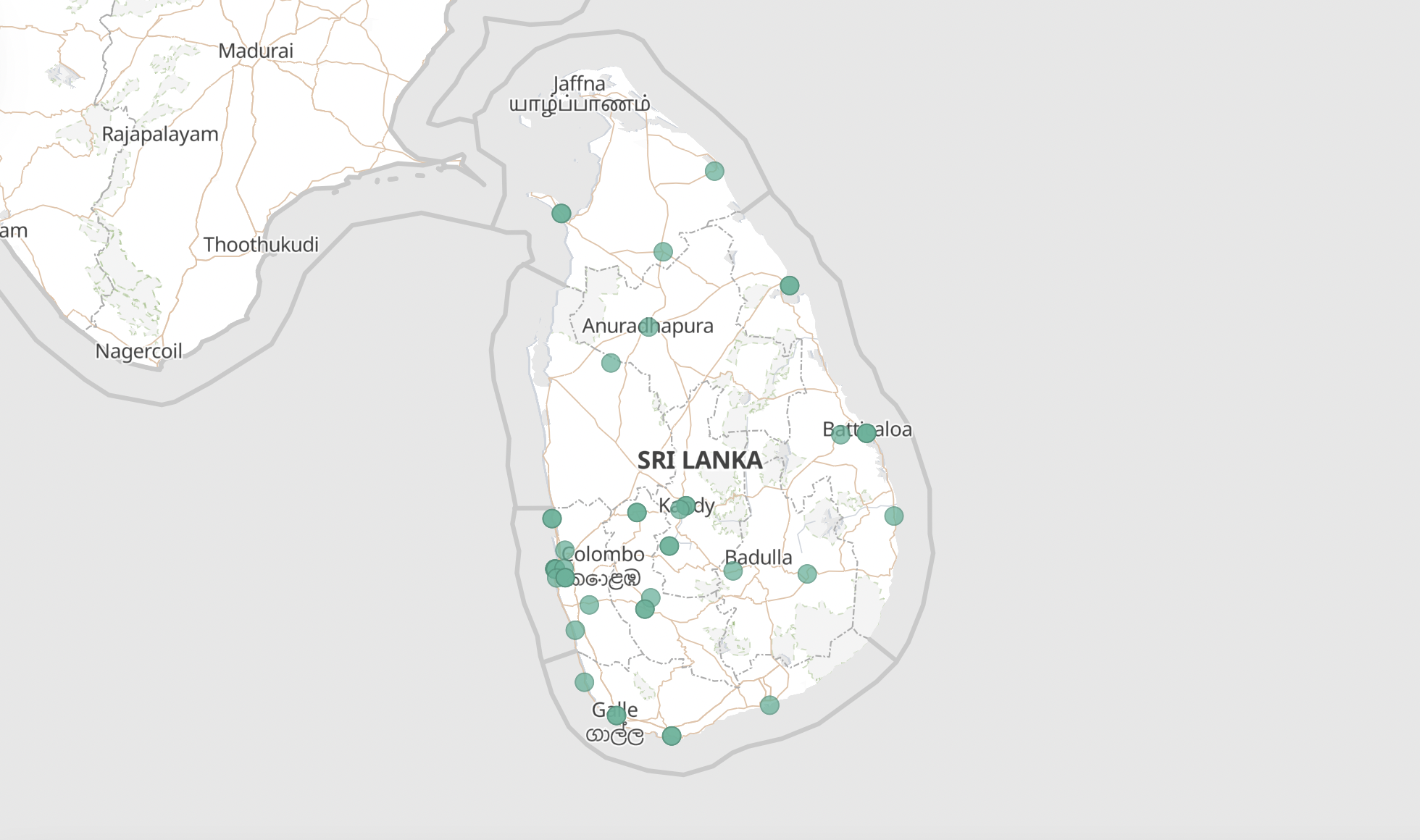 Added to this, the Department of Government Information denied the unfolding crisis, prompting our factchecks.
Fake news: No Shortage of Medicines or Surgical Equipment - Department of Government Information pic.twitter.com/hL2kROyZDH

— WatchDog (@TeamWatchDog) April 12, 2022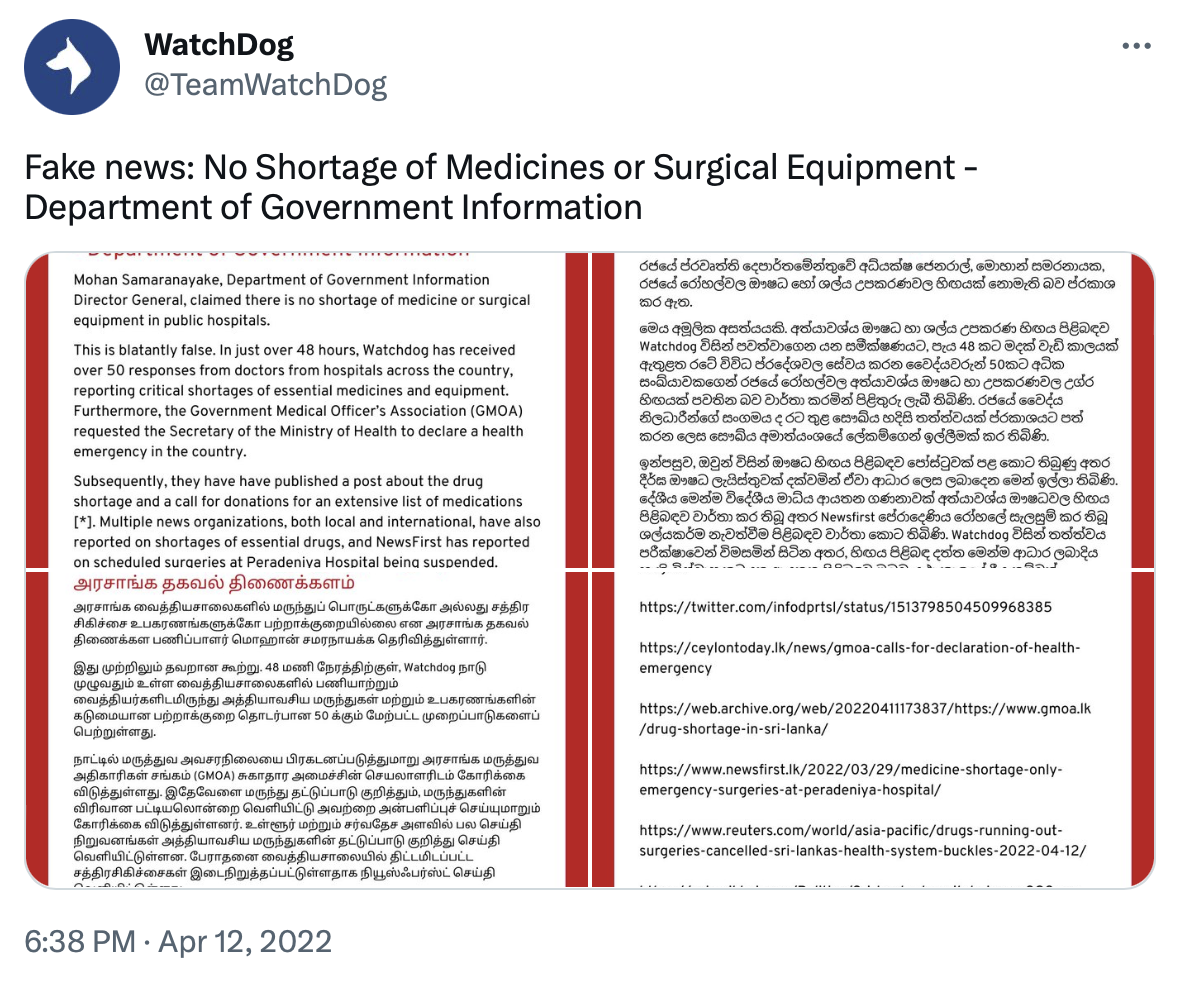 To map out the problem, both for public record and to help donations, we built a piece of software that collects medical needs from across the country in one single, central, publicly accessible database.
It's called Elixir (elixir.watchdog.team), and it brings together requirements from both a national level and a per-hospital level.
At a national level, we have official requirements lists sent to us from the Ministry of Health's Coordinator for Health Care Donor Activities. At a hospital level, we have data directly from local medical staff at hospitals around the country, from the locations you see above.
Here's a picture of some of the direst needs of the hour. There are 38 medicines from the Ministry of Health's Urgent list.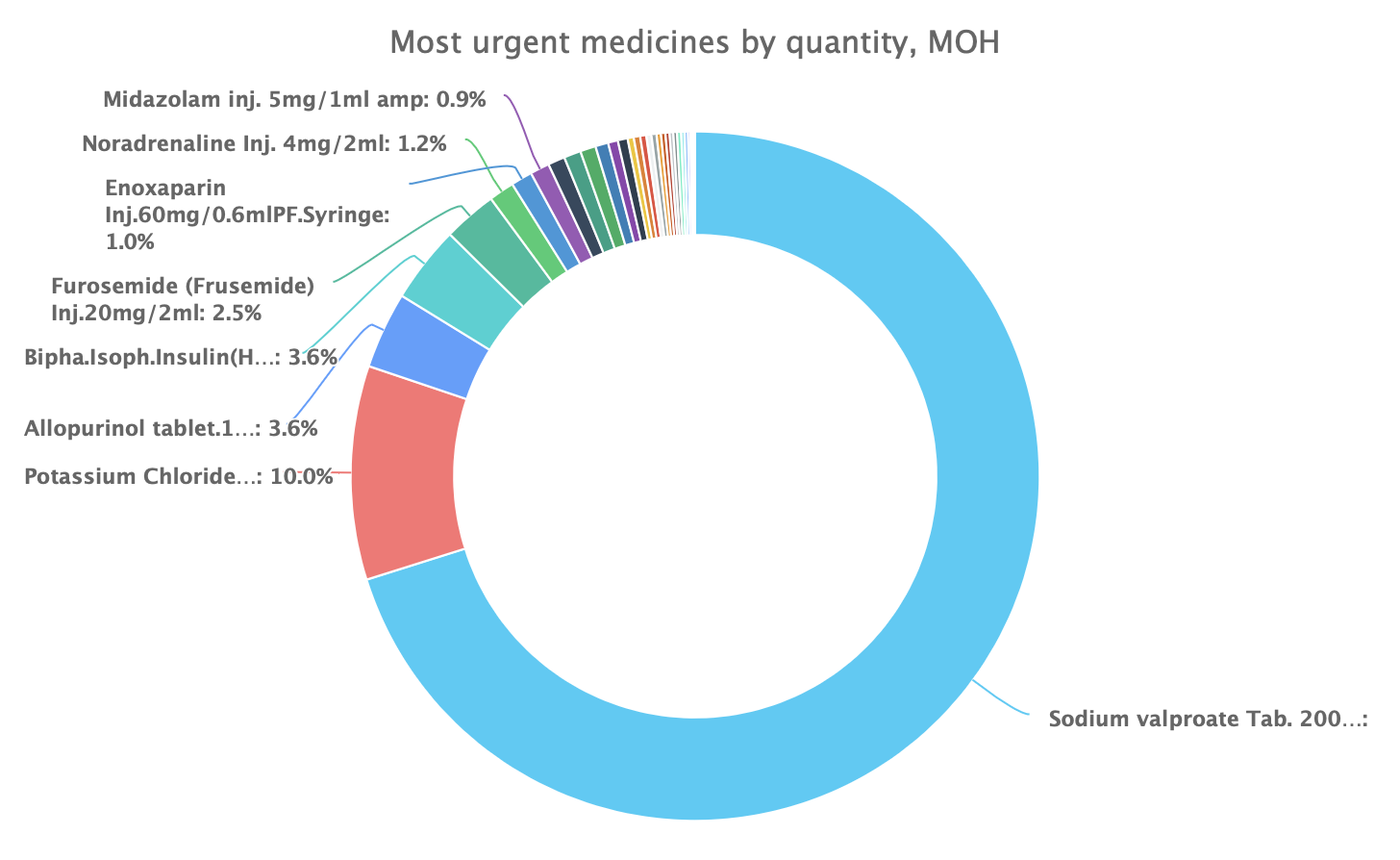 We desperately need 17.5 million 200mg Sodium Valproate tablets. Sodium Valproate is used to treat epilepsy and bipolar disorder.
Then we need 2.5 million tablets of Potassium Chloride — used to treat low potassium levels in people, but also used for some types of heart surgery and prescribed for people after they've had heart surgery.
What next? Insulin, used to treat diabetes; furosemide, to treat high blood pressure and fluid build-ups in the body, especially those caused by heart failure; also used to help with liver and kidney issues.
Allopurinol to treat gout and kidney stones. Noradrenaline to maintain blood pressure. Enoxaparin, an anti-coagulant that helps prevent blood clots.
This is merely the most urgent list. The full list, including non-urgent medicines (read: things that might become urgent if this goes on) numbers another 278 types of medicines and 112 types of equipment (everything from catheters to IV bags to endotracheal tubes).
We even need neo-natal endotracheal tubes — these are the tubes they need to help babies breathe.
Over the next six months, the country needs millions of units of medicines and equipment. As we said above, the problem is that the bulk of medicines required aren't produced in Sri Lanka.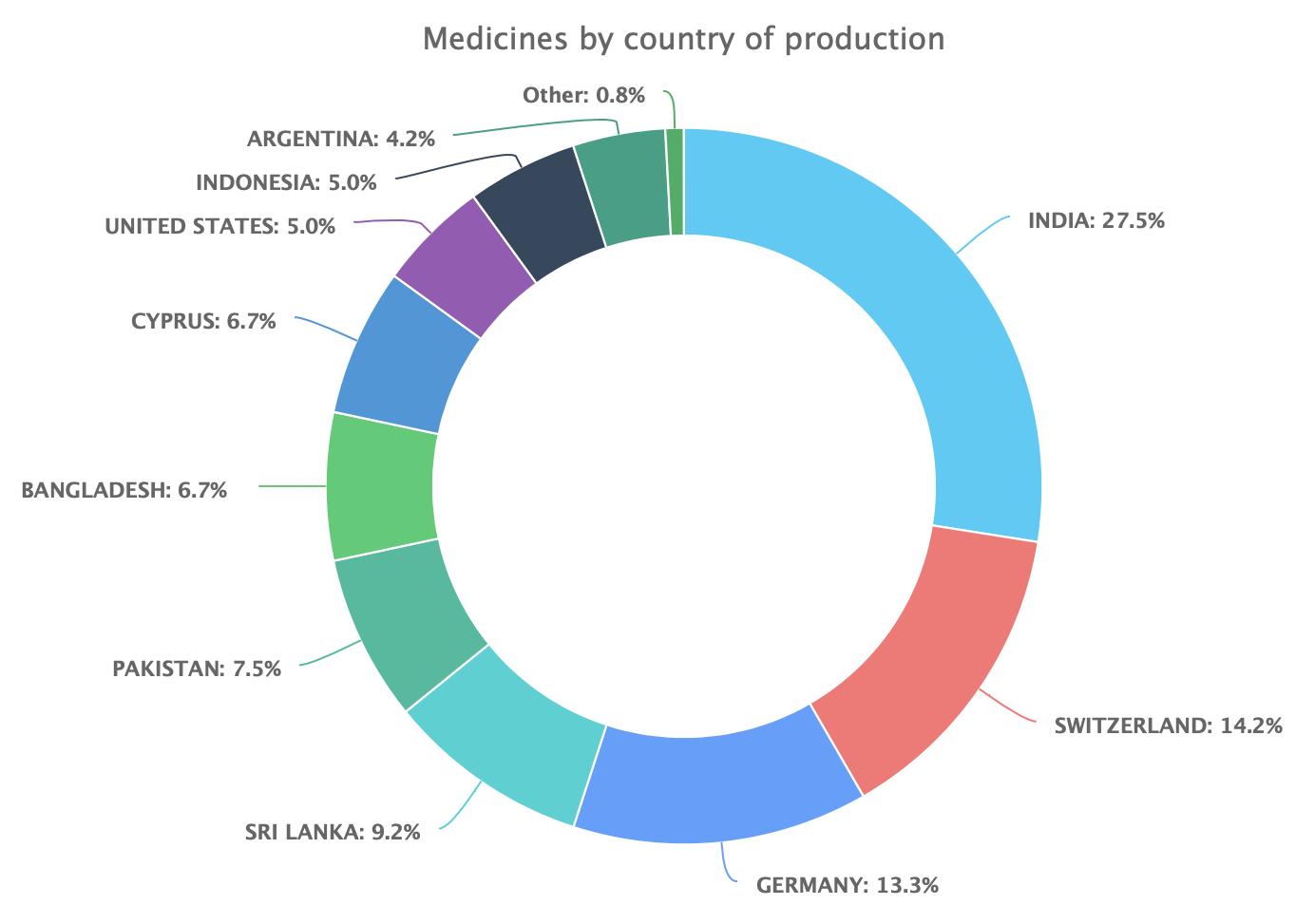 From the data we've gathered on Elixir, we can say that only 9.2% are produced in Sri Lanka. The rest have to come from India, Switzerland, Germany, and a number of other countries, including Cyprus, Bangladesh, Indonesia, the USA and Argentina.
You can see every request by going to elixir.watchdog.team. Use a computer if possible; we're still working on complete mobile responsiveness.
If you're a medical officer, and the hospital that you work at has a shortage, you can create a new request on Elixir. We'll review it and make it public so that your needs can be seen.
Our national healthcare system is free and universal for all citizens. With a relatively minute fraction of the spending, it has kept Sri Lankan health indicators comparative with the developed world. Whatever political crisis befell the country, medical staff have been saving lives for decades.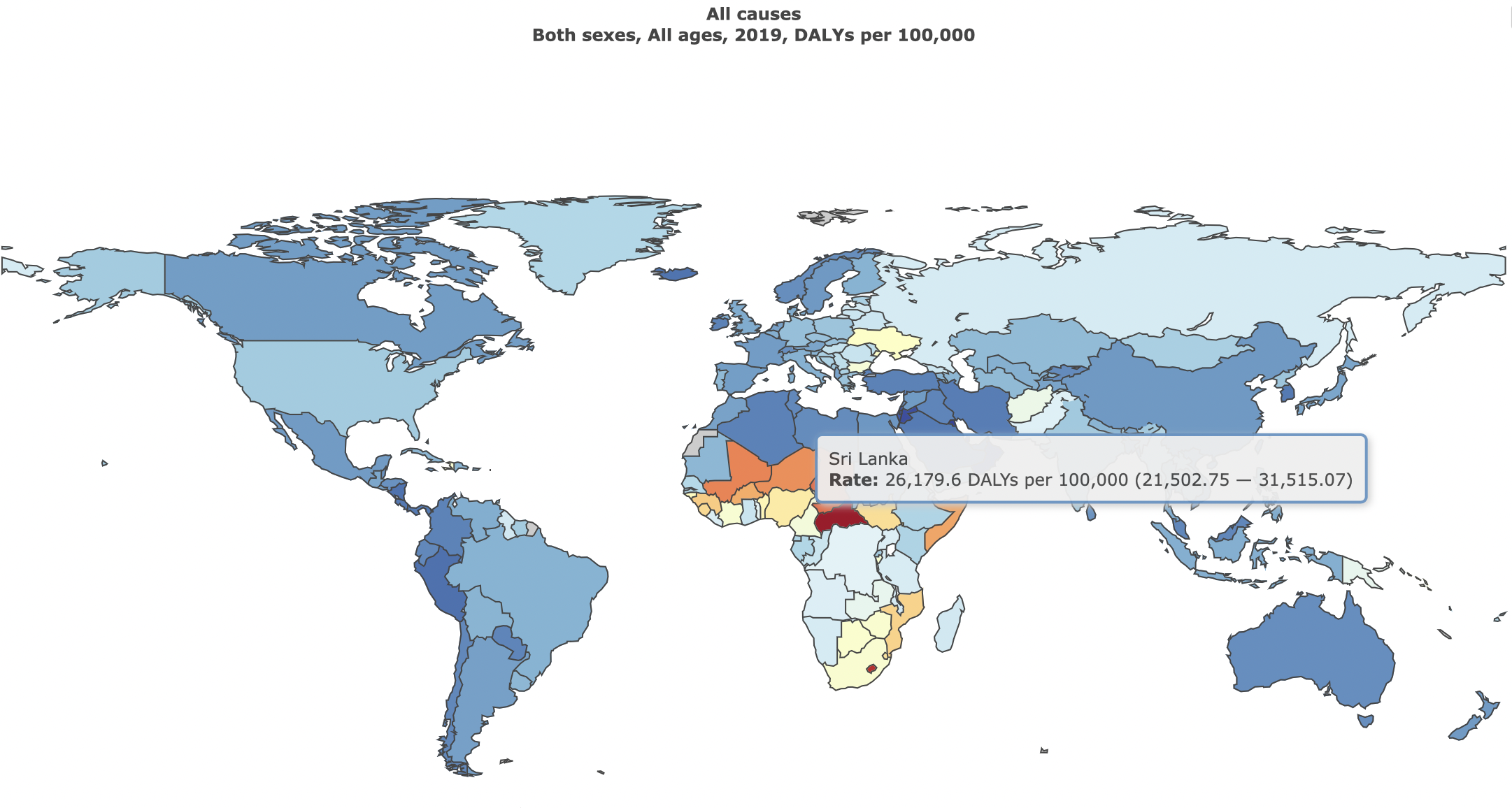 From the Institute for Health Metrics and Evaluation: Disability-adjusted life year (DALYs), a measure of overall disease burden, expressed as the number of years lost due to ill-health, disability or early death. Sri Lanka is roughly comparable to Australia, Spain and France in these metrics.
Some of the questions we keep being asked is why and how this happened. Did nobody notice? Did we really let things go so far?
We have no answers for these right now; or rather, we have no energy for these questions right now. We are living through system failure, from electricity to healthcare. The hard questions will come later. The immediate priority is that this system, which takes care of us, now needs us to take care of it.
Elixir will run as long as needed.
Do what you can. We'll do our best as well.
---
The data for the visualisations in this piece.
Medicine requests, urgent
Medical requests, non-urgent
Medicines by country of production
Importers that can serve these medical needs
---
இலங்கையின் மருத்துவ நெருக்கடிக்கு நன்கொடை வழங்குவது எப்படி?
ශ්‍රී ලංකාවේ වෛද්‍ය අර්බුදය වෙනුවෙන් ආධාර කරන්නේ කෙසේ ද?