A new year, a new you, places to go, people to see, and then you find that your bank has converted all your foreign currency earnings into Sri Lankan rupees.
How factual was Governor Cabraal's statement?
What about the dollars you had in your account before 28 October?
And so the many enterprising freelancers, influencers and consultants with overseas clients descended on Twitter like the Wu-Tang Clan looking for their "Dollar dollar bill y'all".
I was just informed by @HSBC that all my USD will be converted to LKR as per a Govt gazette.

They asked me to sign a form of consent, to which I refused.

They also mentioned that many local banks have already begun converting WITHOUT consent.

Interesting times…. #lka

— Dasuni Athauda (@AthaudaDasuni) January 4, 2022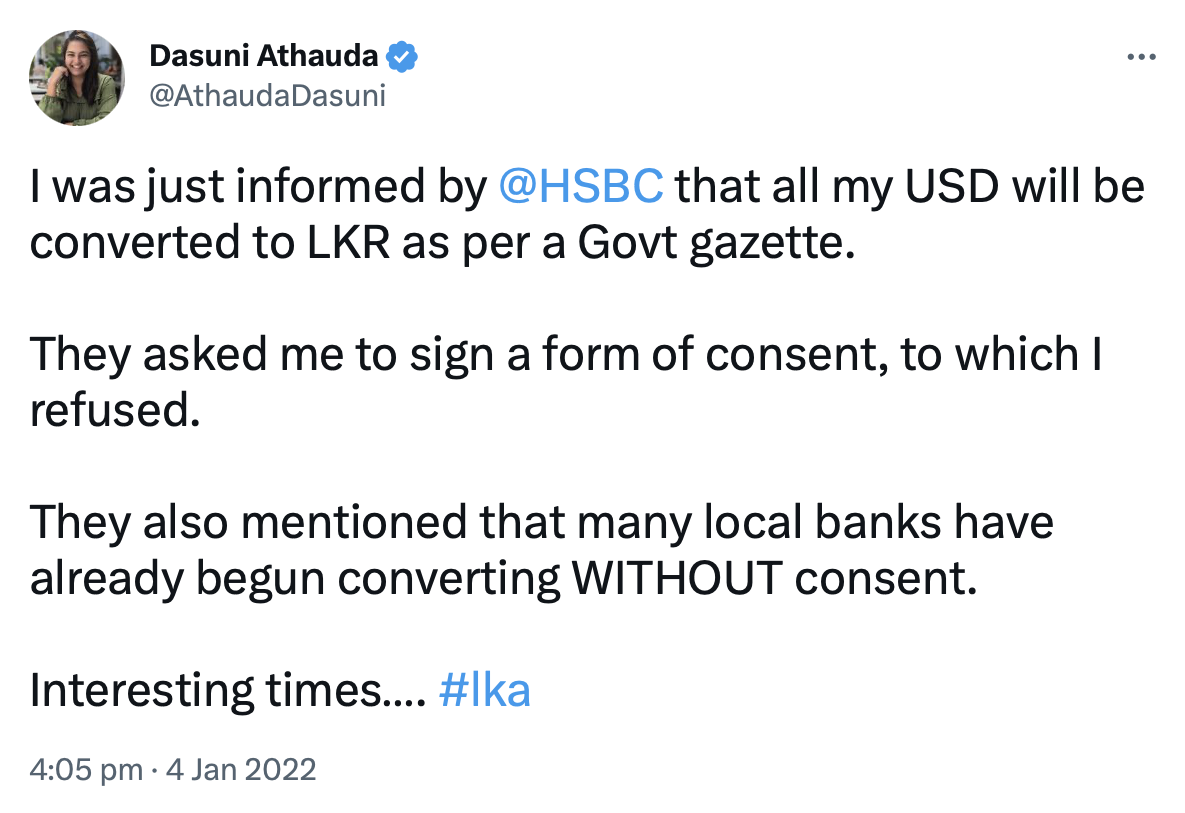 "The USD in my RFC Account has been converted to LKR without any prior notice to me.....until this crooked government is no more, I will never bring another dollar to this country" Thanuja Malimbada @CBSL @an_cabraal is this your plan? pic.twitter.com/42YEjoqN7C

— Jeevani (@Jeevanifdo) December 29, 2021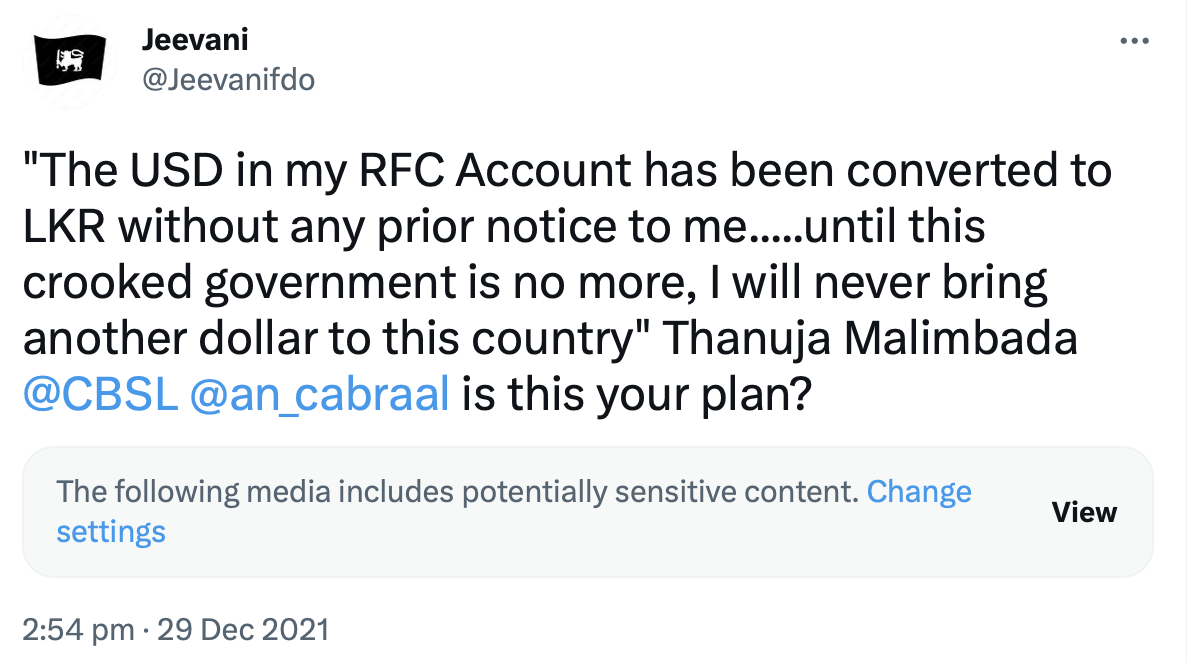 Whilst confusion spread and accusations were being leveled at the banks for forcing customers to convert their inward remittances, Ajith Nivard Cabraal, the inimitable Governor of the Central Bank of Sri Lanka, took to Twitter to dub these reports as 'mischievous elements' spreading false rumours that the CBSL had ordered banks to forcibly convert balances in their customers' forex accounts.
If you are calling these 'rumors', as the Governor of the @CBSL can you please check why the local banks are freezing the USD when we remit it from overseas @an_cabraal? Surely you should know what the banks in #SriLanka are doing. #ForcedForexConversionHappenedToMe https://t.co/pHwUvHJl0O

— ARUNI (@aruni_t) January 5, 2022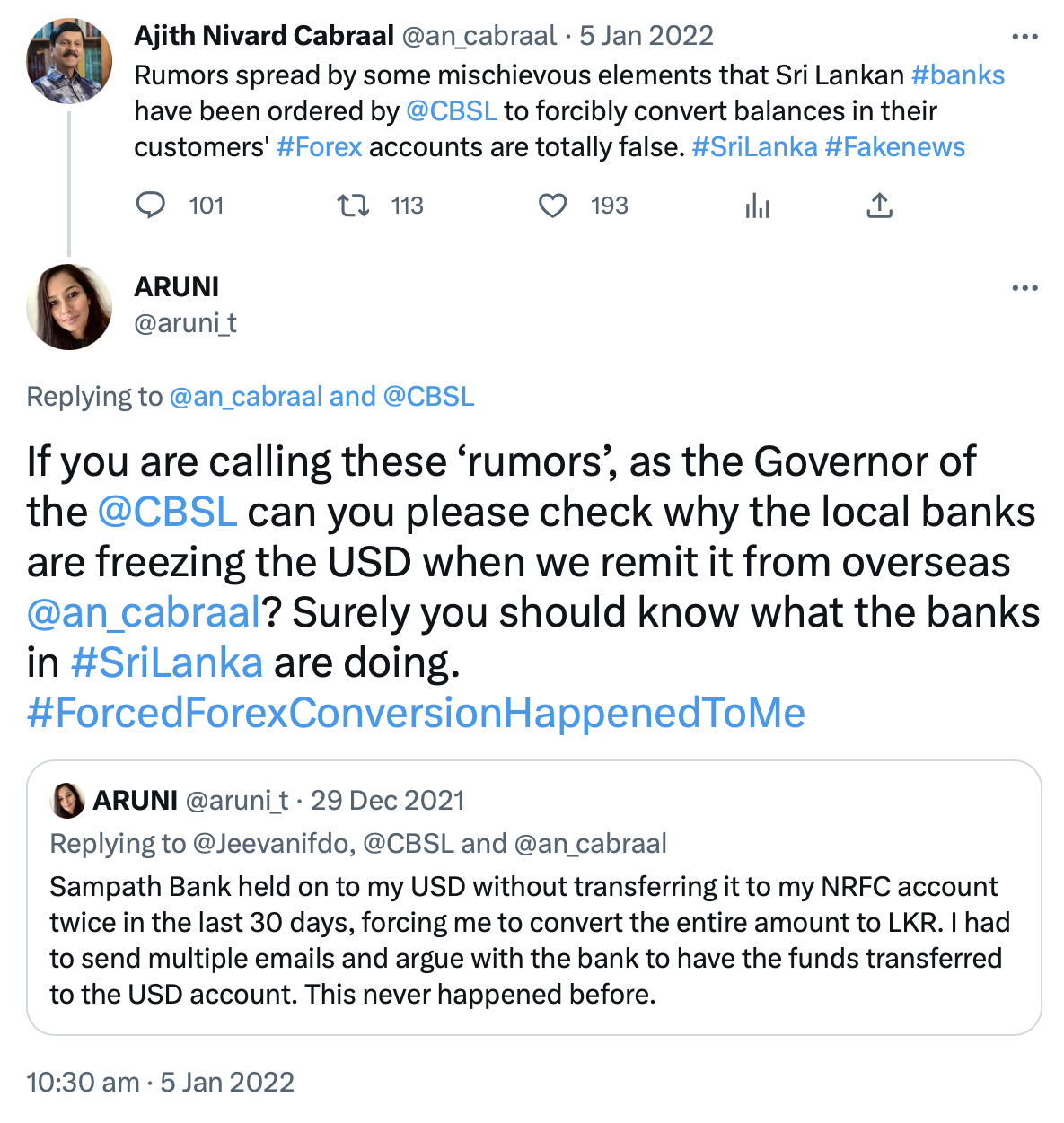 So @ComBank_LK is lying to me? https://t.co/pm2wzcIFMg pic.twitter.com/VtHD1ZSByy

— Super Deluxe (@sachp) January 5, 2022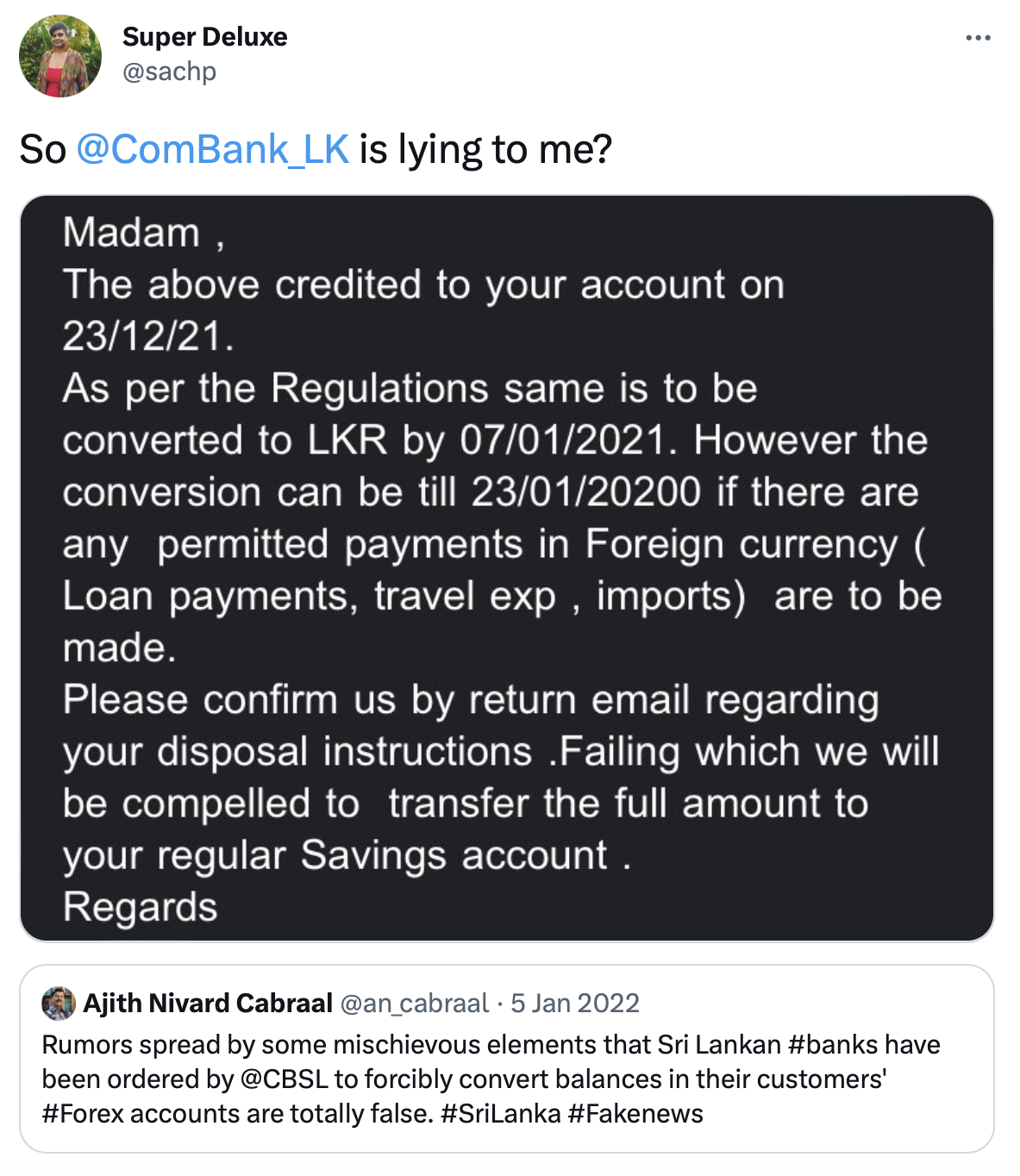 How factual was Governor Cabraal's statement?
The Governor is a master at splitting hairs and chooses his words very carefully. On the surface, his statement is factual. The CBSL probably did not wake up on New Year's Day and ring up the banks demanding that they convert everyone's bank balance to rupees.
Instead, what we have is Extraordinary Gazette 2251/42 - issued way back on the 28th of October 2021 - which requires  'service exporters' to convert their earnings. This is the category into which most freelancers, influencers and consultants fall.
Extraordinary Gazette 2251/42 requires any exporter of goods and services to "mandatorily convert residual of the export proceeds received in Sri Lanka, into Sri Lanka Rupees upon utilizing such proceeds only in respect of the below mentioned authorized payments, on or before the seventh (7th) day of the following month".
In essence, aside from his rebuke to confused service exporters as being 'mischievous elements', the Governor's tweet was factual. What is being actually converted is inward remittances of foreign currency after October 28th 2021 - essentially, everything coming in to your account, with the exception of the five categories of authorized payments:
Outward remittances in respect of current transactions of the exporter of goods and services.
Withdrawal in foreign currency notes or transfer of funds for travel purposes of the exporter of goods and services.
Debt servicing expenses and repayment of foreign currency loans and accommodations obtained by the exporter of goods and services as permitted by the CBSL and under the relevant legislation (Foreign Exchange Act, Banking Act).
Payments for purchases of goods and obtaining services by the exporter of goods and services, related to such export of goods and services including one-month commitments in foreign currency.
Payments in respect of making investments in Sri Lanka Development Bonds in foreign currency up to 10% of the export proceeds.
Many sole proprietor freelancers, influencers and consultants are unlikely to face any of the five exceptions for permitted payments highlighted above, which would explain why the totality of their earnings post October 28th were converted to rupees.
However, if someone's entire balance from before October 28th has been forcibly converted, that's either a misunderstanding from someone who can't tell the difference between account balance and inflows - or an overzealous bank.
The FAQ published by the CBSL should clear up any doubts, although the answers provided will probably do little to quell your rage over your missing dollars.
Sampath Bank forcibly converted total Forex remittance of my account last month without my consent citing your instructions. These were fees for my foreign consultancies @an_cabraal @CBSL. කාටද මේවා කියන්නෙ? ඇහුවාම සෙන්ට්‍රල් බෑන්ක් එකේ නියෝගලු. @SampathBankPLC

— Ranga Kalansooriya (@rkalansooriya) January 5, 2022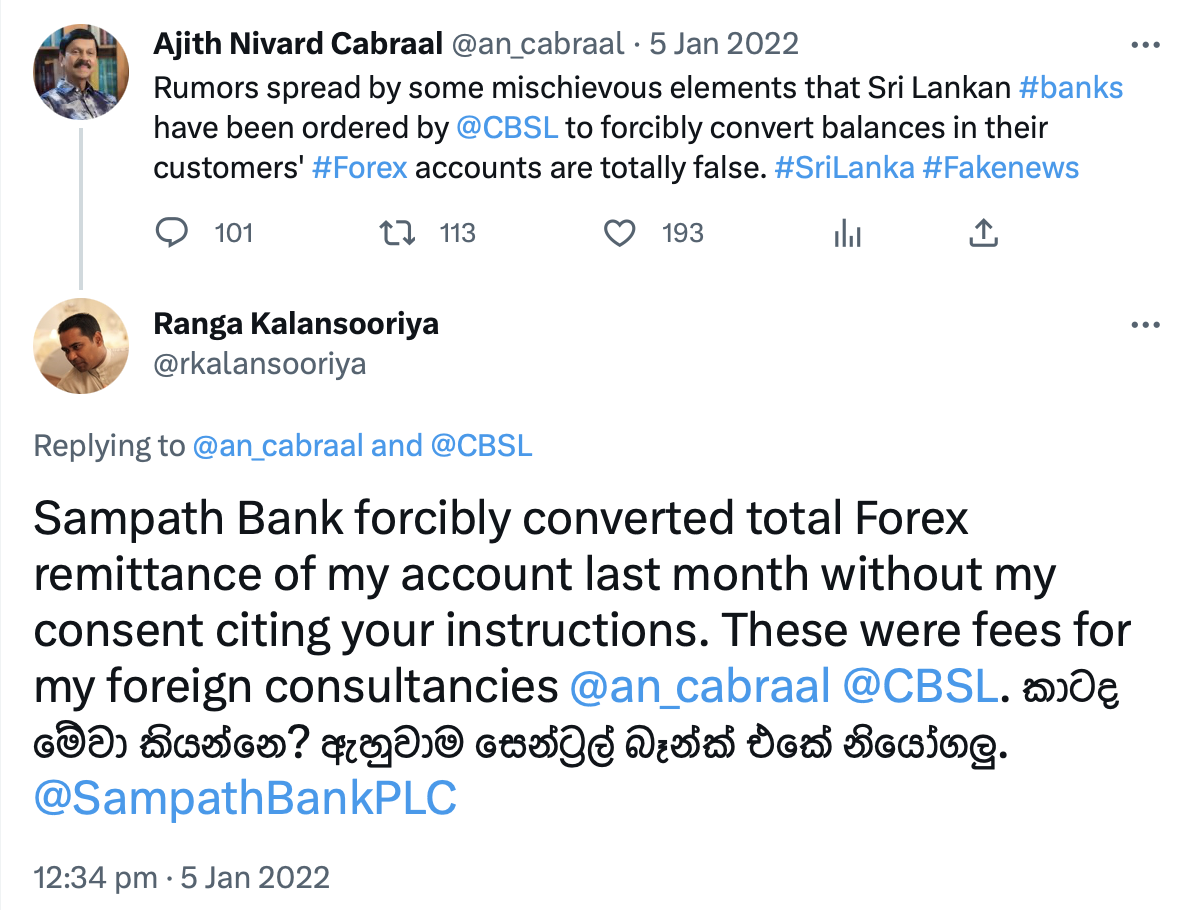 You could be forgiven for thinking that the CBSL's actions border on theft or extortion. Back in December 2021, the Bar Association of Sri Lanka filed a petition at the Court of Appeal, seeking to put a stop to this.
In their petition, which focuses on the earnings of lawyers for services provided outside Sri Lanka, the BASL argues that the conversion of privately owned property against the wishes and without the consent of the owner is beyond the legal authority of the respondents as per the powers of the Foreign Exchange Act and the Monetary Law Act.
The petitioners are seeking a writ of certiorari invalidating the decision of the 1st (Minister of Finance) and/or 2nd (Governor of the CBSL) respondents, to issue Gazette Extraordinary 2251/42. The petitioners are also seeking a declaration from the court, that Gazette 2251/42 is null and void and has no force in law.
Until or if the Court rules otherwise, the regulations remain in force.
What about the dollars you had in your account before 28 October?
Any inward remittances to an exporter of goods and services received prior to 28 October 2021, when Extraordinary Gazette 2251/42 came into force, are governed by Extraordinary Gazette 2229/9, issued on 28 May 2021.
This particular gazette required all exporters to convert 25% of any foreign exchange earnings into rupees within 30 days of the receipt of such monies, with a few exceptions as determined by the CBSL.
What can you do?
We're not investment advisors, so take none of this advice as such. Here's a list of things you might feel like doing:
Rant about it on Twitter.
Jack up your fees (which might mean less clients) or get paid in cryptocurrency as championed by our youthful Sports Minister (completely unregulated in Sri Lanka so no safeguards; not to mention volatile, unless you opt for a pegged cryptocurrency like USDT).
Demand to be paid in gold - but you may have to launch your own Nigerian prince scam in order to move it around.
Invest up to 10% of your earnings in Sri Lanka Development Bonds, but watch out for those pesky "junk" grade investment ratings. Incidentally, Sri Lanka's current rating is lower than the infamous Greece Government Bonds that our CBSL felt were a prudent investment back in April 2011, in the midst of a global financial crisis (The CBSL was cleared of any wrongdoing by the Supreme Court in 2014 and Governor Cabraal justified their actions as being part of the risk management strategy).
Given Sri Lanka's volatile economic situation where the supply of public utilities are now decided on a weekly basis, it would be safe to assume that the rules governing the dollars you earn by being an enterprising freelancer could also change rapidly in the near future.
For a deeper understanding of the causes behind why the CBSL has been reduced to legitimately stealing dollars from hapless freelancers, we recommend checking out this piece by Watchdog's Umesh Moramudali – a 30,000 foot view of the economy. It's part of an extended series of observations that we're doing on what the hell is actually going on.
Until then, we suggest you bite the bullet, knuckle down and simply write off your lost dollars as your charitable contribution towards the sustenance of your government.
The data for this piece