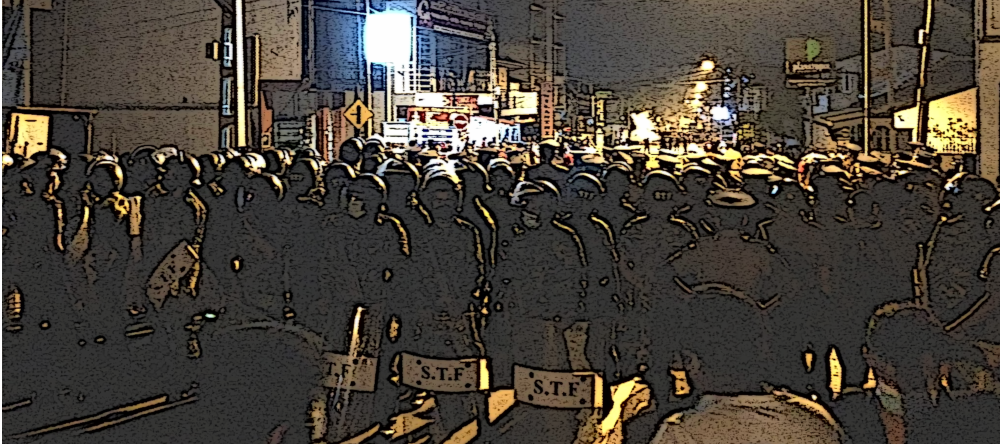 A timeline of the major events that happened yesterday, using footage shared on social media.
The beginning
At 6:00pm yesterday, a protest began near Jubilee Post, Mirihana.
Massive public protest at Jubilee post , Mirihana. Very close to President's house. #GoHomeRajapaksas #GoHomeGota pic.twitter.com/DnnpkOf99L

— Matara Sunil (@Sunil_Matara) March 31, 2022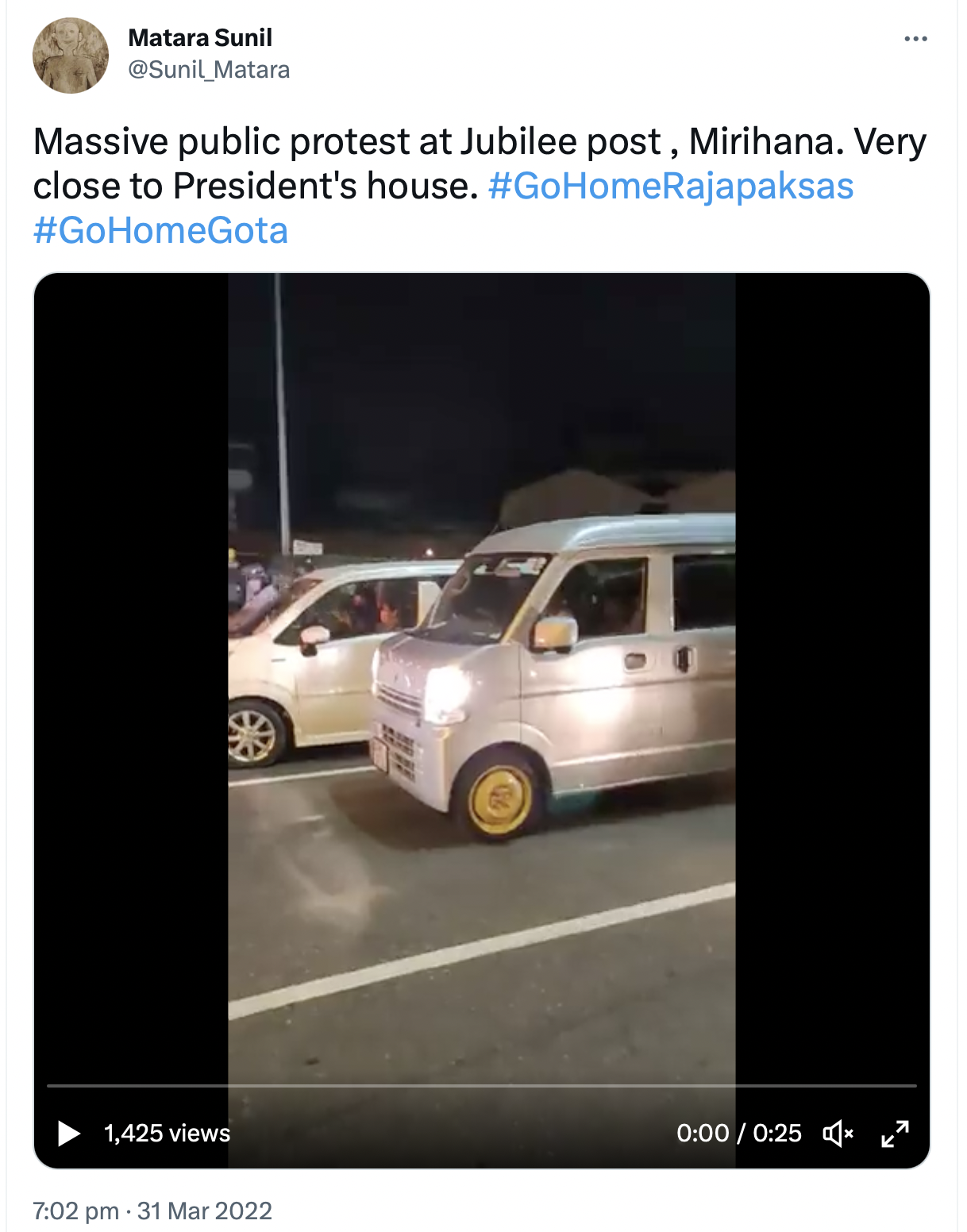 By 8:00pm the protest was growing. Large crowds were joining the protest on foot, with increasing support from motorists.
A protest is being staged along the road leading to President Gotabaya Rajapaksa's residence in Pengiriwatte, Mirihana. More than 400 protesters were witnessed chanting slogans #gogotago and #gohomegota.#srilanka #lka pic.twitter.com/FTiAXlwlox

— NewsRadio - TNLRN (@newsradiolk) March 31, 2022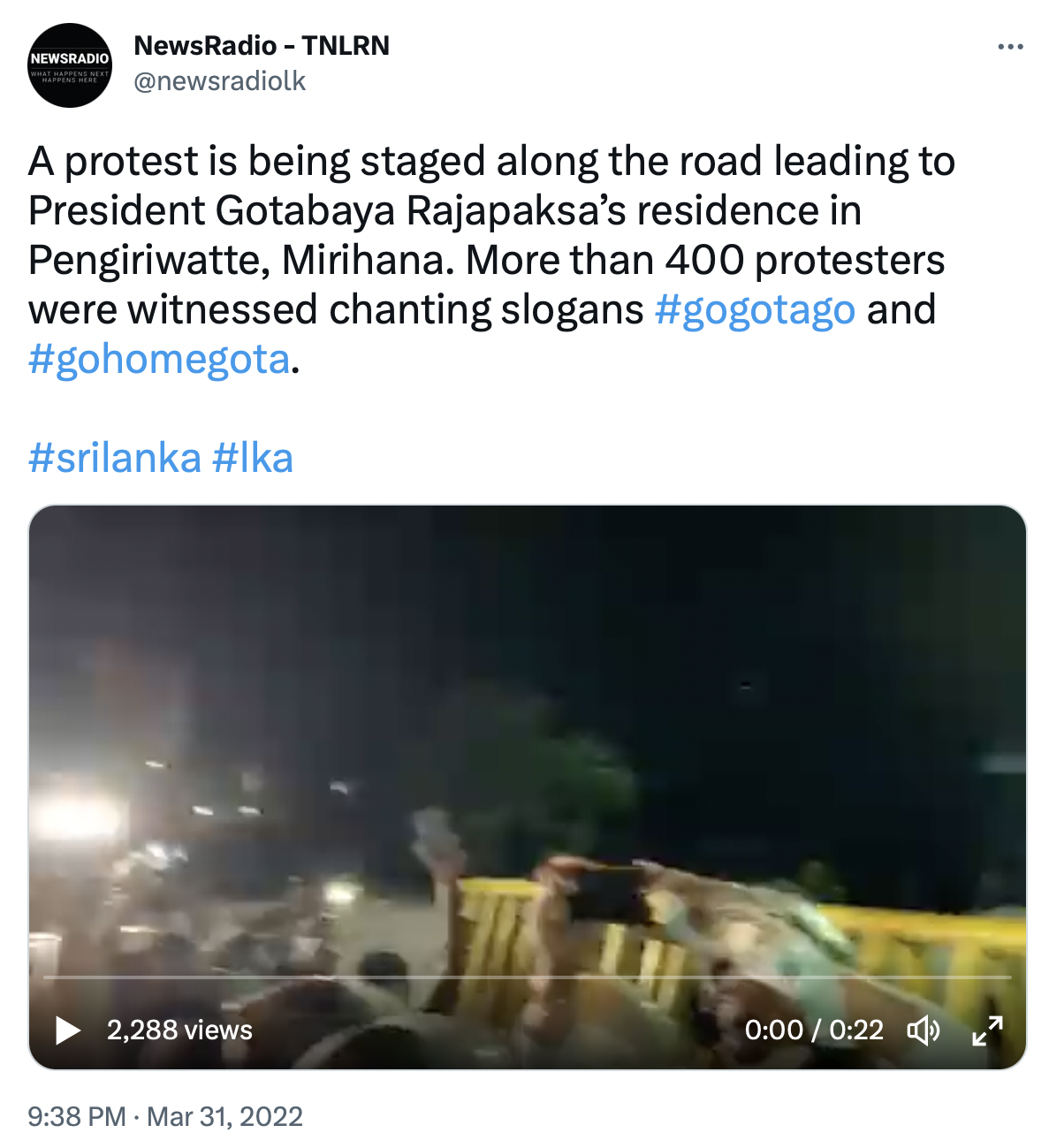 We can't seem to preview "https://twitter.com/UdiUdz/status/1509544308164206601". Try visiting this link in a new tab.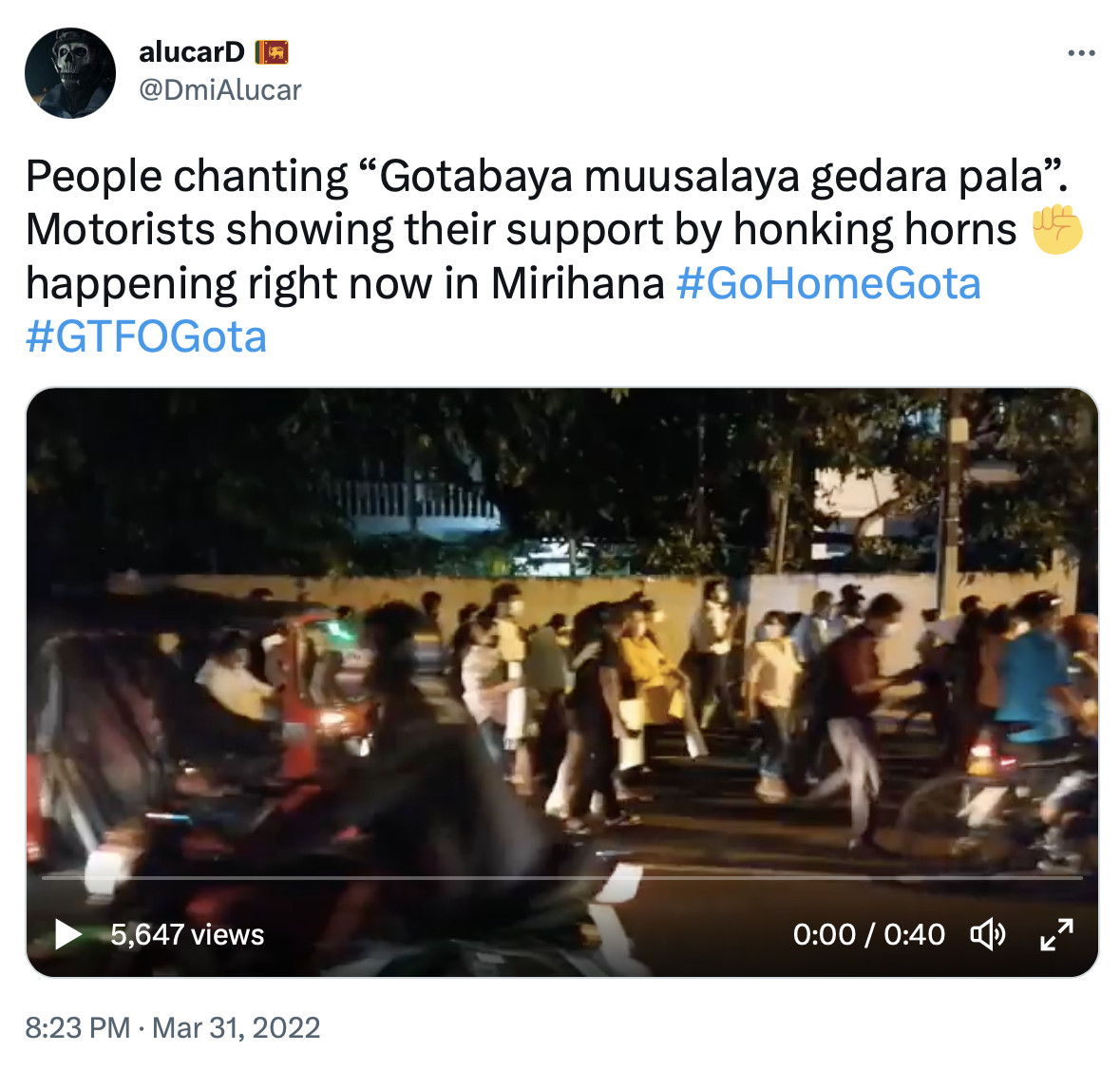 Massive crowd at the Nugegoda Jubilee Post protest. It's a whole new atmosphere & so much support from the vehicles passing by.#lka #SriLanka #EconomicCrisisLK #SriLankaEconomicCrisis #GoHomeRajapaksas #පන්නමු pic.twitter.com/5u5JaNFbI1

— Prasad Welikumbura (@Welikumbura) March 31, 2022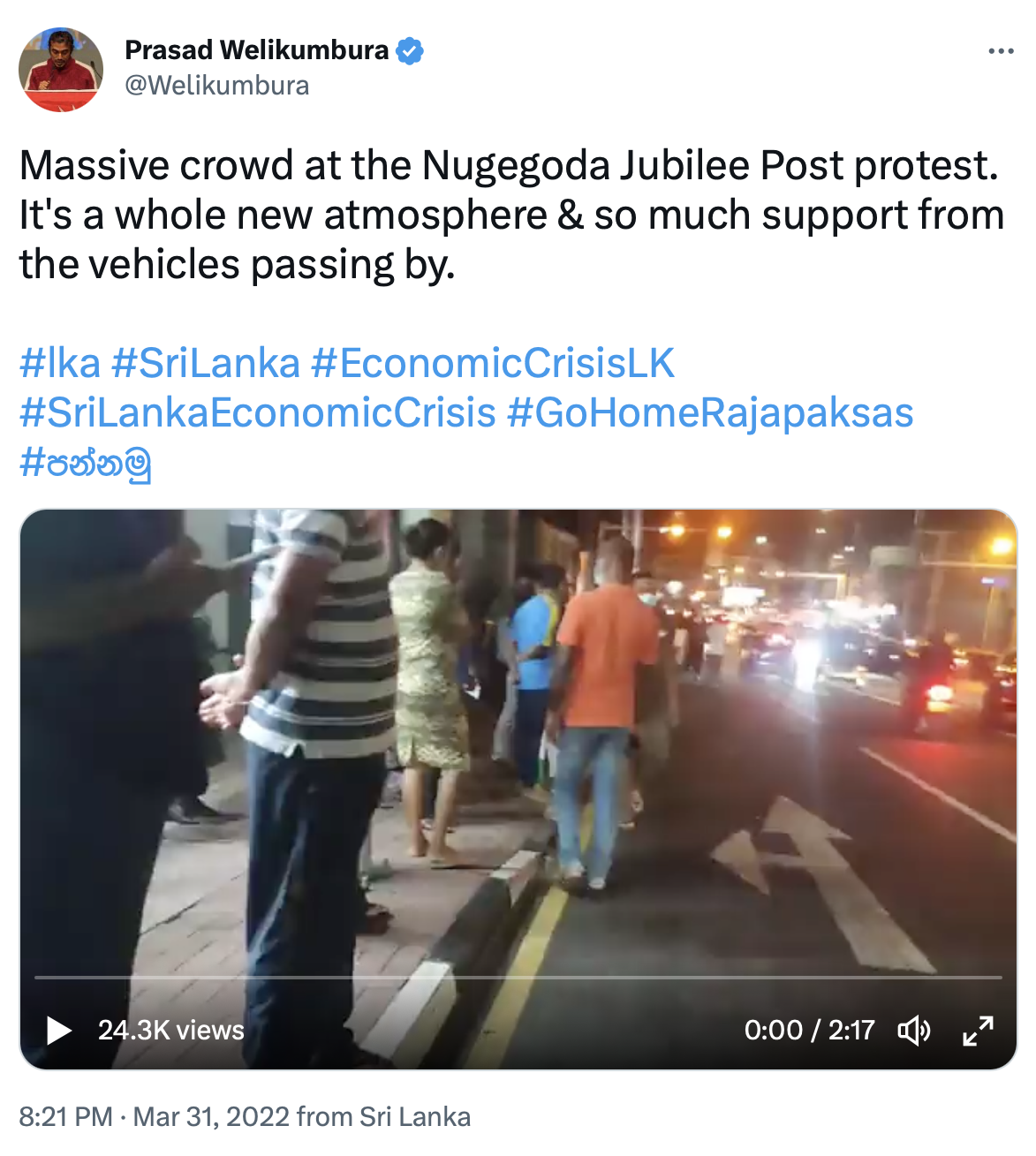 By 9PM, the protest spread along Pengiriwatte Road, where the President's house is.
The turning point
By 10:00pm the protest was still growing.
As best as we can make out, this is when the violence begins. At 10:10pm, police launch tear gas at the protestors.
Footage from different parts of the protest show different things happening — on one side, people are chanting slogans, on the other, they're dismantling barricades. Then we have footage of tear gas being deployed, as water cannon trucks seemingly barge into Mirihana junction and begin firing at the sides of the road.
This is @GotabayaR's regime throwing tear gas at a peaceful protest. They are trying to provoke the public.#lka #SriLsnka #EconomicCrisisLK #Protest #RegimeChange #GoHomeGota #පන්නමු pic.twitter.com/SOCJ7W21Sw

— Prasad Welikumbura (@Welikumbura) March 31, 2022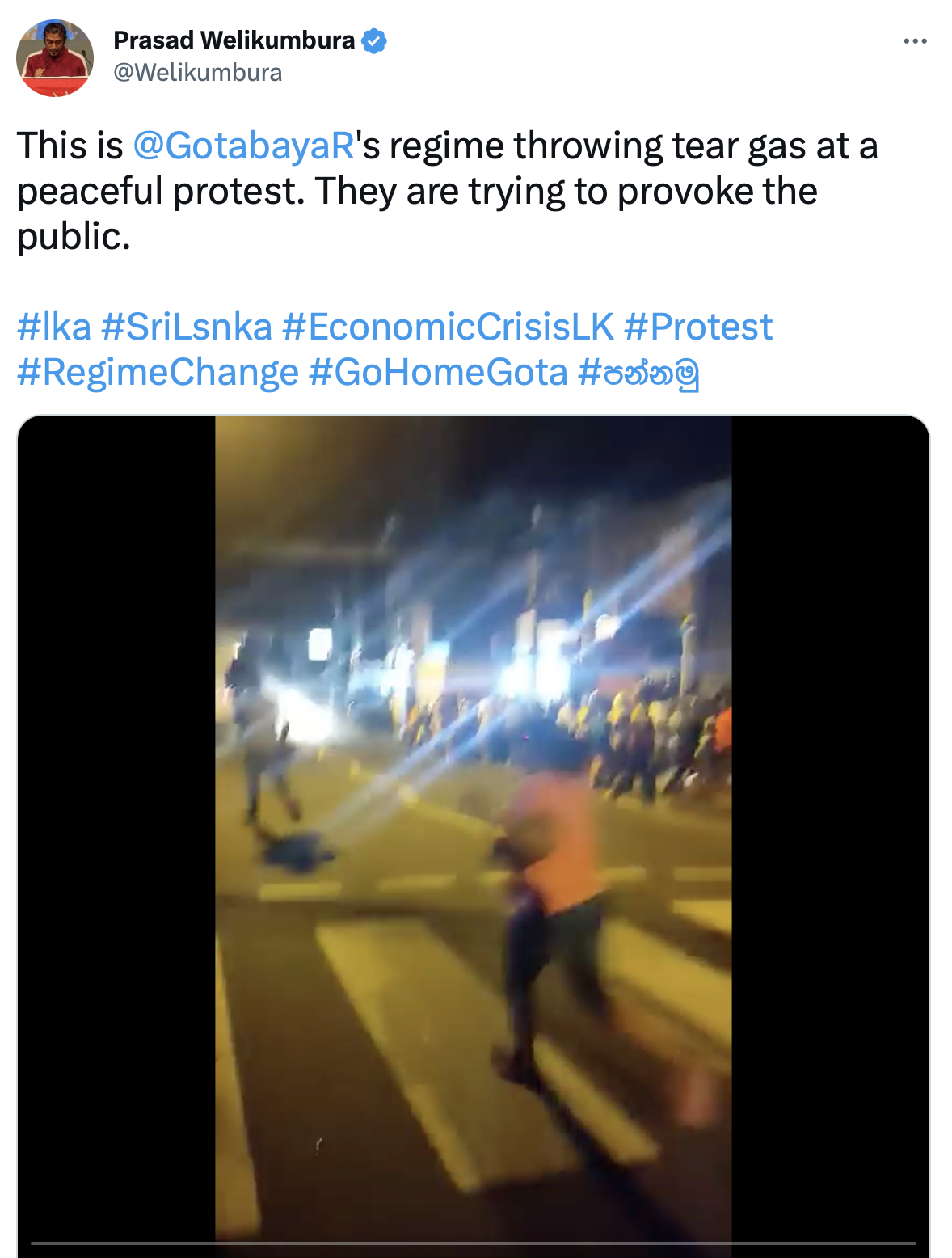 First line barriers taken down by protesters! #GoHomeGota2022 #GoHomeRajapaksas pic.twitter.com/prUby4sS8E

— Nuzly (@nuzlyhameem) March 31, 2022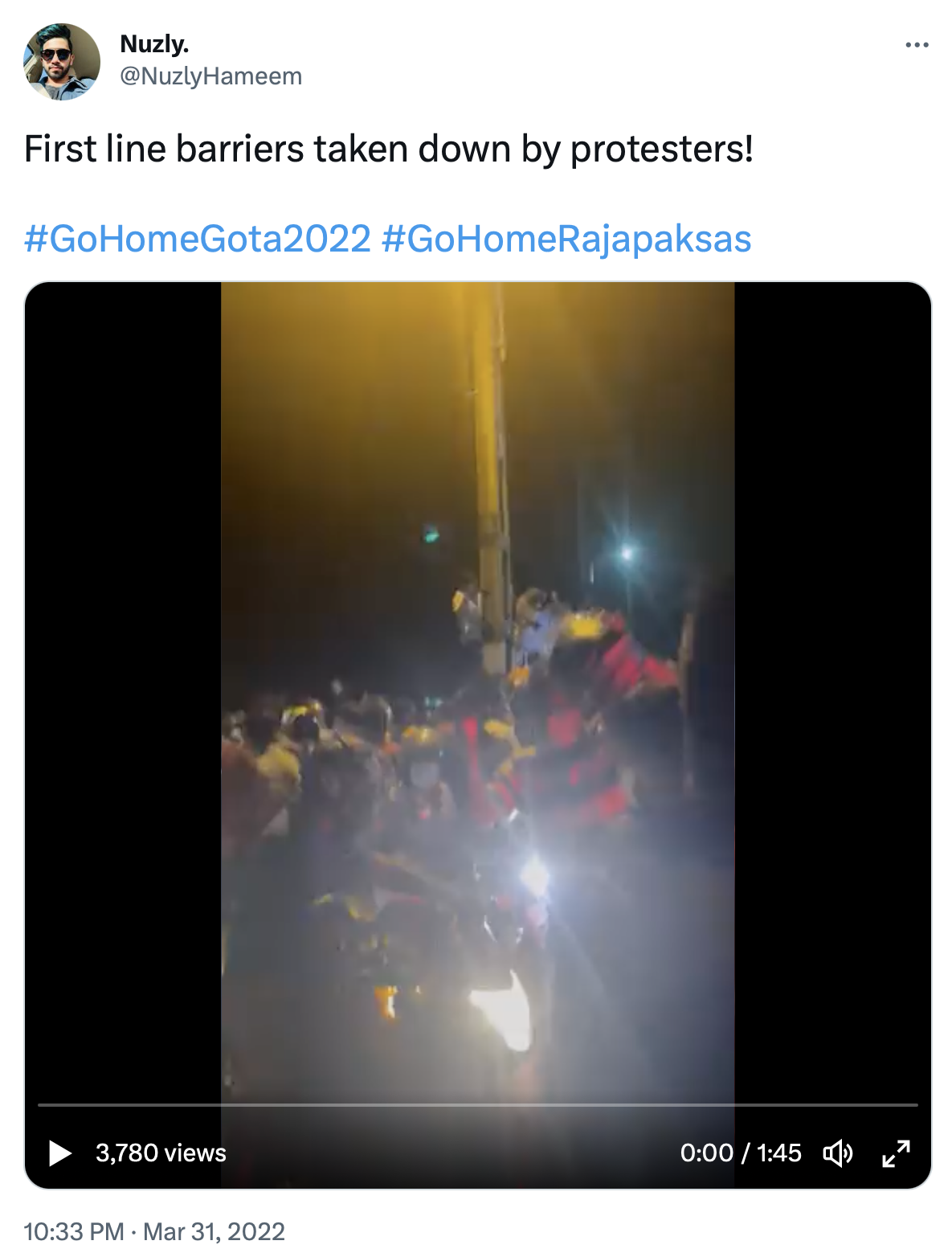 Tensions rising at mirihana junction #gohomegota2022 #gohomegota pic.twitter.com/8Ec6Ht3dI2

— Prahas Vichakshana (@itsPrahas) March 31, 2022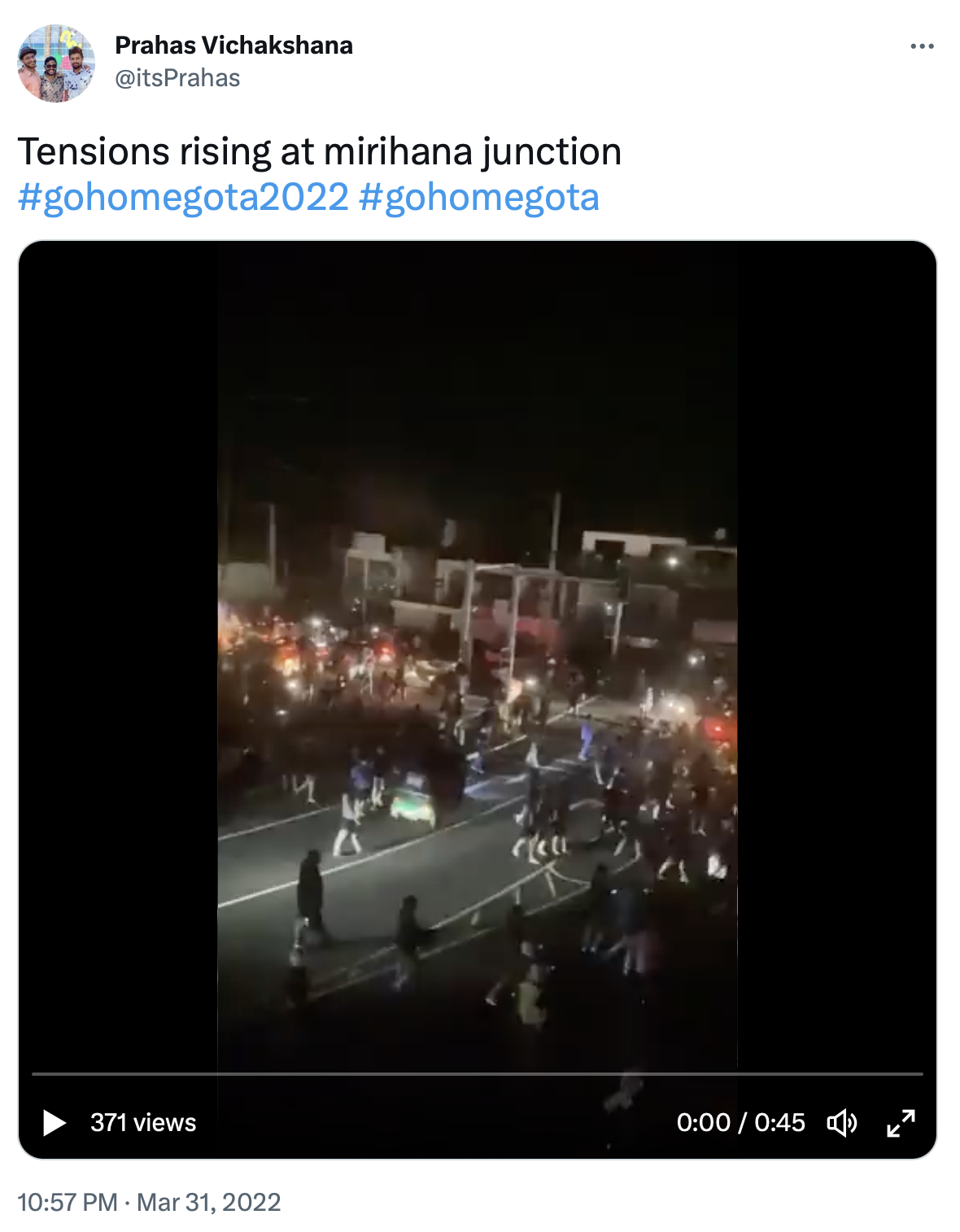 Protesters on the road apparently scatter and regroup to take on a tear gas truck. There's a lot of men in helmets throwing stuff at it.
Police used tear gas and water cannons to disperse protesters near the President's private residence in Mirihana pic.twitter.com/j9P2jtp98n

— DailyMirror (@Dailymirror_SL) March 31, 2022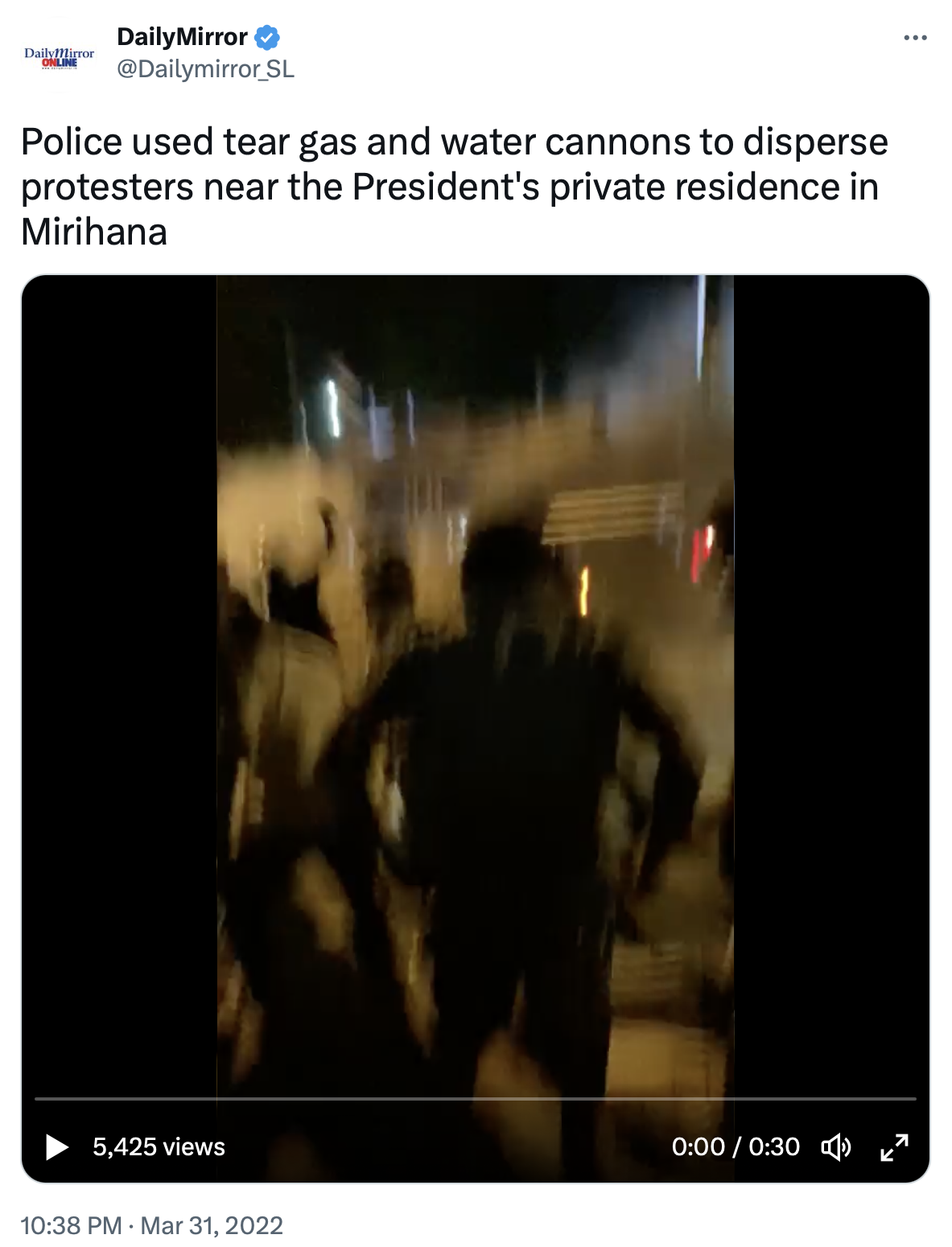 Military presence escalates from here. Protestors began turning away Army and Navy buses (the first bus was turned away at 11:00pm, the fourth at 11.30pm). The timing of the events is from Nuzly (@nuzlyMN on Twitter), who recorded these videos and uploaded them later. We were able to verify the timing of the actual videos with him.
Attempt 2 - Turned Away #GoHomeRajapaksas #GoHomeGota2022 pic.twitter.com/eepstOXuVP

— Nuzly (@nuzlyhameem) March 31, 2022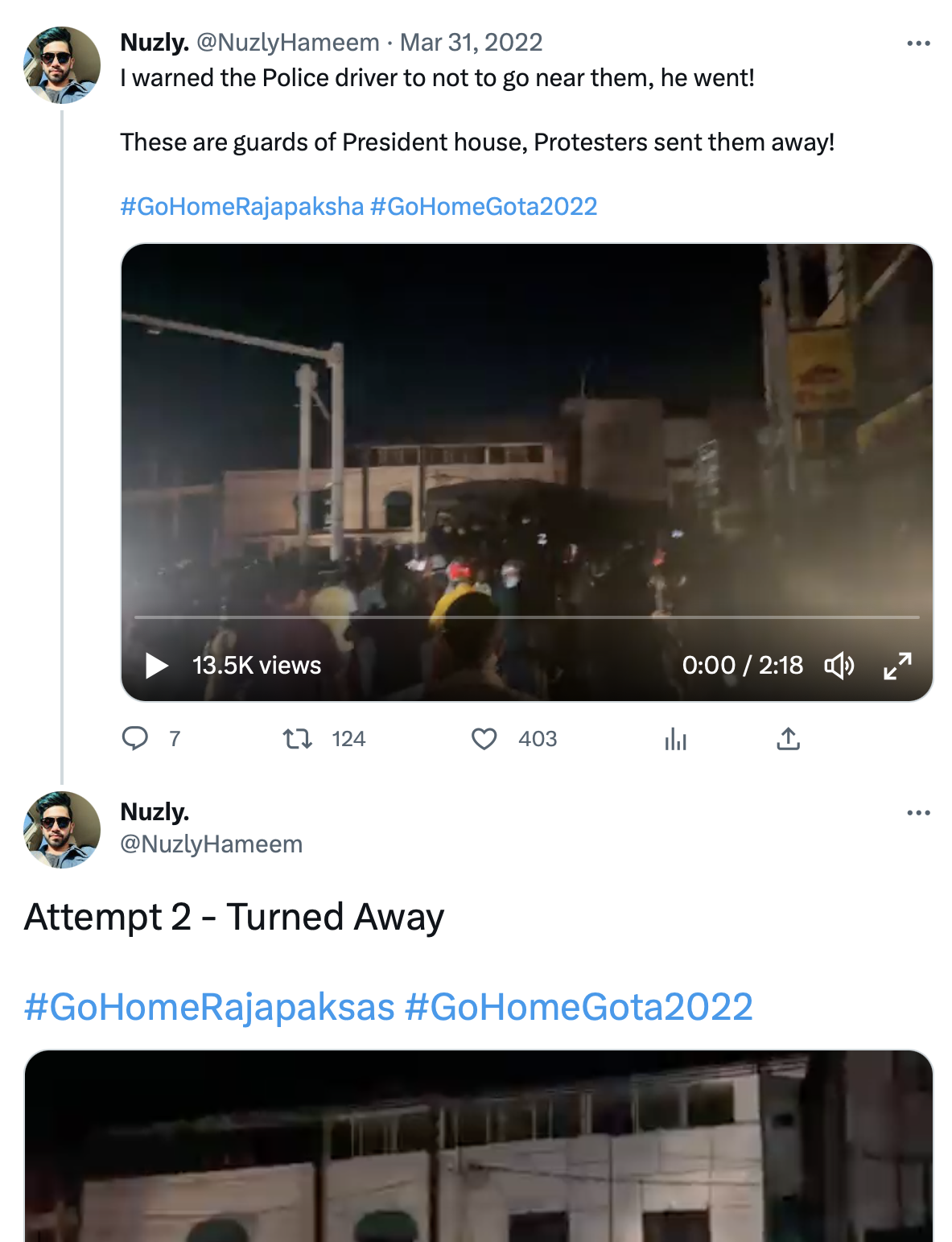 From here on, we start seeing increasing numbers of military deployed on foot with batons and assault rifles. Note that the officers in the video below are standard police uniform (khaki shirt, khaki trousers) and what appears to be Air Force personnel (blue shirt, dark blue trousers). The second video shows either STF troops or the Army; it's hard to tell in with the light. Some carry batons, but others (judging from standard STF arms and the brown wood stock of the guns) have Type-56 assault rifles.
More & more military with batons & assault rifles deployed to Mirihana.#lka #SriLanka #GoHomeGota #EconomicCrisisLK #Resist #පන්නමු pic.twitter.com/qXqOg97dau

— Prasad Welikumbura (@Welikumbura) March 31, 2022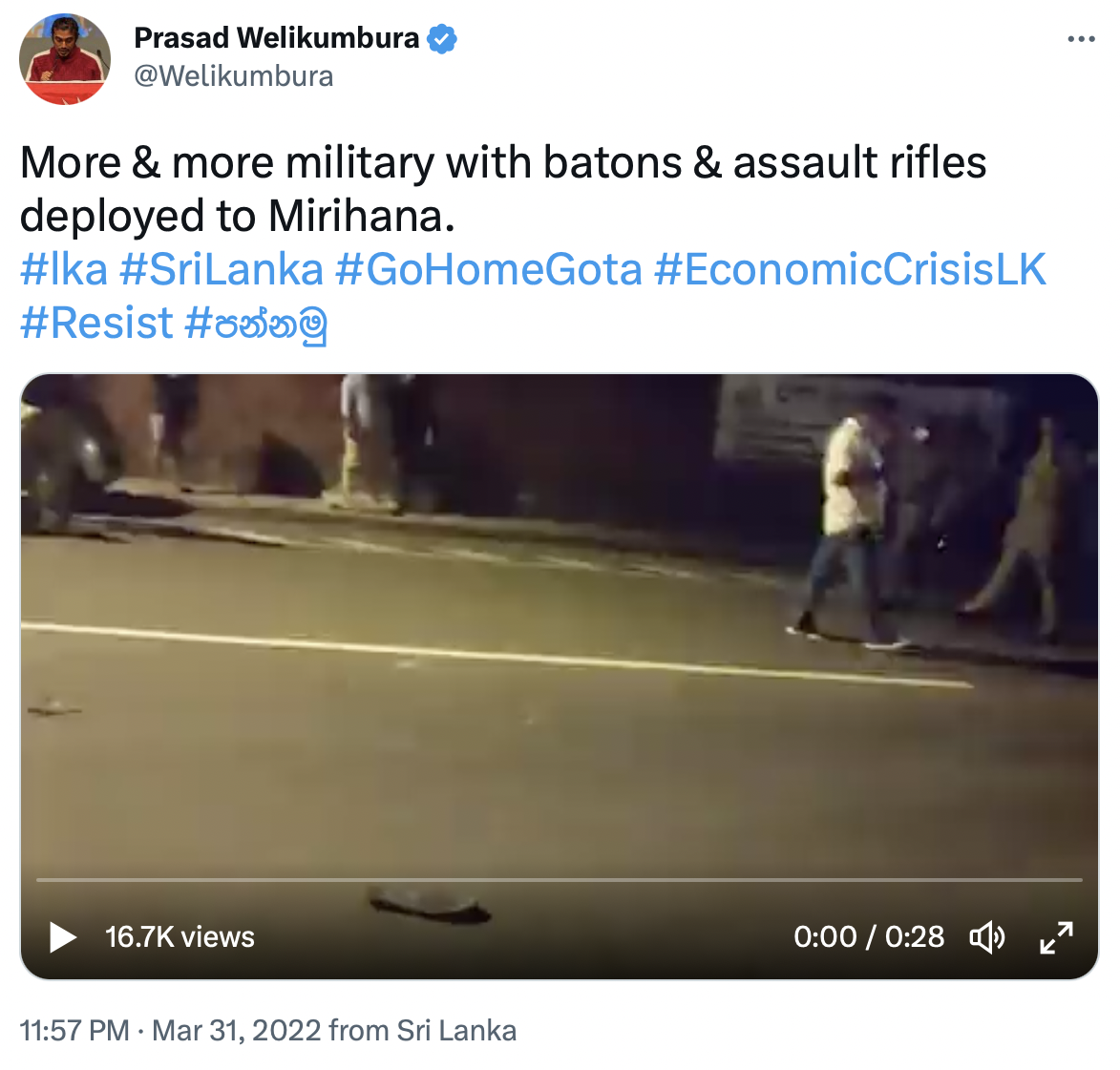 More and more military deployed to Mirihana with rifles #GoHomeRajapaksas #GoHomeGota2022 pic.twitter.com/S2nmz8WheK

— கணபதி அய்யர் (@sanghi_dmk) March 31, 2022
At roughly the same time, we start seeing a video of a man apparently shot in the protest, being hauled out of a car and onto a hospital gurney. We found the source of the video after multiple people asked us to check stills from it - the origin seems to be Kanchana Pelpola on Facebook. The video caption and audio within say that the man's been shot at the protest. Out of respect for his privacy and dignity, we chose not to embed the video here.
Again, at the same time, we get the video of the bus on fire. [1] This bus belongs to the Sri Lankan Army, as suggested by videos on-site and later confirmed in the press conference held by the police (embedded below).
Protesters have set fire to a bus in #Mirihana #GoHomeRajapaksas #lka pic.twitter.com/uAkOAIMtsM

— Aashik Nazardeen (@aashikchin) March 31, 2022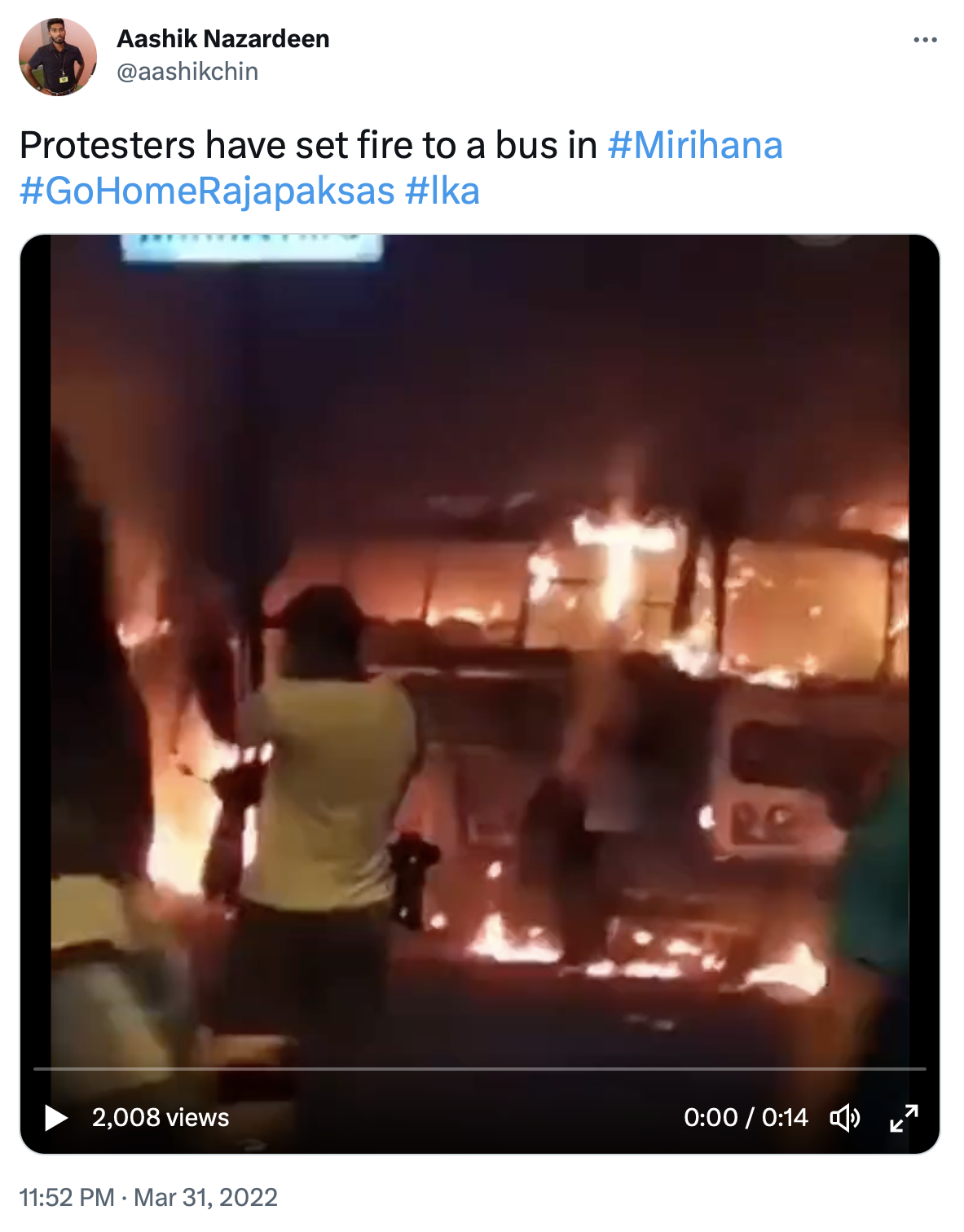 Marianne David, Deputy Editor at the Sunday Morning, reports gunshots heard (whether live rounds or rubber bullets is impossible to tell). The crowd is going strong at midnight.
Gunshots are still being heard by our photojournalist. Two or three photojournalists among those injured. Photojournalist @PRADEEPDAMBARAG says about 5,000 protestors are there now in Mirihana now, crowd has not eased.#lka #SriLanka

— Marianne David (@MarianneDavid24) March 31, 2022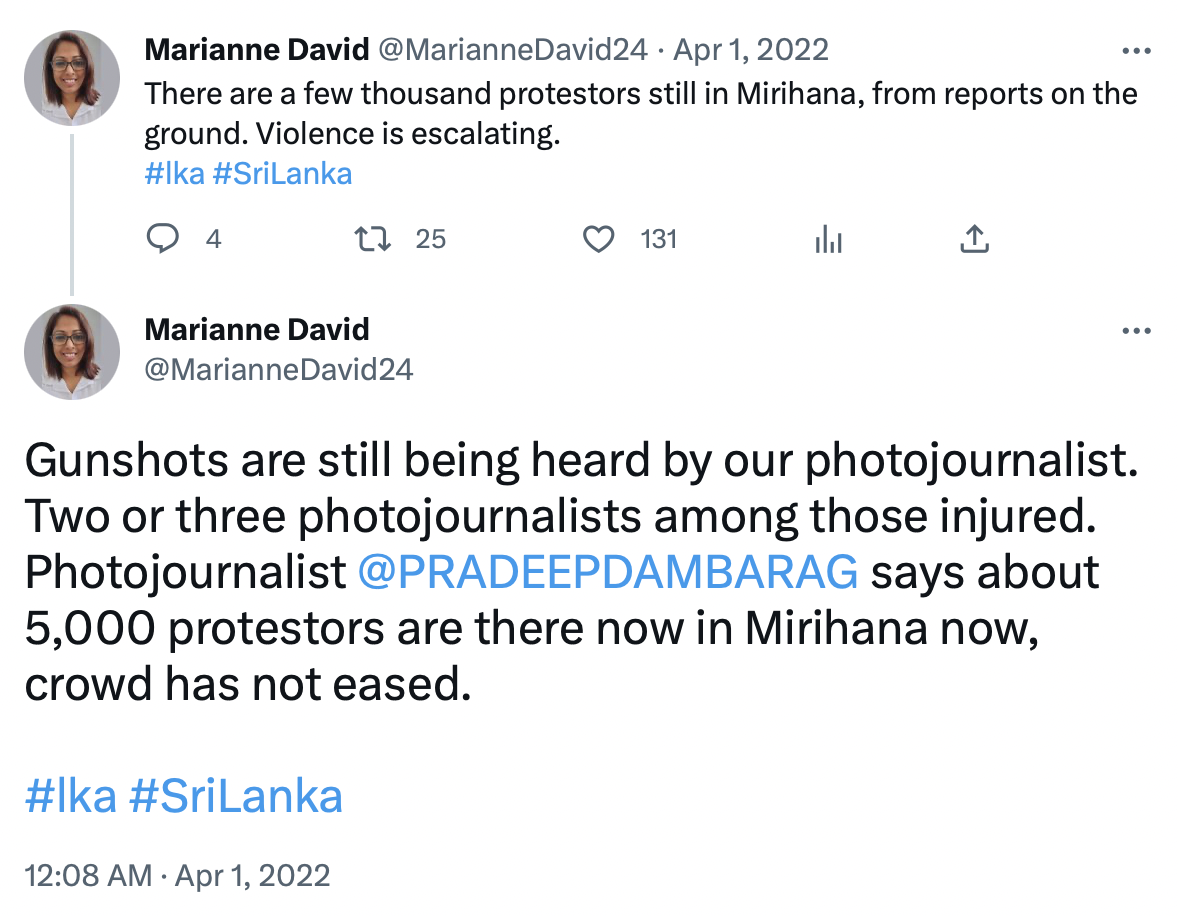 Kalani Kumarasinghe, the Features Editor at the Daily Mirror, records clashes between the crowds and the police at Jubilee Post. The crowd is pushed back down Pengiriwatte Road and find themselves sandwiched between barricades.
Police and protestors clash at Jubilee post entry point pic.twitter.com/oT9n9Hzavk

— Kalani Kumarasinghe (@KalaniWrites) March 31, 2022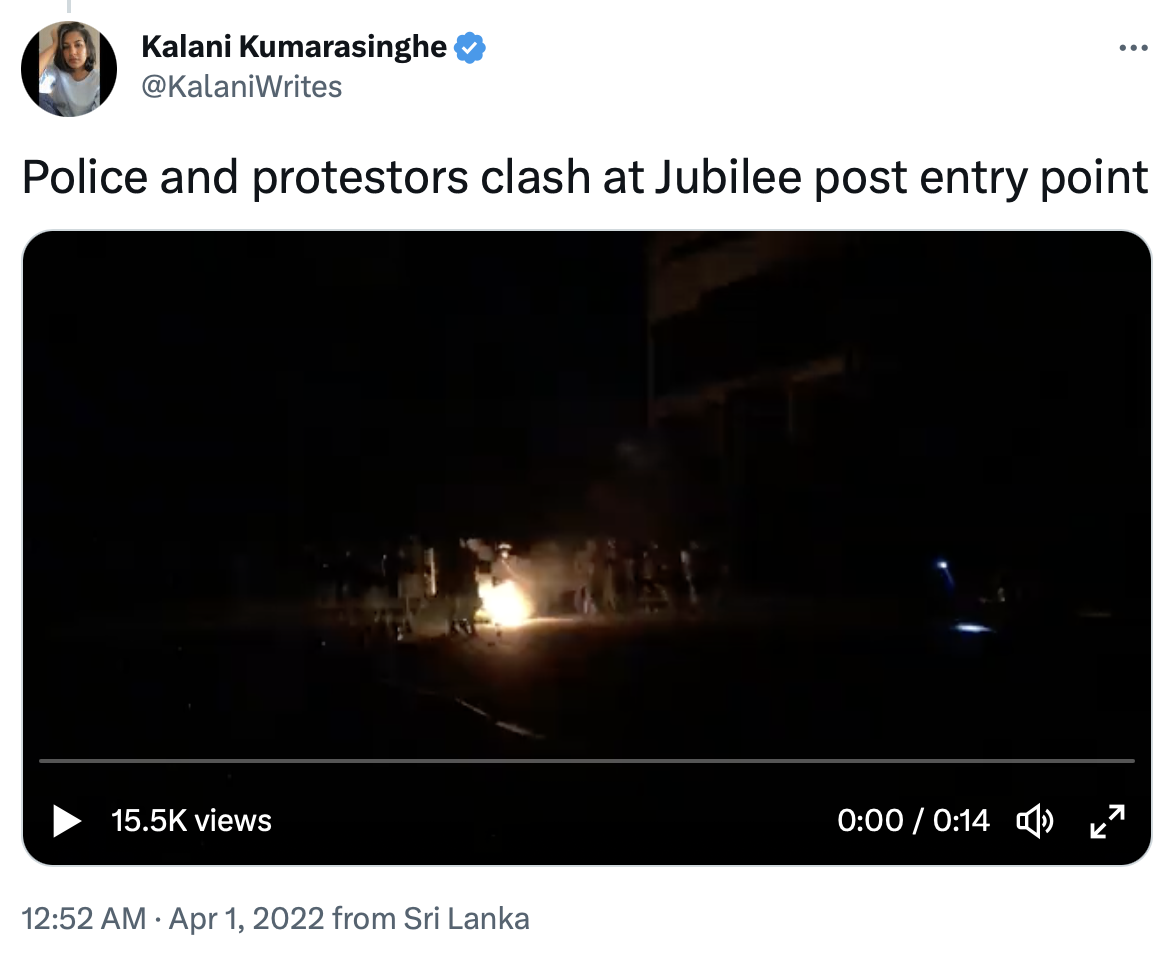 Tense scenes as crowds are now sandwiched between police barricades at the entry to Pengiriwatte road pic.twitter.com/pJ6qnqFUhp

— Kalani Kumarasinghe (@KalaniWrites) March 31, 2022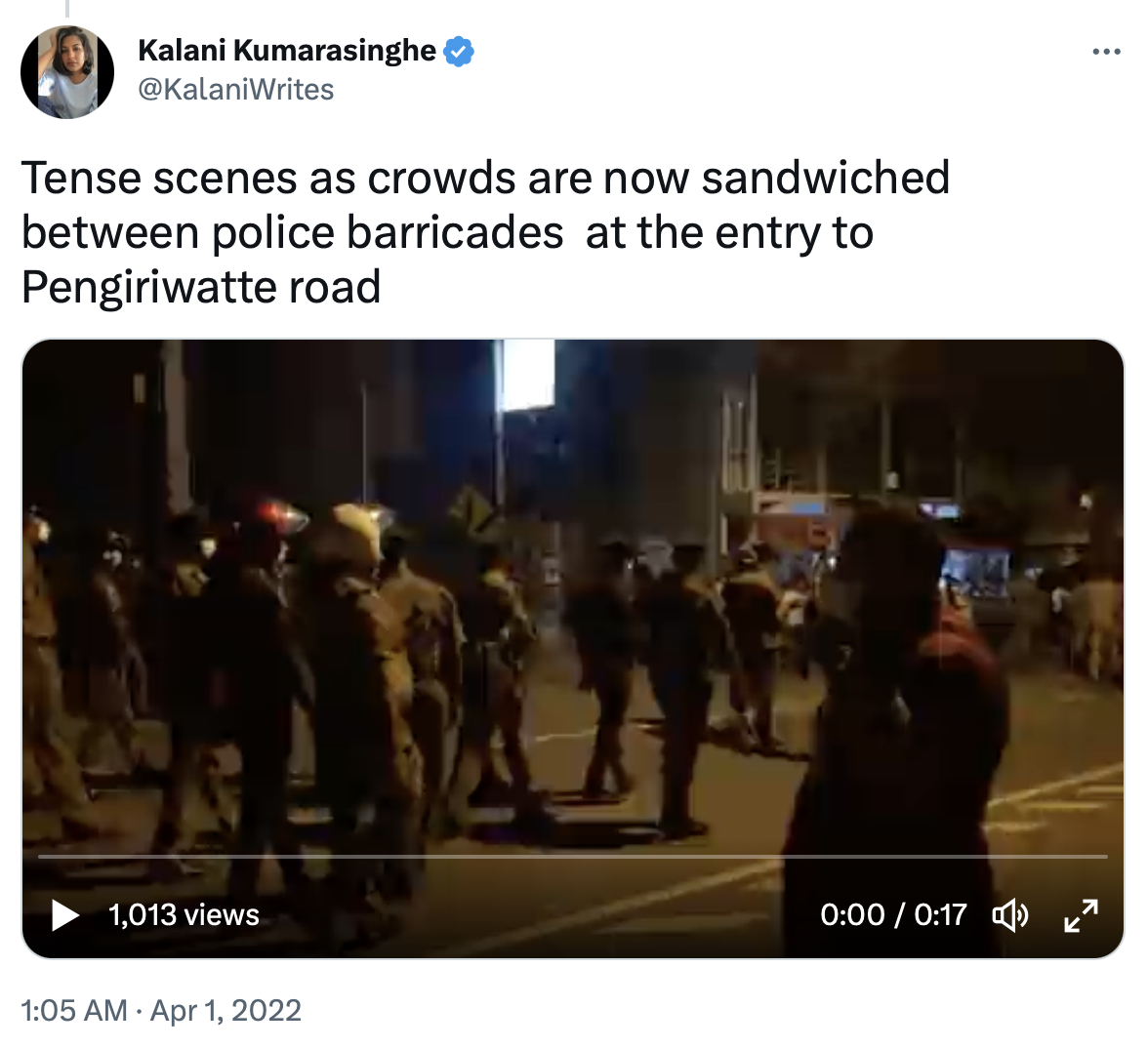 STF forces arrive shortly after; tear gas and rubber bullets are fired. Kumarasinghe captures one of the most dramatic images we have of the size of the police response — a police human wall several officers deep. The police fire tear gas and retreat.
Crowds refuse to leave as police form layered barricades pic.twitter.com/nNwoRKYNlL

— Kalani Kumarasinghe (@KalaniWrites) March 31, 2022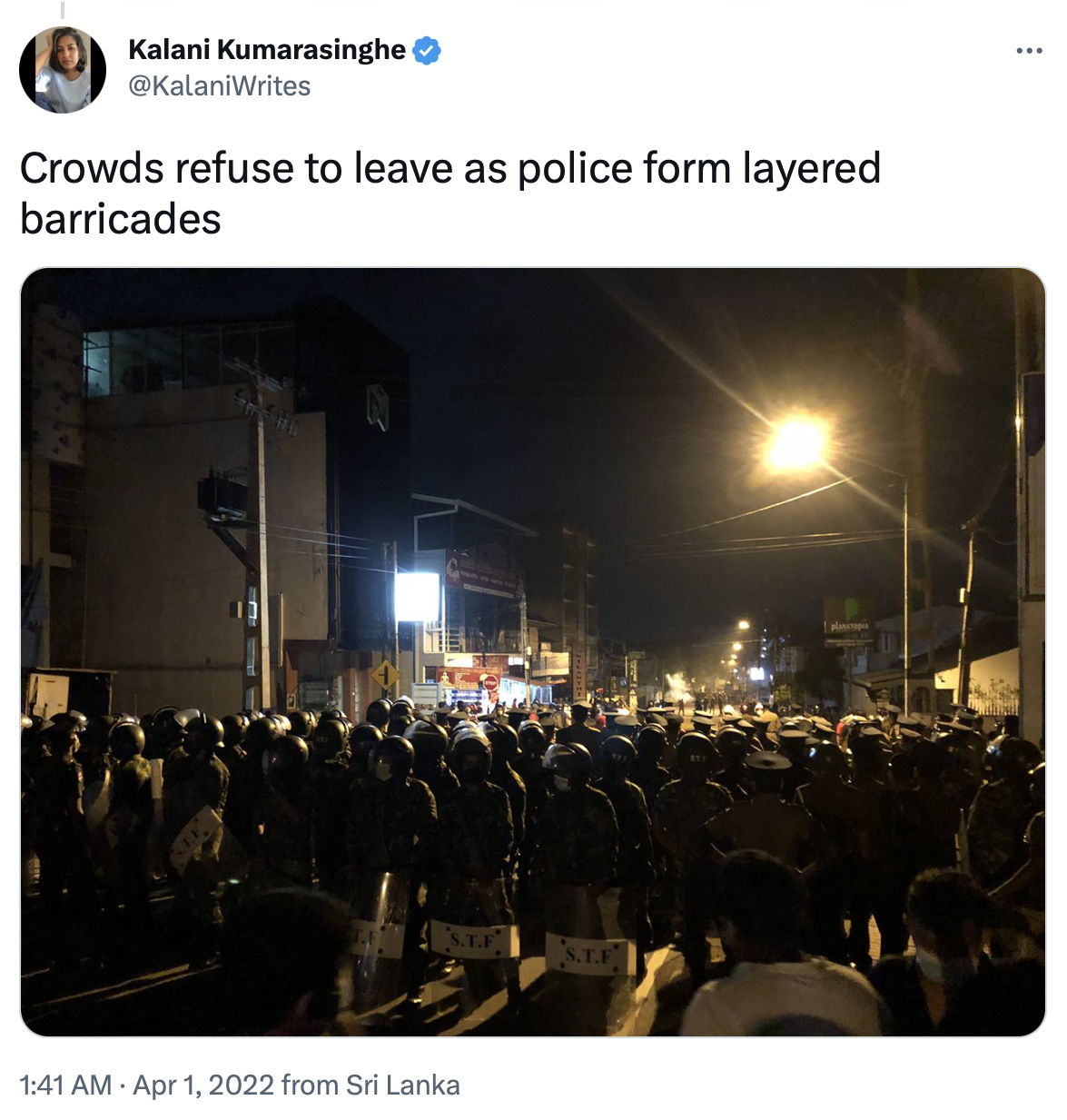 A young man in a motorcycle helmet stands alone in front of a police cordon and makes an impassioned speech. This was uploaded at 2:42 AM by a Facebook page called "මීට කලින් දැකලා නෑ තමයි". There are obvious edits made on the video — a logo, subtitles — so we can't verify at which point this speech happens, but the speech is excellent.
Aftermath
At least 37 people have been hospitalised. NewsFirst reports 24 members of the STF, three members from regular Police, three journalists, and seven civilians among the injured. The police have arrested at least 53 people [3]; they have also assaulted and arrested at least one journalist, as confirmed by multiple journalists in the field and MP Harsha De Silva.
The President's Media Division alleged that 'extremists' are among those protesting, claiming that a group armed with iron clubs, machetes, and sticks, had provoked the protesters and marched towards the President's residence; and that an organised group which called for an 'Arab Spring' in Sri Lanka and planned this via social media. Government Ministers Prasanna Ranatunga, Dilum Amunugama, and Keheliya Rambukwella have held a press conference harping (again) on the extremist angle.
We're taking this with several grains of salt. The 'Arab Spring' terminology is a line that the SJB used during a press conference (apparently without the knowledge that Arab Spring cost thousands of lives). This was not an SJB protest. Planning extremism via social media is the same line trotted out in 2019 to justify social media censorship.
Prasanna Ranatunga is the Minister of Tourism; Dilum Amunugama is the State Minister of Vehicle Regulation, Bus Transport Services and Train Compartments and Motor Car Industry; Keheliya Rambukwella is the Minister of Health. There is no reason to treat their statements as authoritative in this scenario, seeing as they do not control military, justice or crime-related portfolios.
Public Security Minister Sarath Weerasekara, on the other hand, has denied claims that there are extremists involved.
In people who are closer involved: in a live government press conference [2] police spokesperson Ajith Rohana claims that property damage done by protestors incited the police to deploy first water cannons, then tear gas, then force. He blames extremists for turning a peaceful protest into an unlawful demonstration, listing damage done to several police buses, a jeep, two STF buses, and private property worth Rs 39 million.
Rohana also states that the Prevention of Terrorism Act (PTA) will not be used against the 53 people arrested. Instead, the Penal Code and Public Property Act will be used.
This is contrary to earlier rumours and widespread fears that the PTA will be deployed; the origin of the rumours seem to be lawyers who were immediately in touch with those arrested, suggesting that a) either the lawyers were misinformed or b) the police themselves did not know until now that they would not be using the PTA, and opted for the most draconian response in the heat of the moment. c) statements from the Human Rights Commission of Sri Lanka against the use of the PTA in this case worked and were taken into account.
As things stand, there's a lot of noise — news reports that repeat the same information, claims and counter-claims on social media, as well as politicians weighing in. We suggest waiting to see what decisions are made by the government.
We'd like to thank the people we've linked here for the footage, and in the case of Nuzly, for helping us clarify the timeline. We'd also like to commend the journalists who shared this information — Kalani Kumarasinghe, Marianne David and others — for their clear reporting from a tense situation. Kumarasinghe, in particular, appears to have been tear-gassed multiple times in her attempts to record footage from the protest.
Footnotes:
[1] Pathum Kerner, who heads the National Green Front (which at this point seems to be either an angsty social media handle or a new political party in the making) alleges the drama is faked and calls it a false flag. True or not, this claim is repeated elsewhere, independently, by other people.
Staged drama of setting fire to a bus. pic.twitter.com/c5pZfyQdQM

— Pathum Kerner (@KernerPathum) March 31, 2022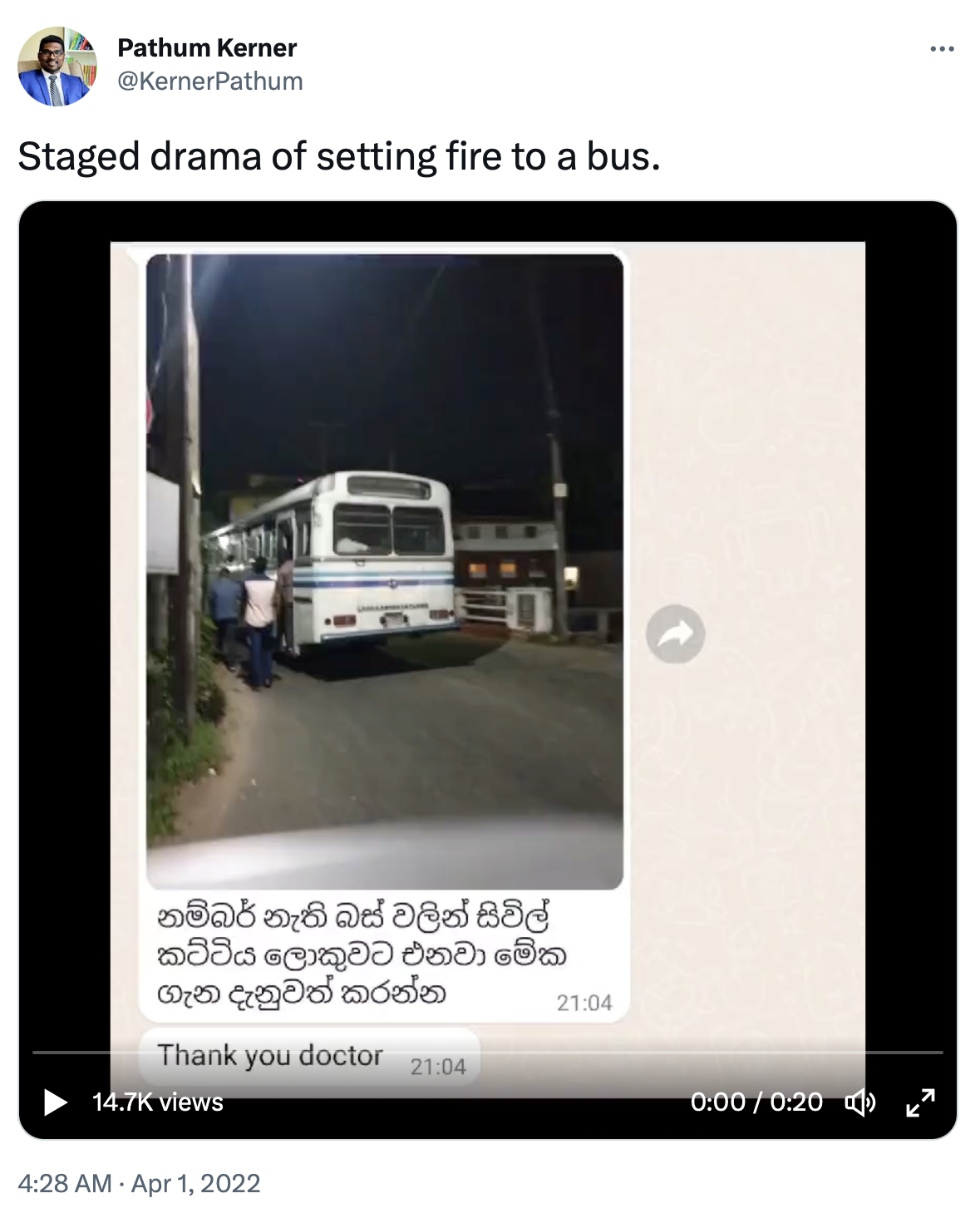 [2] From NewsFirst:
[3] Update on the arrests:
Fifty-four persons were arrested following the Mirihana protests.
Of the 54, 21 who were from the Gangodawila area were released on bail after the case. Twenty three protestors currently at the Kalubowila (Colombo South) Hospital, and three from the Colombo National Hospital are to be produced at the Magistrate Court in Mount Lavinia and Maligakanda on 04 April 2022. Six have been remanded and will be produced for an identification parade, on 04 April 2022.
All were charged under the Public Property Act and Penal Code sections of 32, 114, and 146.