Sri Lanka may run out of food by September, Prime Minister__, Mayor of Colombo and experts warn.
We went from yields of approximately 4800 kilograms per hectare to needing to set up short-term farms to counter the shortage.
Crop losses are in excess of 50%
Last year's blanket fertiliser ban imposed overnight by President Gotabaya Rajapaksa lead to this
However, organic farming isn't the issue. The policies based on simplistic notions are.
"Lives are more valuable to me than a high yield…" - Gotabaya Rajapaksa, 22 April, 2021
This particular chapter of a disastrous policy was opened by the President with the above proclamation. It's unfortunate that he didn't realise that high yields are necessary to feed a growing population.
Agriculture is a delicate interplay between the soil, the elements, seeds, animals and humans. It is more than we can possibly attempt to break down and understand in one series of articles. In the same way, it is too complex to be altered overnight with a single policy decision.
The organic policy — where did it come from?
The switch away from chemical to 'alternate' fertilisers was an element present in policy promises and manifestos over the last three Presidential Elections.
Policy Promises:
2010: Mahinda Chinthana – Vision for a brighter future
Use of organic fertiliser and its production to be further encouraged;
2015: Maithri Palanayak – A stable country
Formulate a time frame for the gradual elimination of chemical fertilisers and agro-chemicals. [1]
2019: Gotabaya – Vistas of Prosperity and Splendour
Sri Lankan agriculture promoted to use organic fertilisers during the next ten years*; production of organic fertiliser to be accelerated;*
Fertiliser features heavily in President Gotabaya Rajapaksa's manifesto. It calls for replacing the existing fertiliser subsidy, and eventually shifting 'gradually into a complete system using entirely carbonic fertiliser'. However, on the campaign trail, Mahinda Rajapaksa promised free chemical fertiliser to all farmers if their Government was elected.
'Gradually' is the keyword here, and we'll later look at how the actual enactment was anything but gradual.
The history of the subsidy
Governments of Sri Lanka have always intervened in the agricultural sector, especially paddy production. One way it has done this is through subsidies, which are meant to increase agricultural productivity. Gotabaya Rajapaksa's Government chose to take an entirely different route with their chemical fertiliser ban.
This ban and its eventual reversal a year later are the most recent steps in a decades-long story:
1948: Guaranteed Price Scheme - Government purchased paddy through the Department of Agrarian Services, ensuring farmers 'fair' prices for their crops.
1951: Scheme to subsidise fertiliser - Offering '50% subsidy on both cash and credit purchases' for paddy cultivation.
1962: Main fertiliser subsidy for paddy initiated - The main objective was to encourage farmers to switch from traditional rice varieties to high-yielding varieties [HYVs]. These are are highly responsive to chemical fertilisers. The subsidy covered 50% of the cost of fertiliser for use of paddy farming. [2]
1975: Subsidy expanded to cover all crops - This policy applied to nitrogen fertilisers like urea, ammonium sulphate, rock phosphorus, triple superphosphate, and potash muriate. Approval was granted for production of fertiliser at all levels of industry — small, medium and large — according to the Central Bank.
1979: Revising of subsidy rates - Rates were revised to cover 85% of the cost for urea and 75% for other fertilisers. The subsidy for ammonium sulphate and rock phosphate were eliminated.
1990: The subsidy is completely removed - This is attributed by agricultural researchers to it being too large a burden on the government's budget.
1994: Subsidy reintroduced - Just for a limited range of fertilisers.
1997: Urea becomes the only type of fertiliser covered by the subsidy
2005: Reintroduction of the wider subsidy - Limited to the main fertilisers for paddy in their pure forms, not as mixtures. Smallholder farmers (with less than five acres of land) growing tea, rubber and coconut became eligible for the subsidy.
2016: Direct cash-grant transfer system - Previously, fertiliser was physically provided to farmers at the subsidised rate on their request, through government institutions. This was replaced with a direct cash-grant transfer system which drew the ire of farmers. They claimed they could not purchase fertiliser with the money sent to them as it was being stockpiled by larger-scale traders.
Now that we've looked at how different administrations have sought to 'administer' the fertiliser subsidy, let's visualise how much this subsidy has cost the Sri Lankan taxpayer.
Expenditure on the subsidy
Total government expenditure (in LKR bn)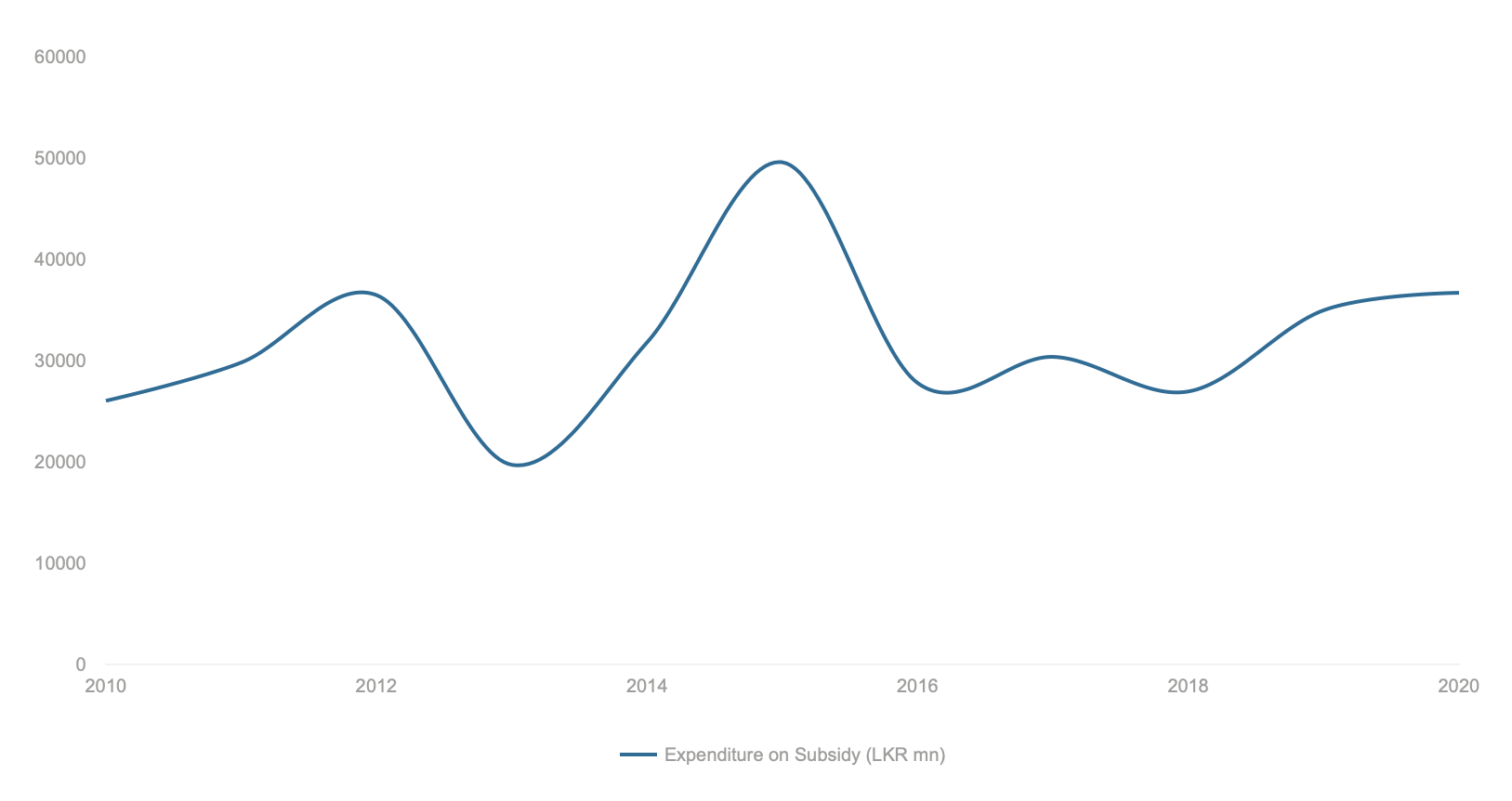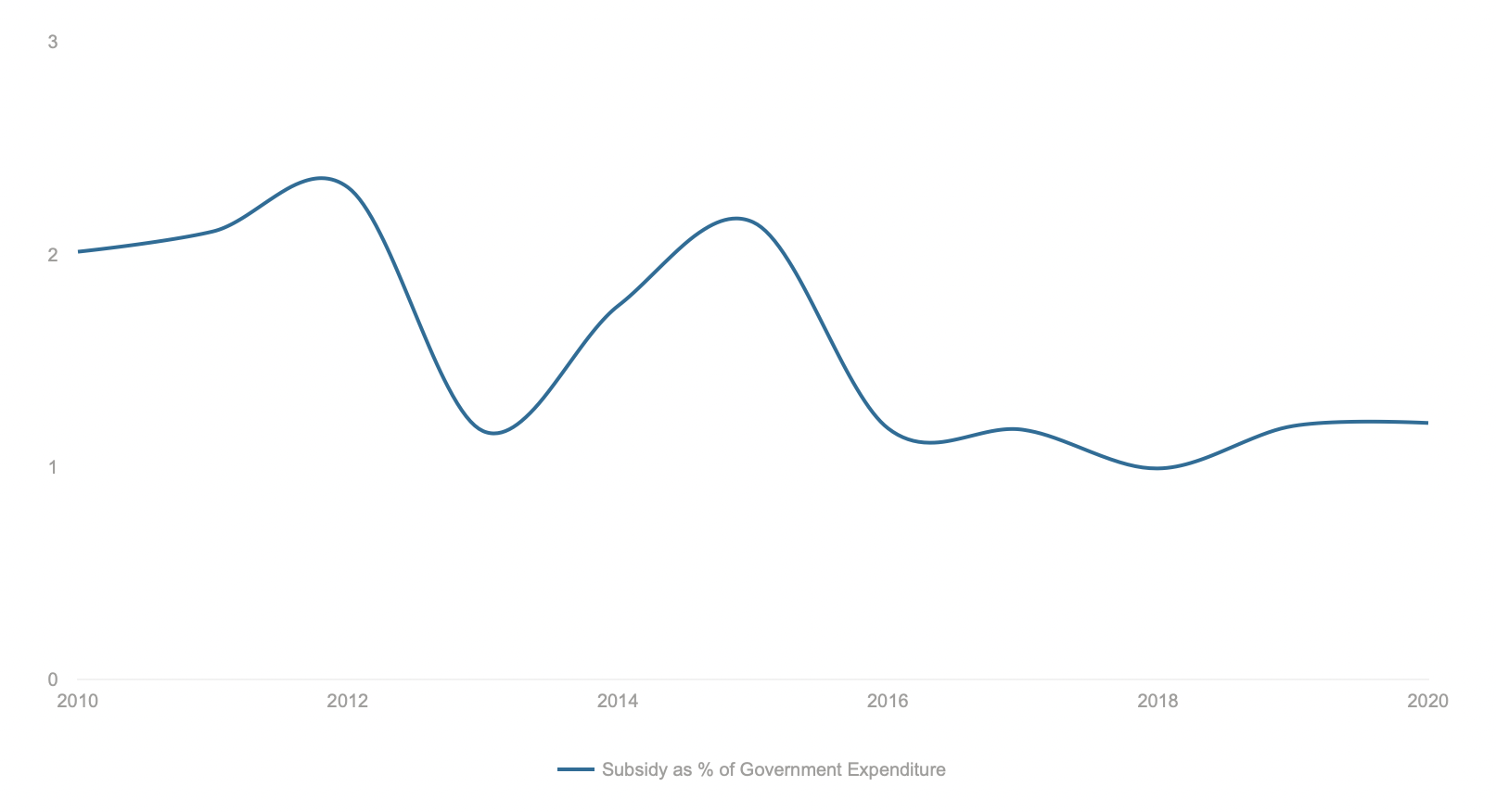 Causality of the subsidy
While the subsidy was extended to cover most export and subsidiary crops, it was primarily introduced to bolster the production of rice. The numbers below indicate that it has contributed towards that goal.
Consider this rise in production alongside the country's growing population. If self-sufficiency — or some semblance of it — is indeed the goal, one must assume that the growing population would require an increased output of, essential food supplies.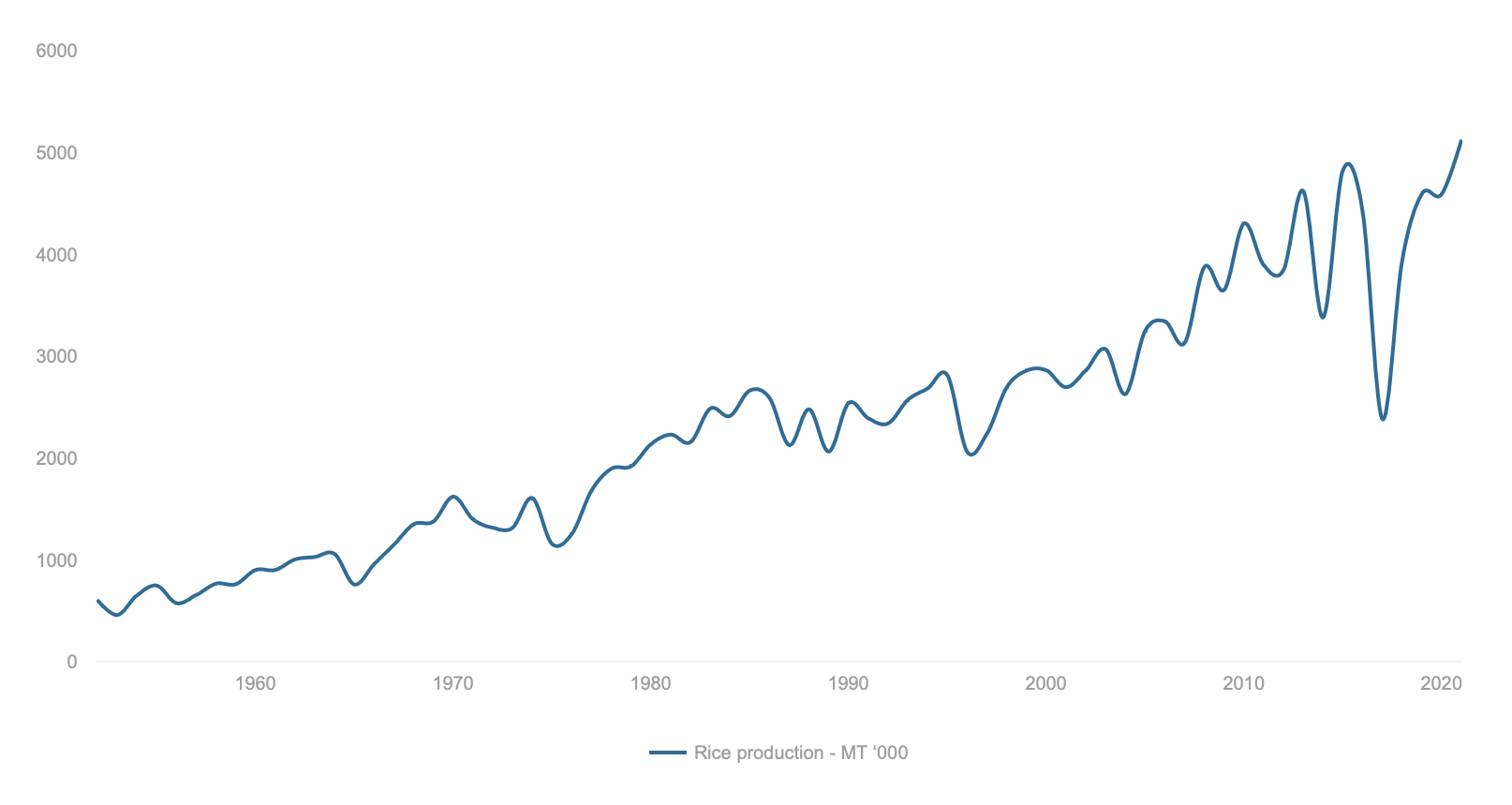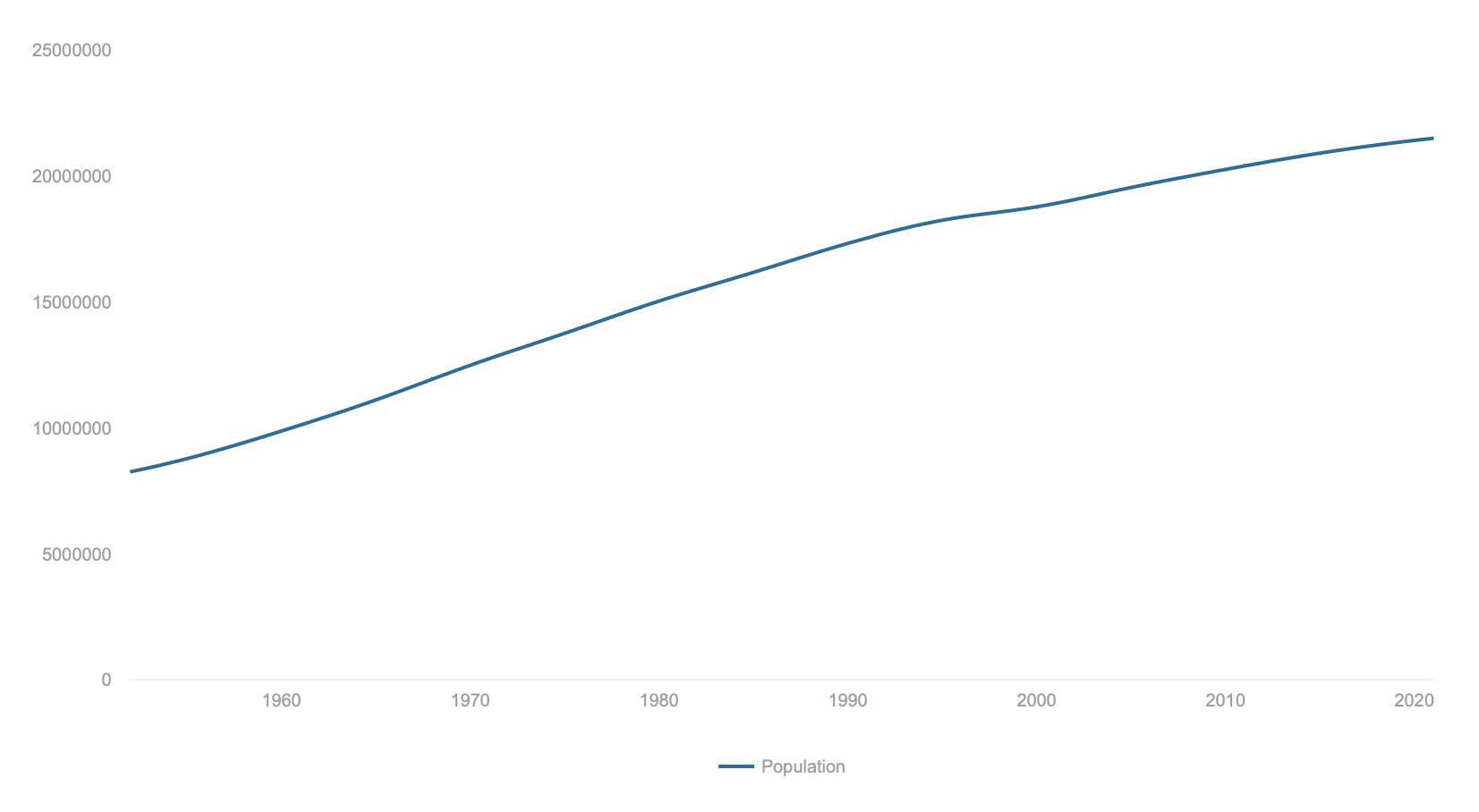 The fastest way of achieving the necessary level of agricultural production is to therefore increase the use of, or continue using, fertiliser in farming. Both of these options further intensify the agricultural process.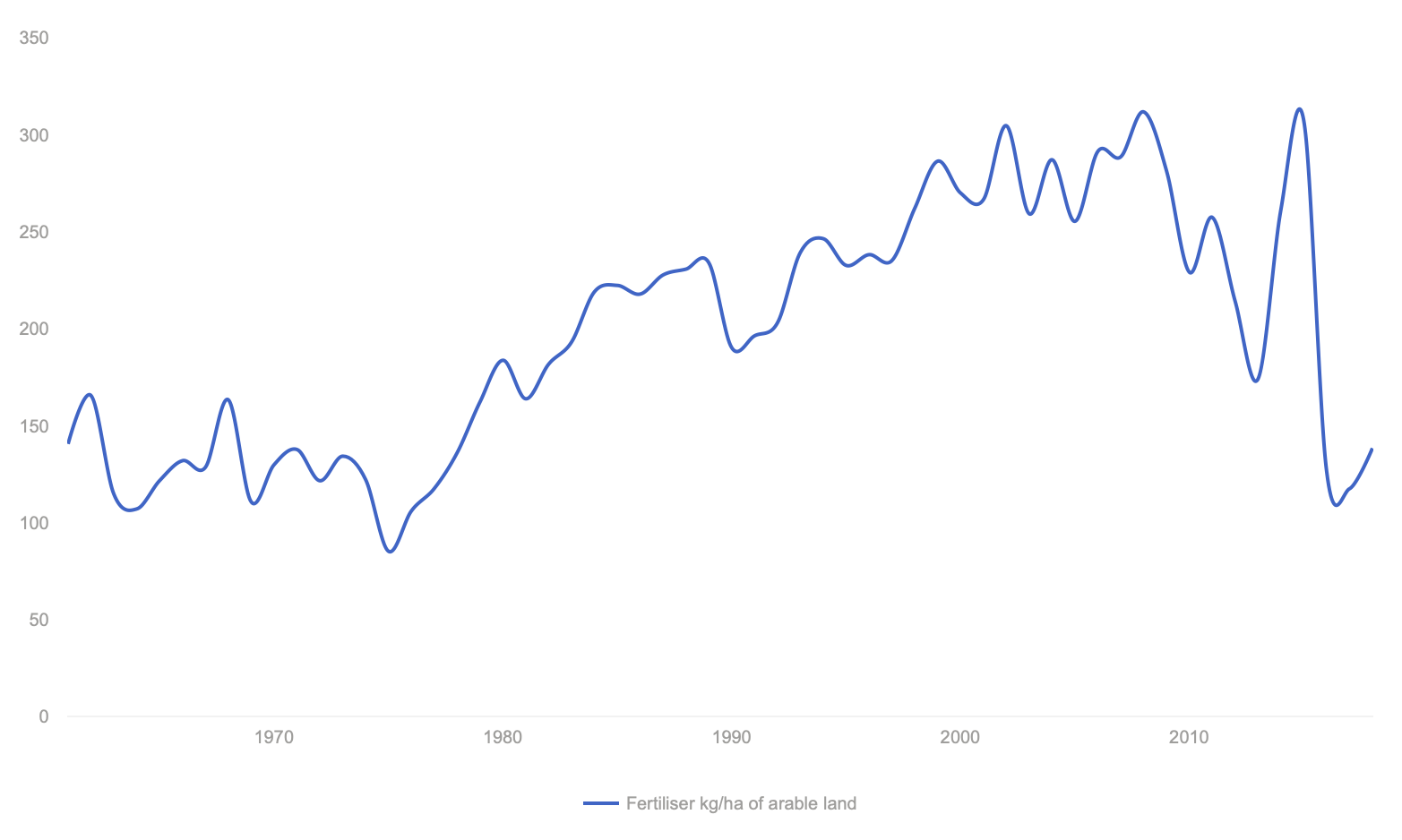 Prof. W.A.U. Vitharana, President of the Soil Science Society Sri Lanka, wrote this as a response to importing of organic fertilisers:
It is a scientifically proven fact that present agriculture production systems cannot sustain the expected high production levels with 100% organic fertilisers*. This is the reality for a country like Sri Lanka which has diverse soils and climatic conditions. Therefore, the national level implementation of this short-sighted decision would lead to a food shortage in the country and malnutrition in the long-term.*
A closer look at the 'short-sighted decision' shows us that his words, in both the long and short term, were prophetic.
The ban and the fallout
The policy change banning the use of chemical fertilisers outright happened overnight. The immediate impact of the change in fertiliser policy was recorded in many ways:
Protests from farmers for the subsidy to be restored continued steadily in the immediate aftermath of the ban.
In shopping centres – supermarkets or sathi polas (weekly markets) – the amount of produce stocked up reduced and alternated each week. Our researchers saw printouts pinned up by retailers and distributors apologising for the lack of green vegetables due to various issues.
Paddy painstakingly grown last season was seen to be wilting due to the lack of nitrate in the soil.
As availability decreased, prices of locally grown foodstuff kept skyrocketing. The cost of eating a healthy meal in the city continued to rise throughout the year.
Along with the decision to ban chemical fertiliser imports, the Government spent the succeeding months trying to promote organic fertiliser. Decisions were made to import organic fertiliser but these steps appeared to be almost an afterthought. However, experts warned that imported organic fertilisers run risks of contaminating local soils and water resources.
Simultaneously, plans to scale up local fertiliser production were set in motion only after this switch was announced. [3]
The Sri Lanka Agricultural Economics Association (SAEA) said the ban was contradictory to President Rajapaksa's 'Vistas of Prosperity and Splendour' model on several points. They said the quick change without adequate plans for recovery or flexibility for farmers placed the country more at risk to face food shortages.
Saman Dharmakeerthi, Professor of Soil Fertility and Plant Nutrition at the Faculty of Agriculture, University of Peradeniya, wrote that the amount of organic fertiliser being generated in the country by producers registered by the Department of Agriculture was nowhere near meeting the needs of paddy cultivation alone.
By Prof. Dharmakeerthi's calculation, the country was producing only 0.22 million tons of compost. This is barely 1/4th of the amount required to sustain the growing of organic paddy, and barely 1/8th of the amount needed for both paddy and tea.
There were long-term experiments conducted over eight seasons. The studies showed no increase of organic matter in soil by application of organic manure. Prof. Dharmakeerthi's writing corroborates this — that the use of poor quality organic fertiliser, or those applied in excessive amounts could have no impact on increasing yield.
Jeevika Weerahewa, Senior Agricultural Economist at the University of Peradeniya, noted that crop loss from the hasty ban during the Maha season – the cultivation period from September to May - would be approximately 40%. This was echoed by industry officials within the Planters' Association.
One of the key figures raising opposition to the hasty decision was Prof. Buddhi Marambe of the Department of Crop Science at the University of Peradeniya.
In several articles and interviews with the media, he pointed out the issues with the outright ban, along with the unpreparedness of local fertiliser producers.
Prof. Marambe was at the time serving on several advisory positions with the Ministry of Agriculture, and was soon removed from all these posts for his criticism.
Whilst a chorus of actual experts on agriculture and farmers themselves pleaded with the Rajapaksa administration to reconsider the rash decision, they were drowned out by the noise of other members of the 'nationalist' intelligentsia. These included the likes of Dr. Anuruddha Padeniya former President of the Government Medical Officers' Association (GMOA), then State Minister Prof. Channa Jayasumana, and Athuraliye Rathana Thero.
By October, farmers protests against the chemical fertiliser ban were widespread. Amidst the mounting pressure, the Government folded in stages.
In November, the Government did a U-turn on its own decision, allowing for the import of chemical fertiliser by the private sector.
Mahindananda Aluthgamage, the then-Minister of Agriculture, also noted that the subsidy for chemical fertilisers would not be reinstated. Rice farmers, however, would be considered eligible for a subsidy on organic fertiliser.
By April 2022, as the #GotaGoHome protest movement was in full swing, the President finally admitted that the ban on fertiliser was a mistake.
When the cure costs more than the disease
The unfolding disaster from the lack of food produced - that is slated to get worse - meant the Government took several damage control measures.
To put it simply, they had to spend a lot of money to make sure people had something to eat.
A record of Rs. 95 per kilo of paddy was paid to farmers, on account of their struggle to cultivate. Shortly after, the Government announced that it would be spending Rs. 40 million to compensate farmers for the 'crop damages' they experienced.
Private sector fertiliser companies demanded the Government settle arrears of Rs. 26 billion to them for stocks they distributed under the subsidy. They needed the money to pay for imports.
Nano-nitrogen liquid fertilisers arrived from India in November 2021, supposedly to assist farmers in the Eastern Province.
The Soil Science Society of Sri Lanka noted that public funds of around Rs. 7,900 million or USD 39 million was spent on importing the nano fertiliser, without enough information as to its suitability for our crops and environment.
In February 2020, to address the falling foreign currency issue, rice imports had been restricted. The immediate impact of the fertiliser ban saw the need for the country to resume importing rice, while its foreign reserves were depleting.
Sri Lanka decided to settle 6.7 million dollars to Qingdao Seawin Bio-tech fertiliser company from which it had ordered organic fertiliser, after the chaos that ensued when Sri Lanka's National Plant Quarantine Service (NPQS) claimed that samples of the fertiliser contained harmful bacteria.
100,000 MTs of rice from India and 300,000 MTs from Myanmar were to be imported under an arrangement. Each ton of rice would cost LKR 126,750/ USD 445, including shipping. In total, that would cost about Rs. 50 billion, or USD 178 million.
On 01 March 2022, the Government announced that it would be paying Rs. 50,000 per hectare to all farmers who had experienced crop damage during the last cultivation season.
The average amount of hectares cultivated annually in principal agricultural crops, minor export crops and subsidiary food crops amounts to 1,697,480 hectares. [4]
If even half this extent qualifies as 'damaged crops', the Government would be looking at spending approximately Rs. 42 billion.That's around USD 187 million on these reparations.
That is a lot of money to be spending, especially if you're a country grappling with not having enough money to begin with.
Adding it all up
To be clear, organic farming is not an issue. Policies based on simplistic notions are. Especially when dealing with a sphere as complex as agriculture.
Organic farmers who spoke to Watchdog pointed out that switching fertilisers alone is not enough; a wider, deeper overhaul of the way we grow is needed.
"In the fields we cultivated, we can achieve the same yield with organic methods as one can with chemical fertiliser, sometimes even more. It just takes time, knowledge and a broader change than simply swapping to organic fertiliser." - Chathurika Sewwandi, Co-founder, Greenfem Ecological Farming Training Center
This would ideally happen alongside education for farmers around seed types, increased access to affordable technology, markets or spaces made to retail their work; making farmers more independent and ensuring long-term food security.
The Government, however, has fallen short in providing this support and capacity-building. Farmers are expected to keep producing as they did before.
On the latest episode of our podcast, Prof. Buddhi Marambe noted that it is unwise to hedge the entire country's food security on organic farming.
Earlier this year, in an article reflecting on the widespread impact of the ban and the Government's refusal to listen to experts on the topic, Prof. Marambe wrote:
"Our policymakers have let down the agricultural economy, the farming community, the academia, the scientists of the Department of Agriculture and other commodity research institutes, and the progress made over decades by the food and feed crop production sector of the country. The cost is enormous; losses are irrecoverable."
Footnotes
[1] Sirisena's hometown and electorate of Polonnaruwa was among the first places where CKDu (Chronic Kidney Disease of unknown aetiology) was detected in Sri Lanka. It still has one of the highest prevalence of cases in the country.
While the previous Rajapaksa Government phased out the use of Glyphosate to five main paddy-growing districts in December 2014, Sirisena announced in May 2015 that the import and use of the agrochemical would completely come to an end.
When the ban was lifted for the tea and rubber sectors in May 2018, farm managers and planters estimated that the annual loss in yield had been worth approximately Rs. 35 billion. This experience had many lessons that should have informed the decision around hastily banning chemical fertiliser. In addition to the loss of crops, the ban also opened the country up to smuggling of Glyphosate that was available in nearby countries, and the influx of alternatives that were not regulated and possibly harmful.
[2] Couple this scheme and the subsidy, and you have two incentives that stimulate production of crops that are consumed in the country. Most of this is with the long-term goal of food self sufficiency in mind. This combination is cited as the cause for the dramatic growth in Sri Lanka's 'peasant' agricultural sector, with 'paddy production rising two and a half times between 1946 and 1960'.
[3] The Ministry of Agriculture met with representatives of the Lanka Phosphate Company, who produce fertiliser from the Eppawala phosphate deposit, only in August 2021 to discuss expediting the production process – a whole three months after the ban was enacted.
[4] Central Bank of Sri Lanka, 'Economic and Social Statistics' report, 2020.
Before the introduction of HYVs of rice alongside the global rise in fertiliser consumption, Sri Lanka was growing a variety of traditional rice grains. 4,541 accessions or variations of these rice types and related species had been preserved in the Plant Genetic Resources Centre.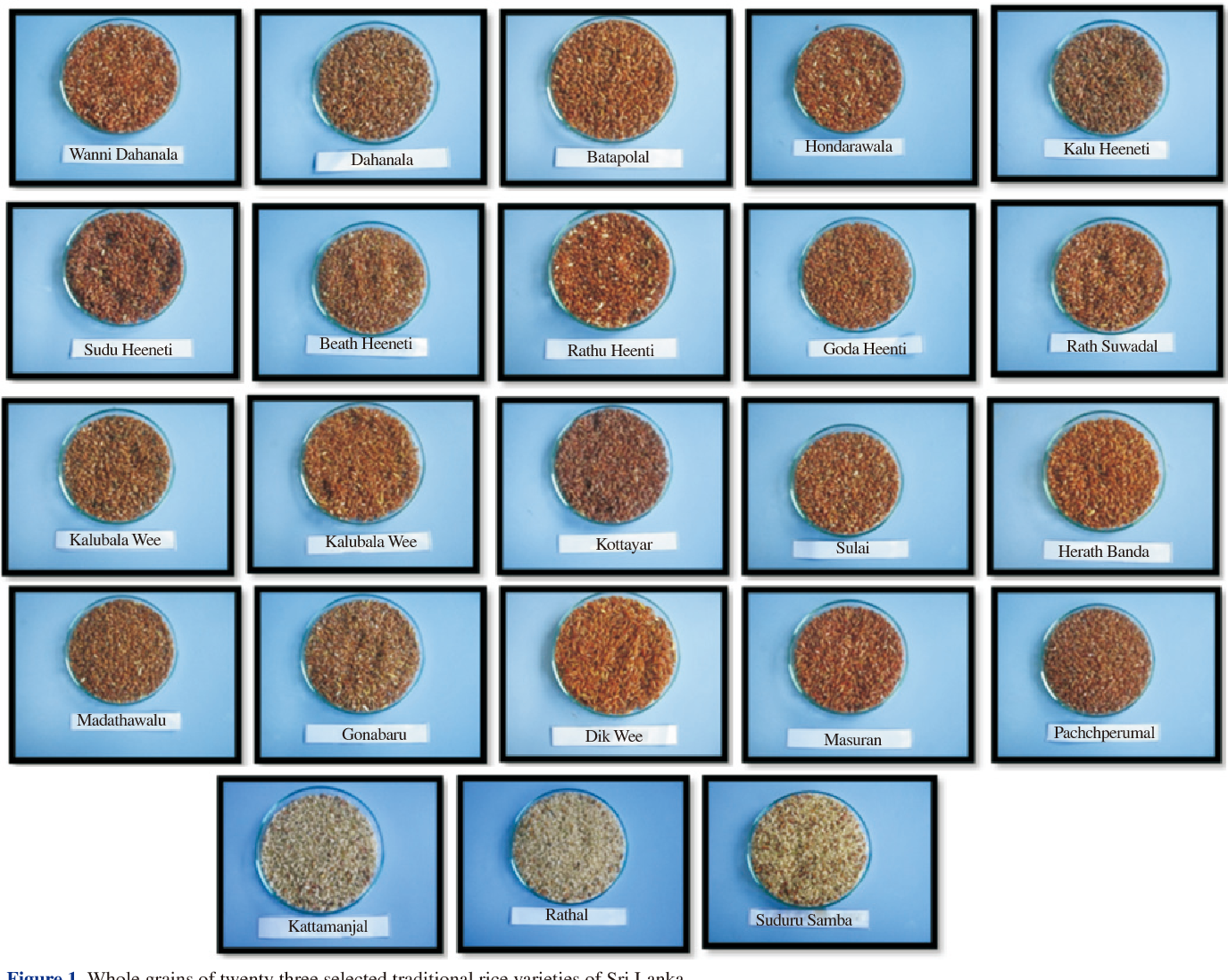 Image of traditional rice varieties via Physicochemical and nutritional properties of twenty three traditional rice (Oryza sativa L.) varieties of Sri Lanka
A study by the Hector Kobbekaduwa Agrarian Research and Training Institute (HARTI) noted that the farming of these traditional rice varieties involved low external inputs. Instead, the traditional technology used 'harnesses the natural forces to its maximum potential.'
[3] To improve the fertility of the paddy fields, the leaves of the plants such as thespesiapopulriae ("Gansooriya") were added to the soil before plant establishment. After harvesting and up to the commencement of tillage for the next season, herds of cows and buffaloes were allowed to graze in the paddy fields, either freely or while tethered. They prevented the excessive growth of weeds, while adding valuable organic manure to the soil in the forms of cow dung and urine, free of costs to the farmer. Those materials also hastened the decomposing of the other plant residues such as rice stubble and straws. Thus, the soils were replenished with nutrients to meet the requirements of the paddy plants of the next season. - Mathugama Seneviruwan_, '_Indigenous Paddy Varieties and Traditional Knowledge'
In traditional farming farmers grew traditional rice varieties, used fertilisers of organic origin (straw, green manure, cow dung, poultry, manure , liquid fertiliser etc.), managed weeds through hand weeding, mechanical weeding and water management and controlled pest and diseases by practicing kem krama (rituals), maintaining biodiversity and using biopesticides. - Dr. P.B Dharmasena, 'Traditional Rice Farming in Sri Lanka'
To this day, organisations still carry out trainings for farmers on how to cultivate these varieties. The HARTI paper notes that less than 2% of cultivated land consists of traditional rice varieties.
Data for this piece
| Year | Total Government expenditure (LKR bn) | Expenditure on subsidy (LKR mn) | Subsidy as % of Government expenditure |
| --- | --- | --- | --- |
| 2010 | 1293613 | 26028 | 2.012039 |
| 2011 | 1414122 | 29802 | 2.107456 |
| 2012 | 1574995 | 36456 | 2.314674 |
| 2013 | 1686384 | 19706 | 1.168536 |
| 2014 | 1809508 | 31802 | 1.757494 |
| 2015 | 2304425 | 49571 | 2.151123 |
| 2016 | 2351795 | 27771 | 1.180843 |
| 2017 | 2585079 | 30361 | 1.174471 |
| 2018 | 2714683 | 26948 | 0.992676 |
| 2019 | 2932390 | 34966 | 1.192406 |
| 2020 | 3040916 | 36687 | 1.206446 |
| Cultivation Year | Rice production - MT '000 | Population |
| --- | --- | --- |
| 1952 | 604 | 8,256,552 |
| 1953 | 458 | 8,417,113 |
| 1954 | 650 | 8,591,018 |
| 1955 | 746 | 8,778,438 |
| 1956 | 575 | 8,978,765 |
| 1957 | 654 | 9,190,650 |
| 1958 | 765 | 9,412,139 |
| 1959 | 761 | 9,640,825 |
| 1960 | 899 | 9,874,476 |
| 1961 | 901 | 10,111,637 |
| 1962 | 1,003 | 10,352,179 |
| 1963 | 1,028 | 10,597,511 |
| 1964 | 1,056 | 10,849,975 |
| 1965 | 758 | 11,110,820 |
| 1966 | 957 | 11,380,670 |
| 1967 | 1,149 | 11,657,650 |
| 1968 | 1,348 | 11,937,600 |
| 1969 | 1,377 | 12,214,956 |
| 1970 | 1,619 | 12,485,740 |
| 1971 | 1,398 | 12,747,821 |
| 1972 | 1,315 | 13,002,231 |
| 1973 | 1,315 | 13,252,036 |
| 1974 | 1,605 | 13,501,935 |
| 1975 | 1,156 | 13,755,146 |
| 1976 | 1,255 | 14,012,899 |
| 1977 | 1,680 | 14,273,495 |
| 1978 | 1,894 | 14,533,690 |
| 1979 | 1,919 | 14,788,862 |
| 1980 | 2,134 | 15,035,834 |
| 1981 | 2,229 | 15,272,831 |
| 1982 | 2,156 | 15,501,207 |
| 1983 | 2,484 | 15,724,651 |
| 1984 | 2,413 | 15,948,487 |
| 1985 | 2,661 | 16,176,280 |
| 1986 | 2,588 | 16,408,859 |
| 1987 | 2,127 | 16,643,952 |
| 1988 | 2,477 | 16,878,189 |
| 1989 | 2,063 | 17,106,753 |
| 1990 | 2,538 | 17,325,773 |
| 1991 | 2,389 | 17,535,729 |
| 1992 | 2,340 | 17,736,821 |
| 1993 | 2,570 | 17,924,823 |
| 1994 | 2,683 | 18,094,477 |
| 1995 | 2,810 | 18,242,912 |
| 1996 | 2,061 | 18,367,288 |
| 1997 | 2,239 | 18,470,900 |
| 1998 | 2,692 | 18,564,599 |
| 1999 | 2,857 | 18,663,284 |
| 2000 | 2,860 | 18,777,601 |
| 2001 | 2,695 | 18,911,730 |
| 2002 | 2,860 | 19,062,482 |
| 2003 | 3,067 | 19,224,037 |
| 2004 | 2,628 | 19,387,153 |
| 2005 | 3,246 | 19,544,988 |
| 2006 | 3,341 | 19,695,972 |
| 2007 | 3,131 | 19,842,044 |
| 2008 | 3,875 | 19,983,984 |
| 2009 | 3,652 | 20,123,508 |
| 2010 | 4,301 | 20,261,737 |
| 2011 | 3,894 | 20,398,497 |
| 2012 | 3,847 | 20,532,600 |
| 2013 | 4,620 | 20,663,046 |
| 2014 | 3,381 | 20,788,511 |
| 2015 | 4,819 | 20,908,027 |
| 2016 | 4,420 | 21,021,171 |
| 2017 | 2,383 | 21,128,032 |
| 2018 | 3,930 | 21,228,763 |
| 2019 | 4,592 | 21,323,733 |
| 2020 | 4,591 | 21,413,249 |
| 2021 | 5,121 | 21,497,310 |
| Year | Fertiliser kg/ha of arable land |
| --- | --- |
| 1961 | 140.4874 |
| 1962 | 165.4541 |
| 1963 | 114.6313 |
| 1964 | 106.9785 |
| 1965 | 121.5851 |
| 1966 | 131.8598 |
| 1967 | 128.4318 |
| 1968 | 163.2619 |
| 1969 | 110.6965 |
| 1970 | 129.7531 |
| 1971 | 137.6225 |
| 1972 | 121.5328 |
| 1973 | 134.1787 |
| 1974 | 122.1823 |
| 1975 | 85.17647 |
| 1976 | 105.8889 |
| 1977 | 117.4737 |
| 1978 | 135.886 |
| 1979 | 162.1267 |
| 1980 | 183.6267 |
| 1981 | 163.7778 |
| 1982 | 181.6021 |
| 1983 | 192.9988 |
| 1984 | 218.9186 |
| 1985 | 222.234 |
| 1986 | 217.7723 |
| 1987 | 227.6067 |
| 1988 | 230.6236 |
| 1989 | 233.9079 |
| 1990 | 190.1589 |
| 1991 | 196.2281 |
| 1992 | 202.9359 |
| 1993 | 239.208 |
| 1994 | 246.3228 |
| 1995 | 232.5542 |
| 1996 | 238.0722 |
| 1997 | 235.0372 |
| 1998 | 262.0067 |
| 1999 | 286.2773 |
| 2000 | 269.9071 |
| 2001 | 266.4498 |
| 2002 | 304.563 |
| 2003 | 259.1842 |
| 2004 | 287.01 |
| 2005 | 255.2918 |
| 2006 | 291.3152 |
| 2007 | 288.525 |
| 2008 | 311.7117 |
| 2009 | 281.3764 |
| 2010 | 229.0475 |
| 2011 | 257.3146 |
| 2012 | 214.0895 |
| 2013 | 173.9857 |
| 2014 | 261.3146 |
| 2015 | 307.1471 |
| 2016 | 126.2628 |
| 2017 | 117.3936 |
| 2018 | 138.2963 |