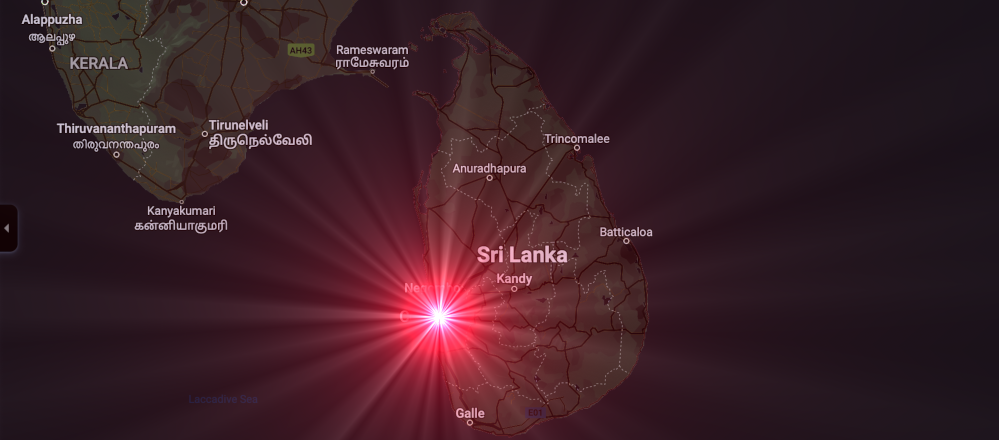 Let's recap Monday (09 May) so far: it started off with the pro-Rajapaksa protestors' meeting in Temple Trees. Then it snowballed into the pro-Rajapaksa protestors razing one protest site — MynaGoGama — to the ground, and then assaulting those at GotaGoGama (GGG).
In our previous piece, we went through the entire timeline and established key points in the narrative - including SLPP people involved, as well as how the police reacted.
This piece covers the aftermath of the attack. Keep in mind that many things happened simultaneously; we've bucketed groups of events together so as to make it easier to keep track of things. Click the drop-down headers to unfold.
2PM: Island-wide curfews and rebuilding GGG
By 1.50 PM, lawyers established a human chain between the GotaGoGama protestors and the police. By 2PM, a curfew throughout the Western Province was imposed; this became an island-wide curfew by around 2:36PM.
Despite the curfew, the crowds at GotaGoGama grew steadily, and protestors swiftly helped reconstruct the site.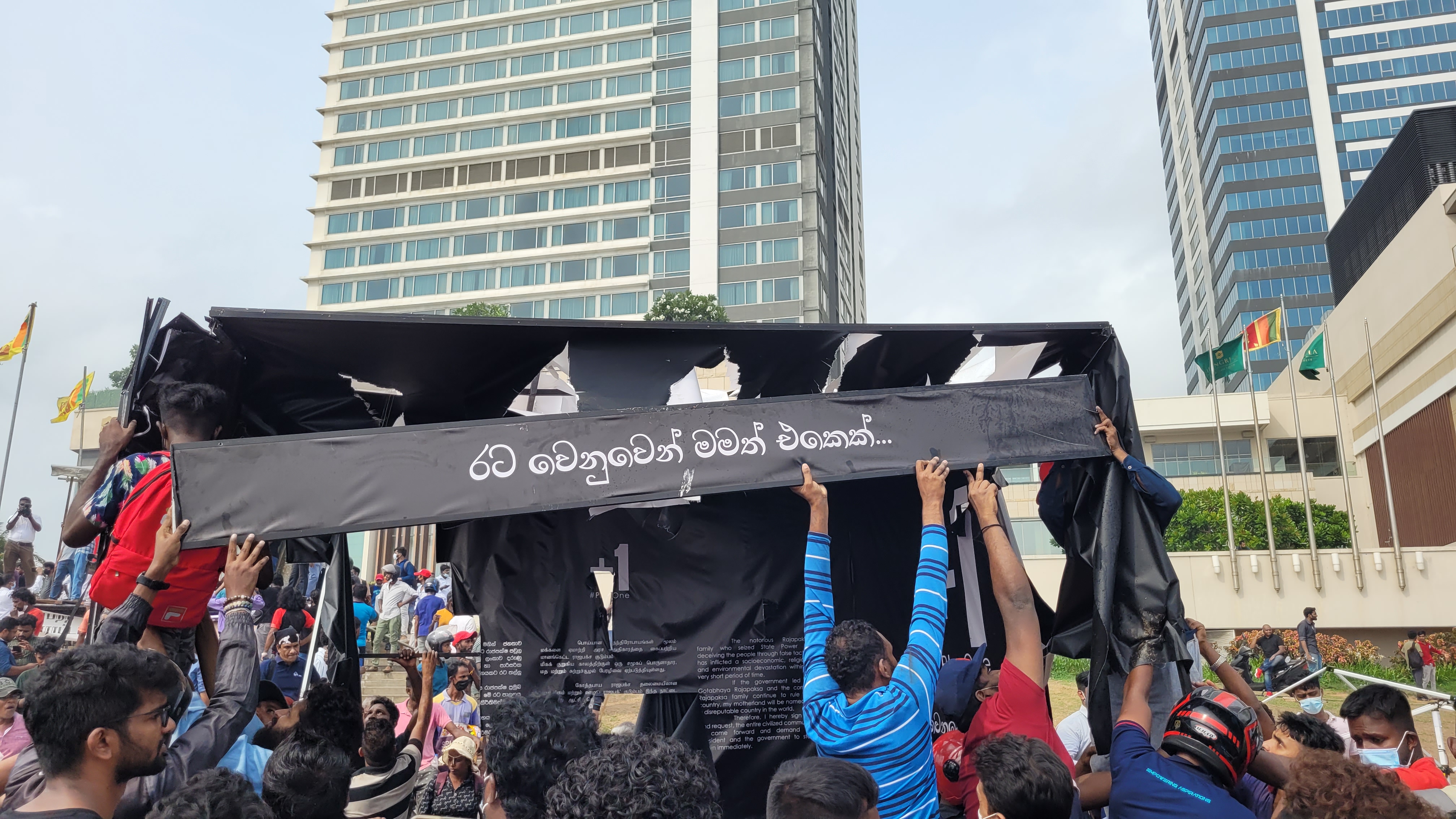 There was heavy STF presence until around 4PM, barricading the route leading to Temple Trees against a body of protestors. News of the Prime Minister's resignation came in around then, after which they dissipated towards the beach shortly afterwards.
Crowds at GotaGoGama kept increasing. Nurses, teachers, university staff, staff from the ports all came straight out of their workplaces, in uniforms and gear, to stand with the protestors.
After the initial State-enabled violence earlier in the day, vigilantism took over, where groups began searching vehicles for any pro-Rajapaksa group brought into Temple Trees that morning, or 'baby mynahs' - Mahinda Rajapaksa supporters.
Pro-Rajapaksa protestors were rounded up, beaten and on occasion, stripped down to their underwear. Mahinda Kahandagama, President of the SLPP-affiliated Colombo Municipal Councillors & Employees' Union, was among those subjected to this treatment.
Pro-Rajapaksa protestors were also chucked into the Beira Lake in central Colombo.
The footage above has been circulated many times, and was verified against other footage from different angles, but is of unknown provenance. The Beira Lake was rechristened "Baiya Napu Wewa" on Google Maps to reflect this incident (Baiya is the derogatory term coined to describe supporters of the Rajapaksas).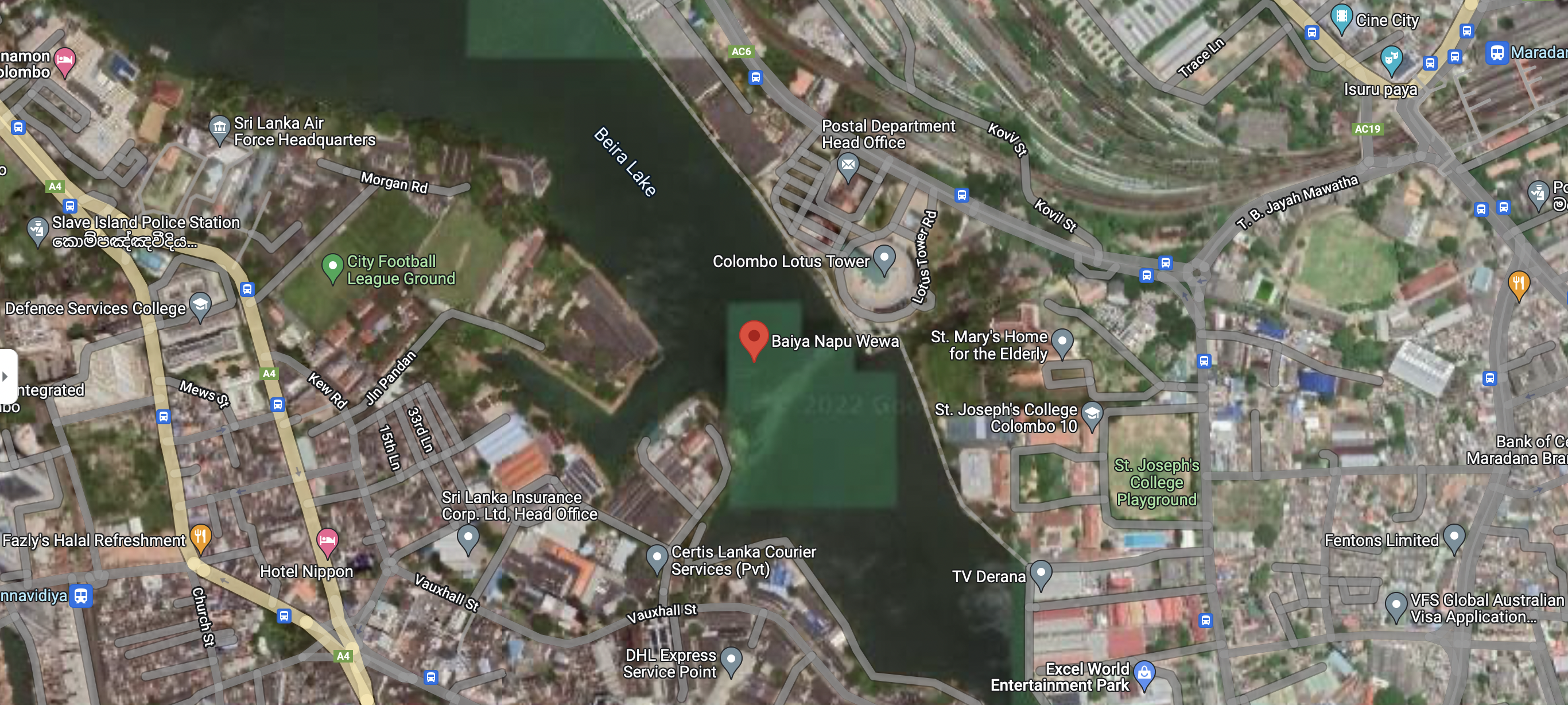 Footage began to spread of people who claimed they had been taken out of the Watareka Open Prison Camp and integrated into the attack. They claimed to have been escorted by a jailer named 'Ramanayake'. Thushara Upuldeniya, Commissioner General of Prisons, denied the allegations, claiming instead that a group of prisoners were set upon in Malabe when returning from the construction sites at which they were working.
The Attacks on Vehicles
A number of vehicles alleged to have brought said protesters were also tipped into the Beira lake.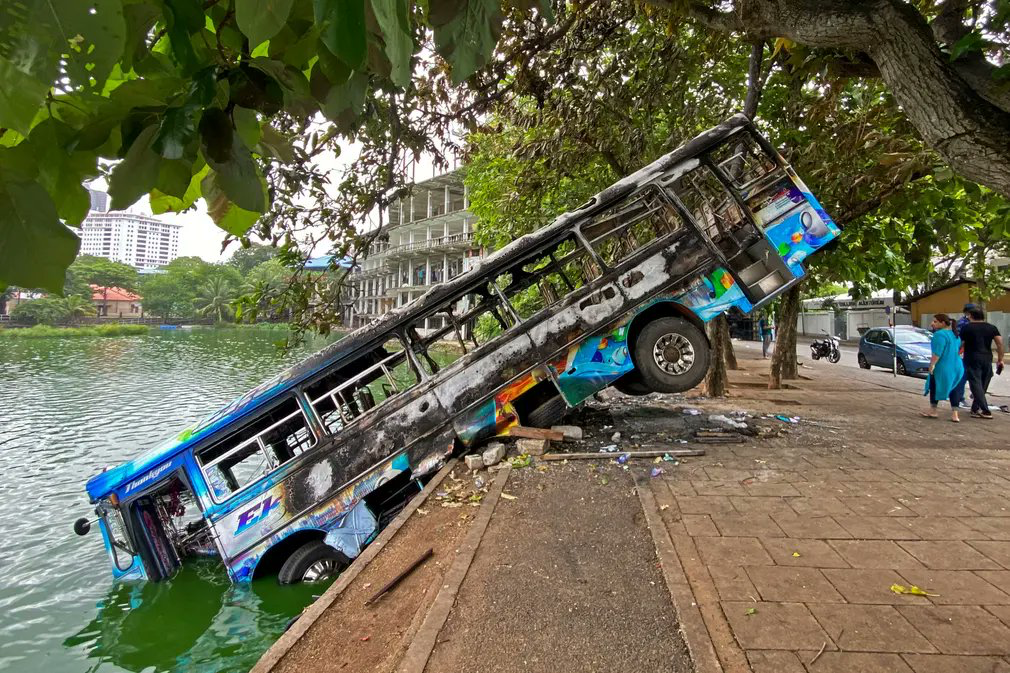 Protestors believed that some these vehicles belonged to Johnston Fernando. The Daily Mirror captured this scene of the crowd tipping an SUV into the Beira Lake:
A vehicle allegedly belonging to former Minister Johnston Fernando has been pushed in to the Beira lake. pic.twitter.com/q2FHMYfdXQ

— DailyMirror (@Dailymirror_SL) May 9, 2022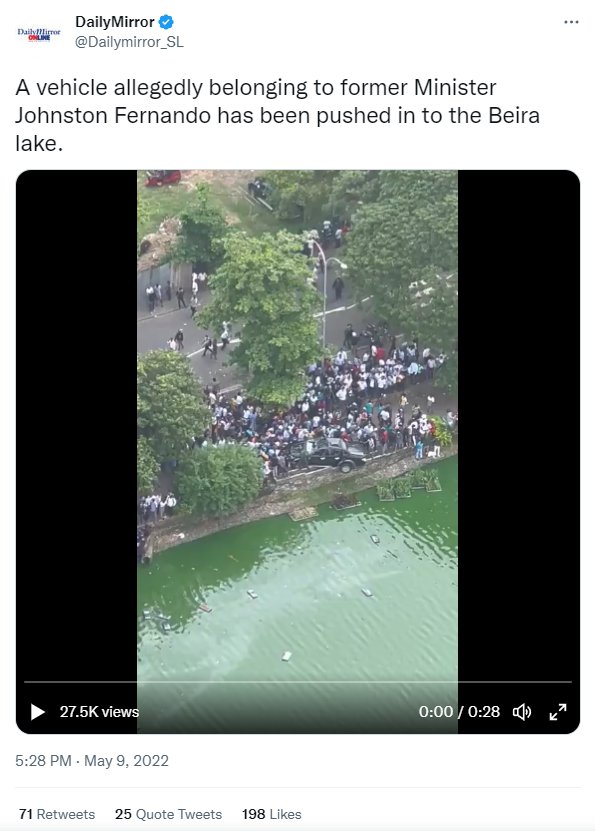 Groups rapidly stationed themselves at main roads out of Colombo, examining buses to ensure there were no Pro-Rajapaksa supporters leaving Colombo in them (two of the journalists working on this piece were stopped six times between Fort and home). Here, for example, is a scene from Maharagama (confirmed by NewsWire, but the original photo is difficult to conclusively trace):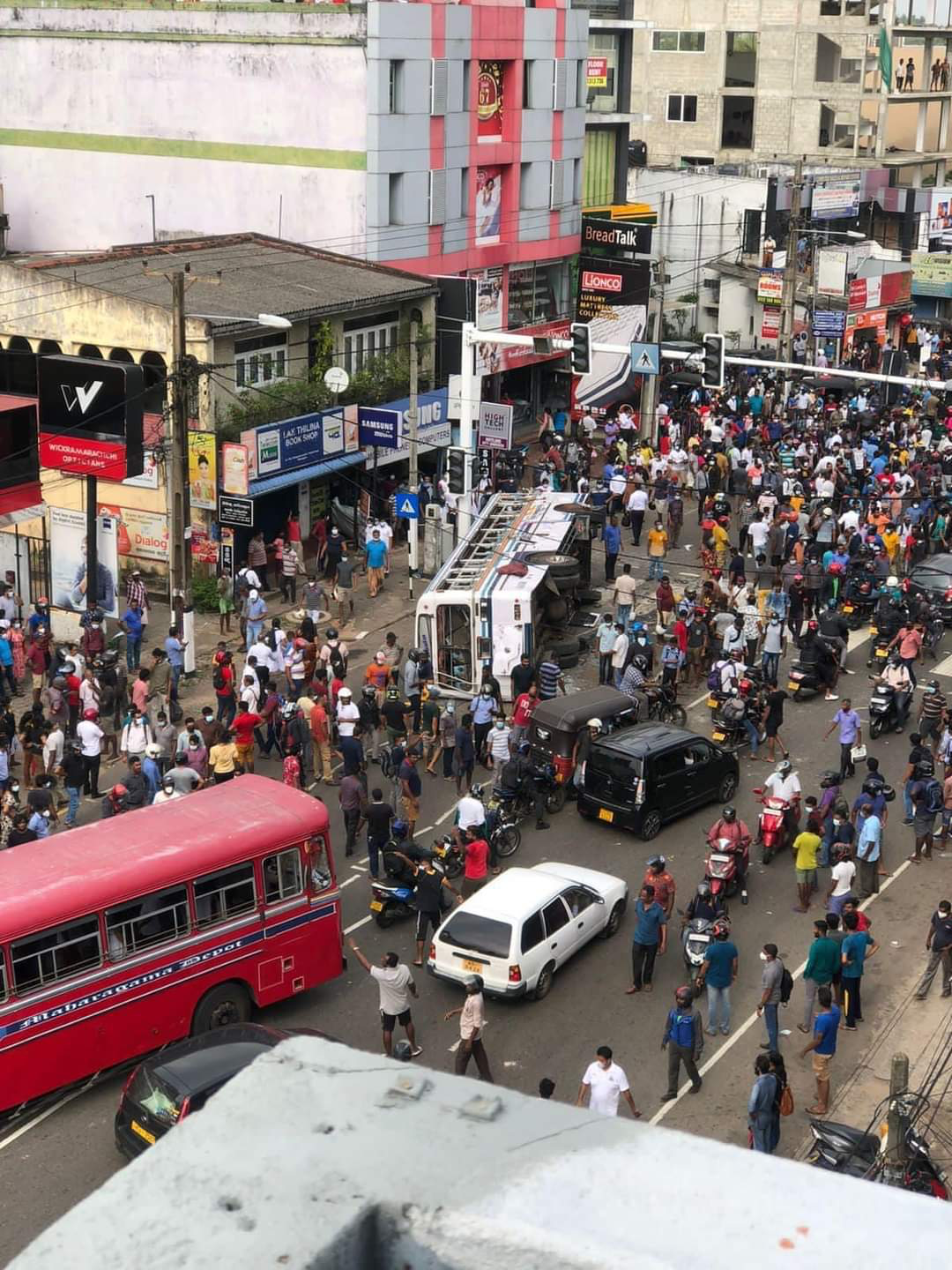 The user who tweeted out the photo below (again, of Maharagama) reported that the crowd had metal poles and hockey sticks.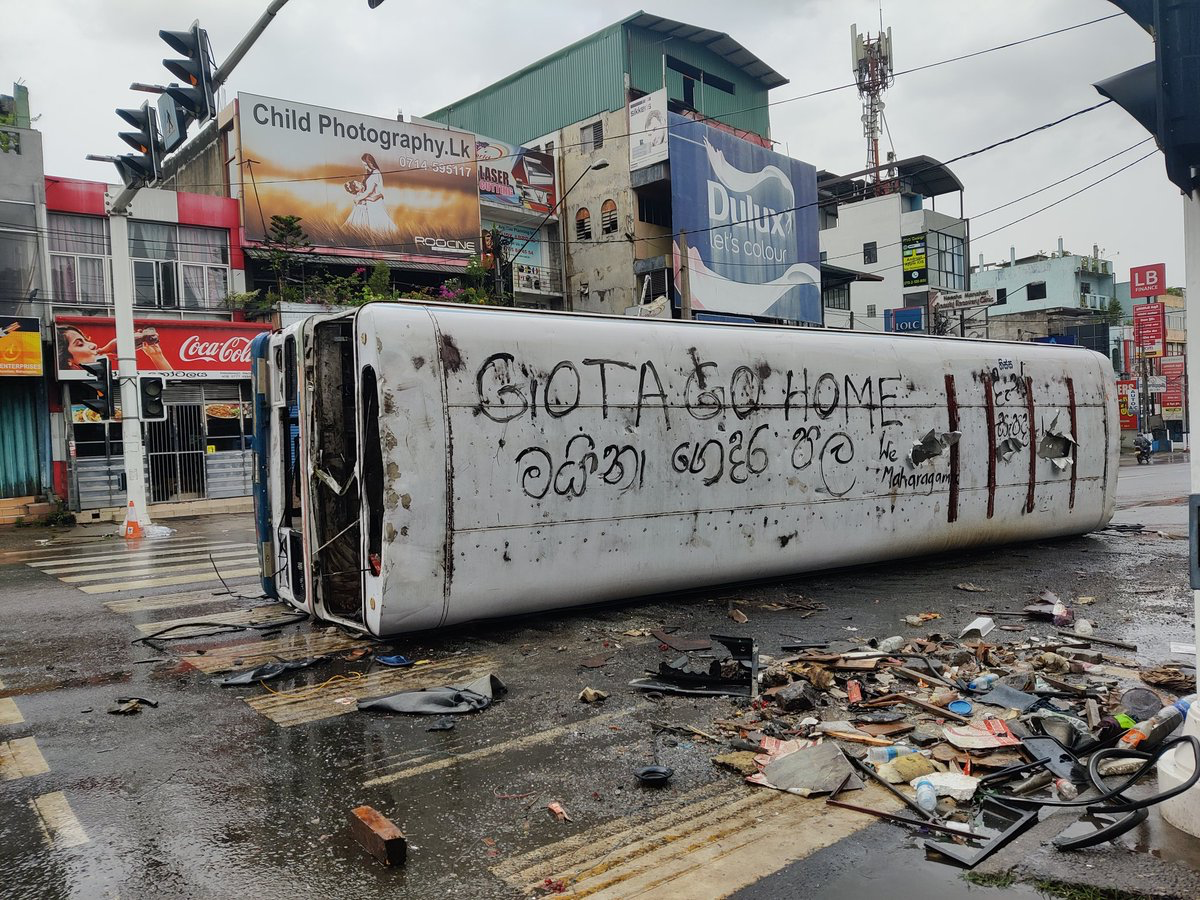 Several buses and other vehicles were beaten and torched throughout Colombo and its suburbs.
This footage of a backhoe destroying a bus is from Kadawatha (near the Pan Asia Bank and Lucky Cycle Center).
More of these groups were seen at the entrances to highways and the roads leading to the Bandaranaike International Airport. Anyone seen to be recording them on were threatened as well.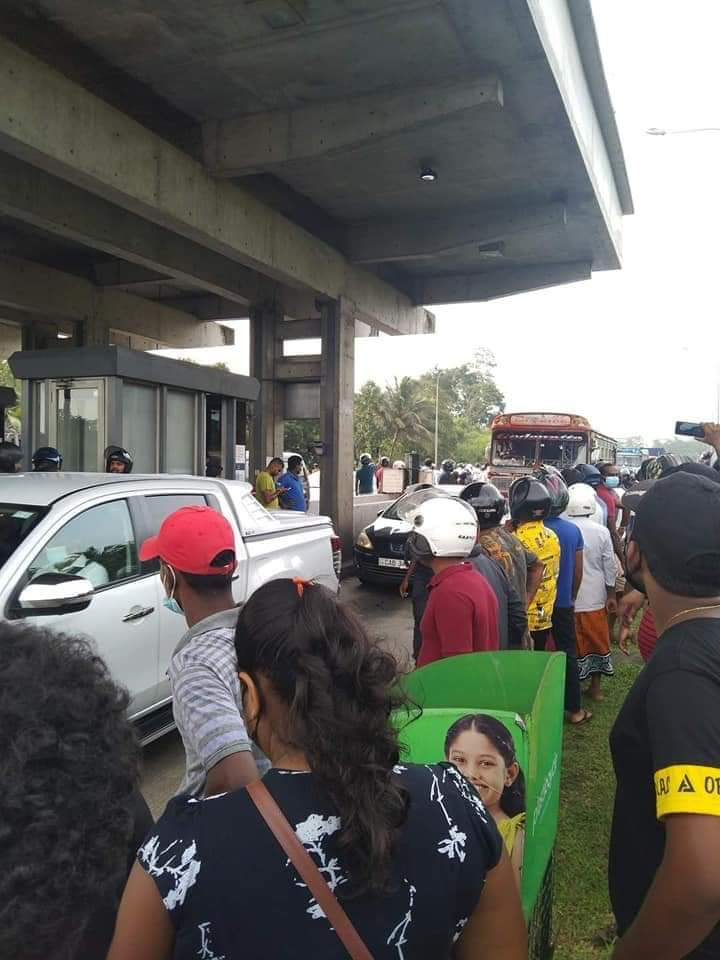 The Death of an MP
SLPP MP Amarakeerthi Athukorala's vehicle was surrounded in Nittambuwa. The MP or his Security Officer, are reported to have opened fire on protestors, killing one protestor and injuring at least two others. Athukorala was later reported dead himself.
There is much misinformation around his death. Some reported that he committed suicide after 'allegedly' shooting and fleeing from the protestors; others allege that he died from injuries at the hands of the angry mob.
Having seen the (unedited) video of the corpses of the MP and his bodyguard, we found it difficult to believe the incredibly sensational suicide reported by many.
The results of the post mortem at the Wathupitiwala Base Hospital were published in today's (13) Lankadeepa; it found that Amarakeerthi Athukorala had died of an assault and had not sustained any gunshot wounds.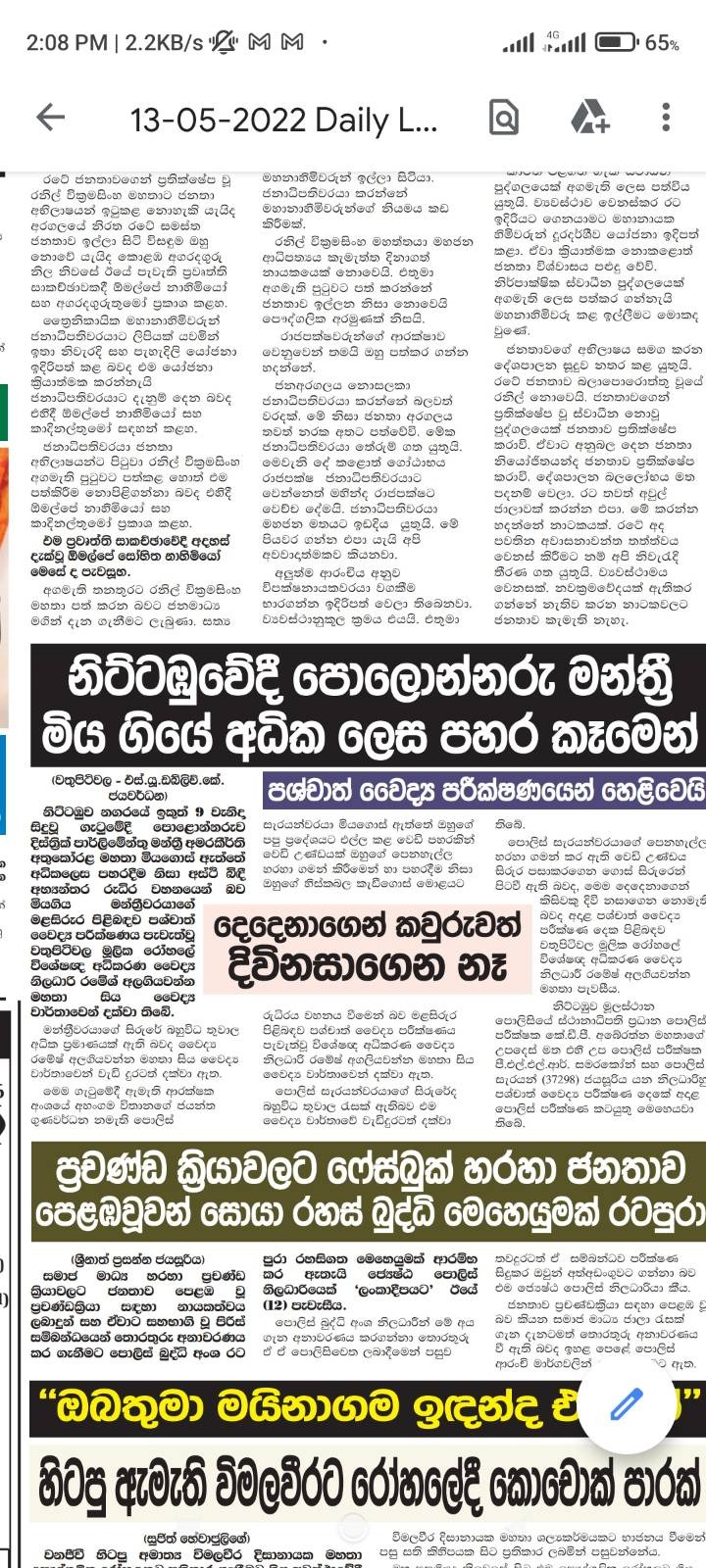 Wathupitiwala Base Hospital confirmed the veracity of this report to us when we called them. MP Kumara Welgama was also attacked and admitted to hospital. According to his brother Nalin Welgama, his vehicle knocked into someone at Makumbura, and was assaulted by angry mobs who did not know who he was.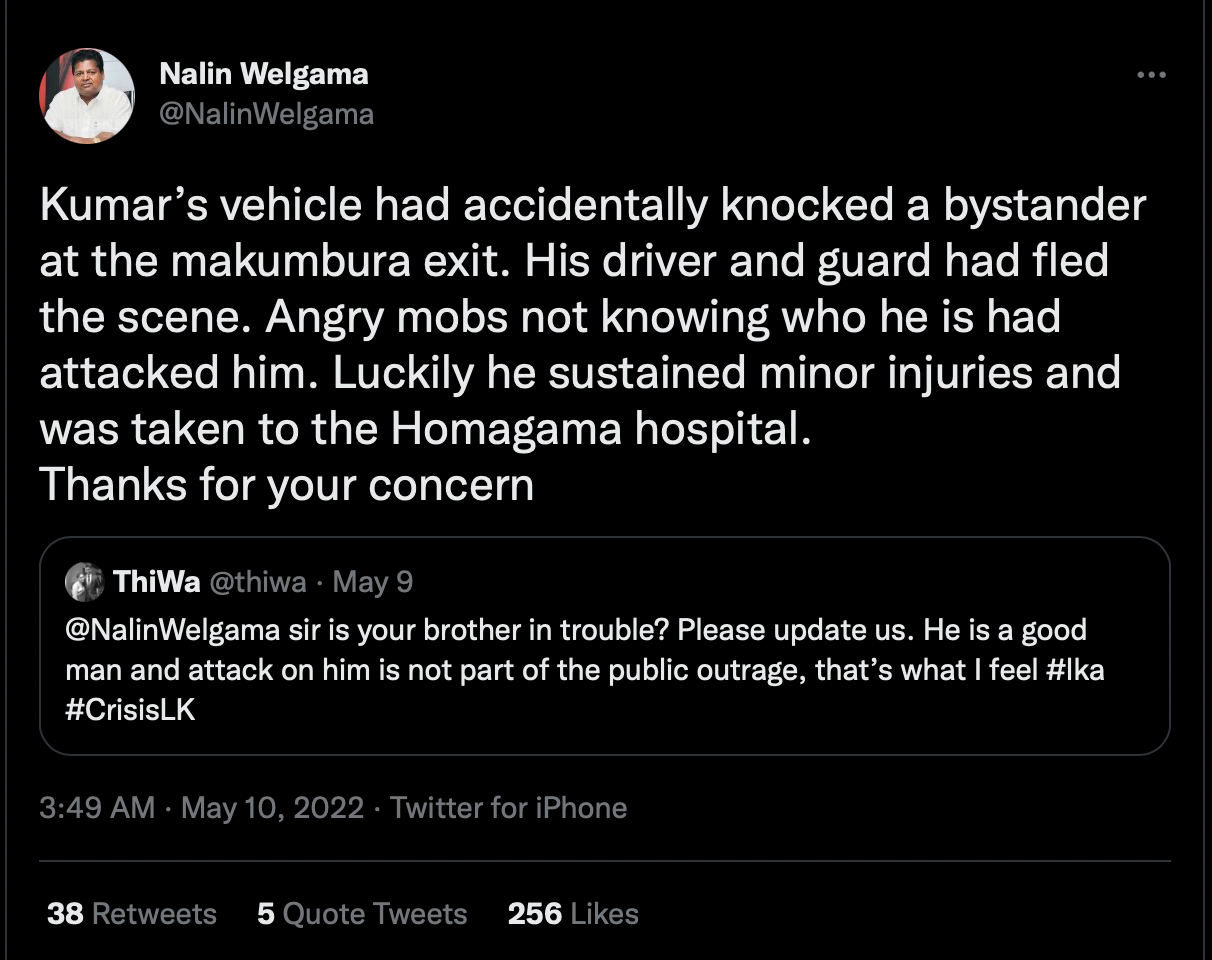 Burning Mansions (and Hotels)
While this was happening, houses and other properties owned by politicians and affiliates were torched throughout the day (and mostly during the night). These attacks were wide-spread across the entire country and targeted primarily SLPP politicians, and others who were pro-Rajapaksa. Of at least 75 torched properties we've recorded, a few key ones are listed here:
We're working on adding these to our protest tracker, but for now, if you want to look at the raw data, here's our sheet.
The Attack on Temple Trees and Mahinda Rajapaksa's resignation
We noted in our earlier piece how the pro-Rajapaksa attack had been mobilised from Temple Trees.
By now, rumours of Mahinda Rajapaksa's resignation were common knowledge - thanks in part to an undated letter making the rounds on social media.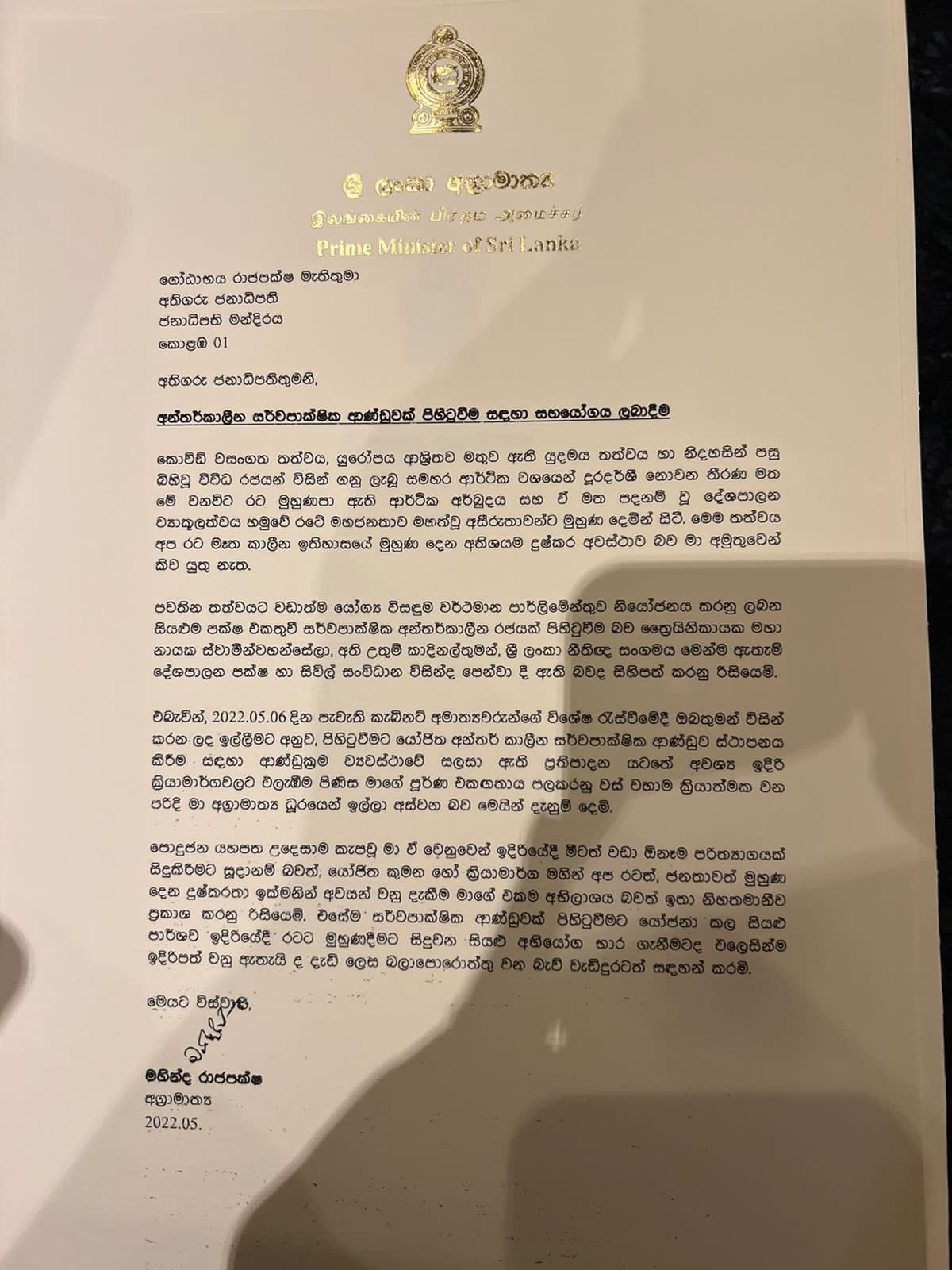 Roar.lk captured photos of people cooking milk rice in Panchikawatte.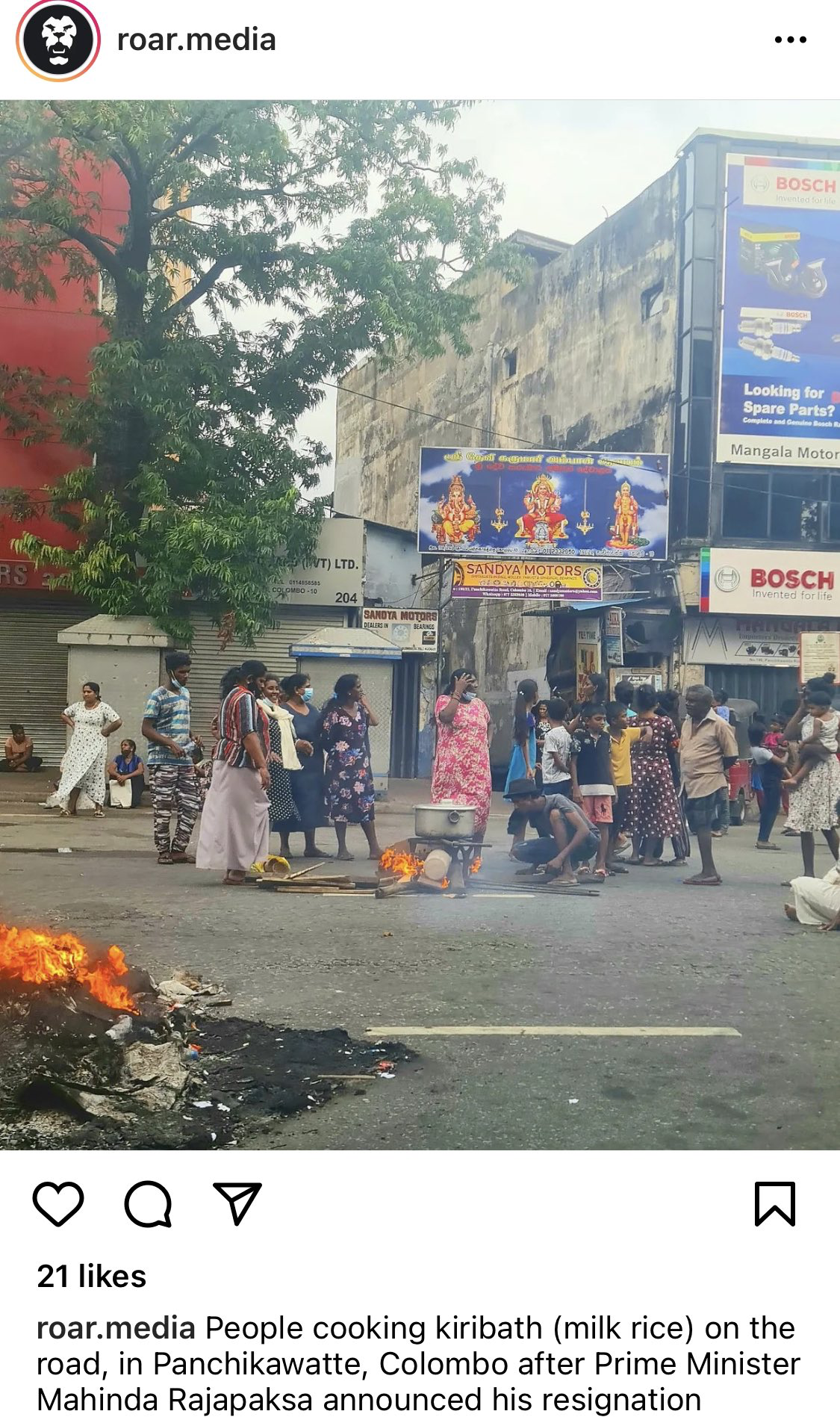 Following rumours that Mahinda Rajapaksa had been airlifted from Temple Trees to Trincomalee Naval Base, protestors formed a crowd outside, as this widely-circulated video from Arjun Ravi shows.
திருகோணமலை கடற்படை முகாமை முற்றுகையிட்டு பொதுமக்கள் போராட்டம்

VIDEO - @ArjunRavi96 pic.twitter.com/zhu1crH7MK

— Vithushan Jeyachandran (@imjvithu) May 10, 2022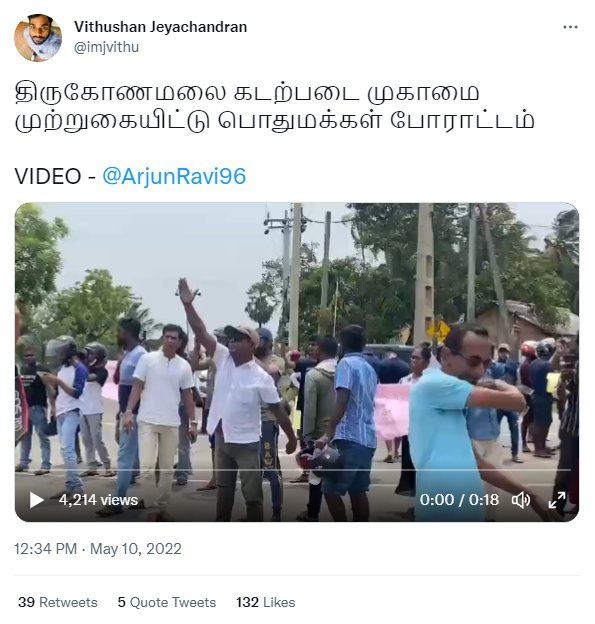 Meanwhile, at Beira Lake, vehicles were set on fire and pushed into the water, especially near the back entrance of Temple Trees. Dasuni Athauda, International Correspondent for India-based WION News, provided footage (tweeted from both her account and NewsWire) covering the scene there.
#SriLankaInChaos - Monks watch on as unrest erupts at the Beire Lake entrance to Temple Trees.

About three vehicles set ablaze and pushed to the Beire Lake.

Protests continue despite an islandwide curfew. #SriLankaProtests #SriLankaEconomicCrisis pic.twitter.com/elzInd6iY3

— Dasuni Athauda (@AthaudaDasuni) May 9, 2022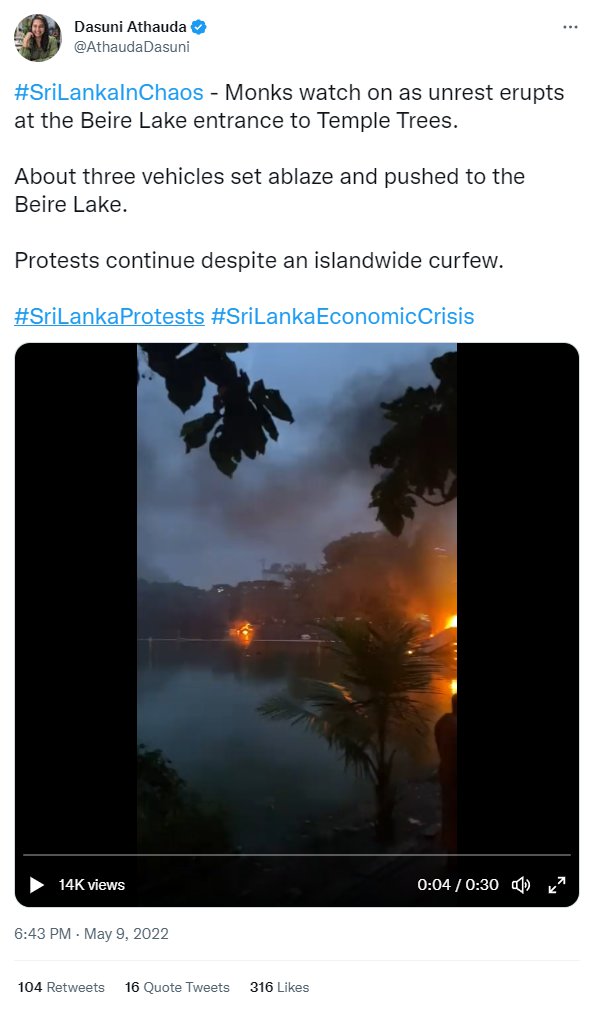 NewsWire footage shows the police at a fire at the back of Temple Trees. We can't quite ascertain whether it was one of the vehicles set on fire earlier or another vehicle inside Temple Trees; it looks like the latter. What we do know is that someone attempted to ram a bus through the rear gates of Temple Trees.
Tense situation near Temple Trees : Police fire tear gas to disperse protestors pic.twitter.com/8wPhER5TFP

— NewsWire 🇱🇰 (@NewsWireLK) May 9, 2022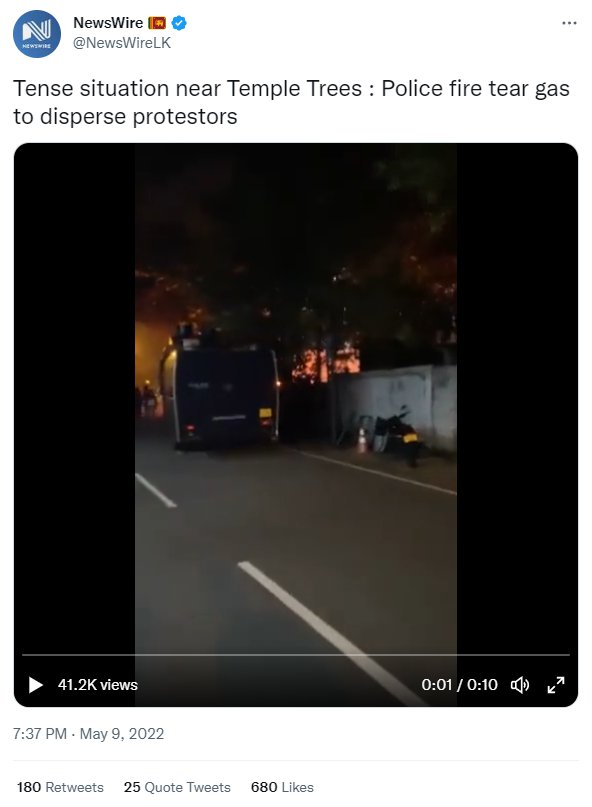 The timeline is a little hazy here. Multiple things happened: protestors attacked Temple Trees from both front and back; someone set fire to a vehicle inside the Temple Trees compound; and the crowd was tear-gassed multiple times.
We know that crowds were at the back of Temple Trees at 6.30PM. By 8PM, a large crowd of people had gathered outside Temple Trees in the front as well, and were attacking the gates on both sides. According to footage, protestors also used barricades to try and ram the gates open.
Footage from 8:25 PM shows this crowd breaking in through the same gates.
Watch : Protestors break into Temple Trees by ramming into the gate. #lka #SriLanka pic.twitter.com/adP3m91vVV

— MDWLive! SriLanka 🇱🇰 (@MDWLiveSriLanka) May 9, 2022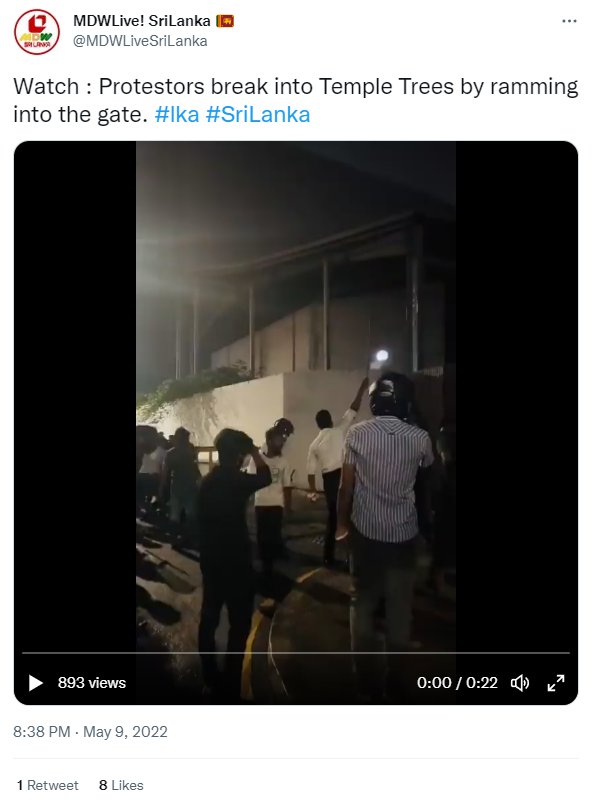 Kalani Kumarasinghe of the Daily Mirror, who was on site covering this, is one of the most reliable sources for timestamps.
Seeing very very disturbing scenes here at the Temple Trees protest. Young men are equipped with makeshift batons, steel rods, sharpening various objects things against walls. This is their response to reports that an STF attack is imminent. If you are coming out here, take care

— Kalani Kumarasinghe (@KalaniWrites) May 9, 2022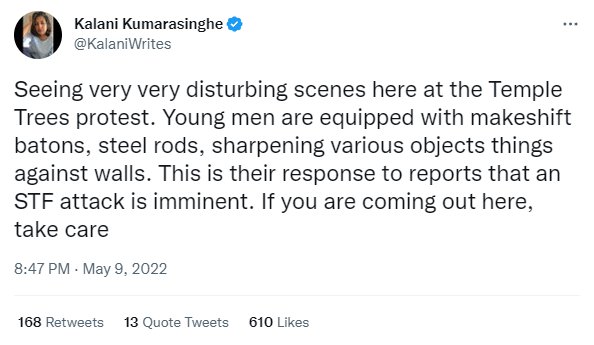 Another vehicle was clearly set on fire towards the Galle Road entrance of Temple Trees.
A vehicle inside the Temple Trees compound has been set on fire. Some protestors here say that a truck was set alight by persons inside the compound #SriLanka #lka pic.twitter.com/gTh0k6HLGO

— Kalani Kumarasinghe (@KalaniWrites) May 9, 2022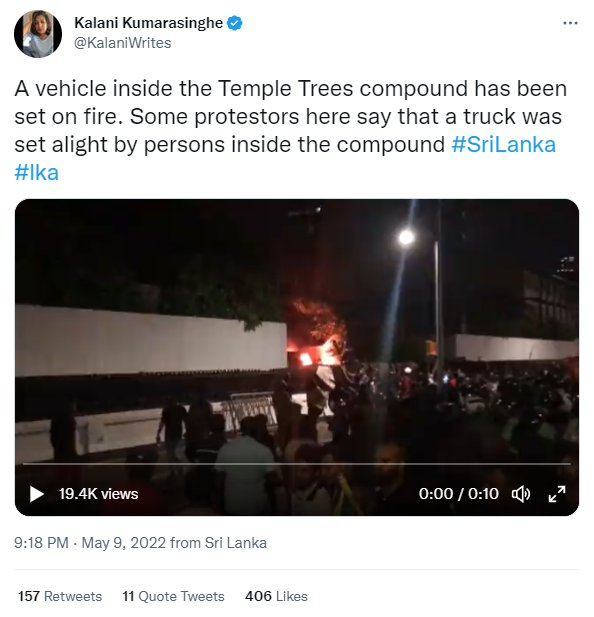 At around 11:30PM, news sites published the Gazette confirming the Prime Minister's resignation.
10 May: The Right to Shoot, and a Presidential Speech
Army Commander Shavendra Silva and IGP C.D. Wickremeratne were summoned to the Human Rights Commission of Sri Lanka (HRCSL) to explain why they 'failed to maintain the rule of law' for the incidents that took place during the 'unrest' on Monday.
Deshabandu Tennakoon, Senior DIG of the Western Province, was assaulted in broad daylight. Two suspects were remanded as a result.
Maithri Gunaratne PC lodged a complaint at the Colombo Fort Chief Magistrate on the attacks on peaceful protestors the previous day.
"...the suspects are punishable under charges of being members of an illegal assembly, assaulting or obstructing a public servant in suppressing a riot, provoking the public with the intention of inciting a riot, accommodating participants in an illegal assembly, voluntarily injuring persons, using dangerous weapons, inflicting grievous bodily harm, causing intentional or serious injury, improper obstruction, torture, assault on a female, criminal coercion, misdemeanour, and criminal intimidation."
At about 7PM, the Defence Secretary, Maj. Gen. (Retd.) Kamal Gunaratne, announced that the Armed forces were ordered by the Defence Ministry to open fire at anyone looting public property or causing harm to others.
Several lawyers have since pointed out that the resignation of the Prime Minister means the Cabinet and Ministries (and by extension Ministry Secretaries) cease to exist.
When PM resigns, the Cabinet is dissolved.

There are no Ministries.

The sole executive now is the President.

The commander of the armed forces is the President.

So, if at all, it is the President who can order the armed forces.

— 𝗡.𝗞.𝗔𝘀𝗵𝗼𝗸𝗯𝗵𝗮𝗿𝗮𝗻 (@nkashokbharan) May 10, 2022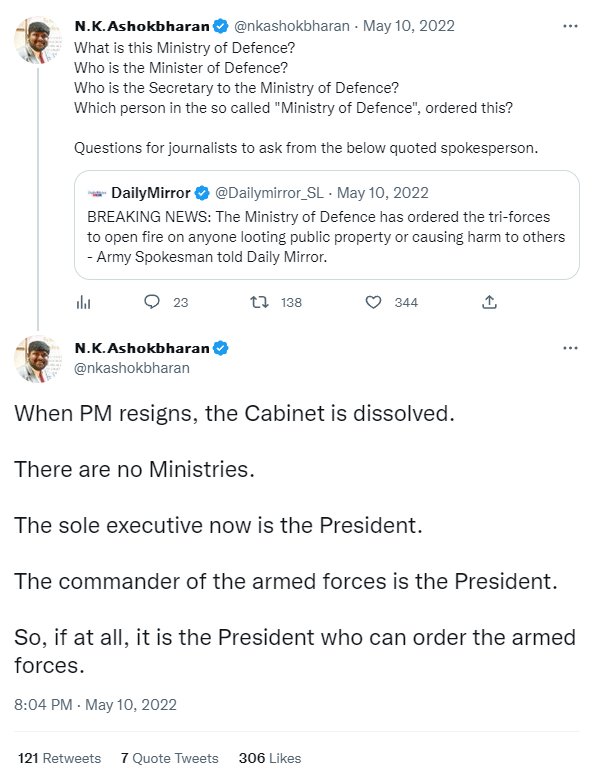 Dr. Dinesha Samararatne, a legal scholar, citing the unprecedented nature of the situation, also noted that when a Prime Minister resigns, the Cabinet stands dissolved and there is no constitutional provision under which Ministry Secretaries are permitted to remain in office. In a conversation with Watchdog, she noted that there is no legal basis for any orders issued, or actions taken, by the Secretaries.
Meanwhile over the past several days, military vehicles were spotted throughout Colombo. This convoy of armoured vehicles was recorded near the Diyatha Uyana junction.
11 May: A Tale of Two Speeches
At about 3:30PM on Wednesday, the President's Media Division announced that the Secretaries of three Ministries, (Defence, Public Security, and Finance), had been reappointed.
At 4PM, Dr. Nandalal Weerasinghe, Governor of the Central Bank of Sri Lanka, said he would resign within two weeks or so if Sri Lanka does not achieve political stability. He noted that without a cabinet and a finance minister, it would not be possible for Sri Lanka to proceed with debt restructuring and International Monetary Fund (IMF) negotiations.[2]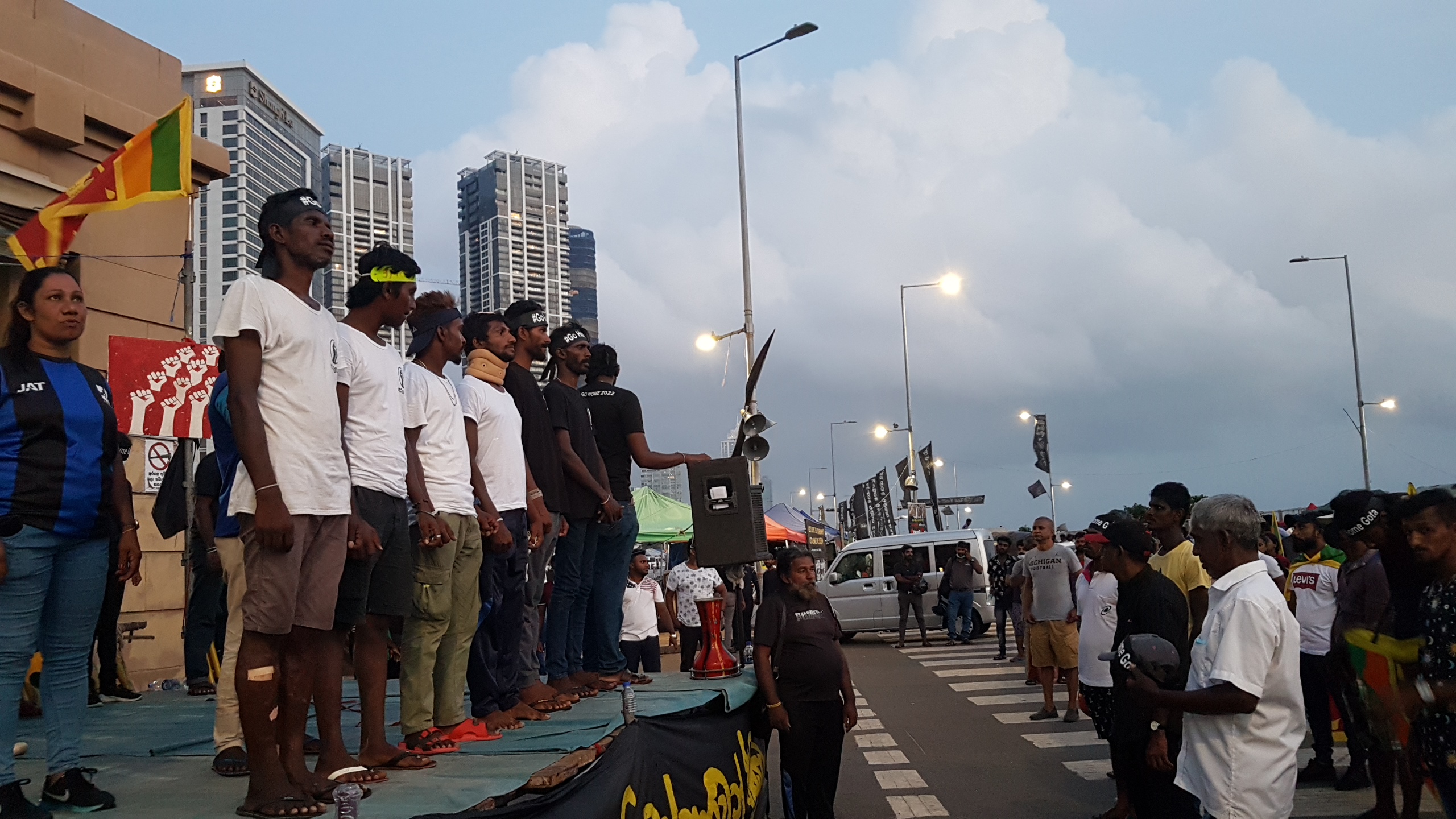 At 6PM, the Ministry of Defence ordered the tri-forces to open fire and use necessary force to prevent violence.
At 9PM, Gotabaya Rajapaksa, President, delivered a 10-minute speech on Wednesday night — in which he dismissed the protestors as rioters and trouble-makers. The beleaguered President condemned the attack on the GotaGoGama and MynaGoGama sites but stopped short of mentioning them by name.
President Rajapaksa also made a commitment to appoint a new Prime Minister and Cabinet within the week, re-instate provisions of the 19th amendment to the constitution, and commence dialogue on abolishing the Executive Presidency, once economic stability is secured.
He also said that the tri-forces and the police are instructed to take strong action against troublemakers — aka, cementing orders given earlier to open fire on people involved in theft of public property or causing harm to others.
12 May: The Fight For the Porcelain Throne
At 9:18AM: President Rajapaksa tweets of a new government and of appointing a Prime Minister who can 'secure the confidence of the people' by this week.
1/4
Steps will be taken to form a new gov to prevent the country falling into anarchy & to maintain the affairs of the state that have come to a halt.

A PM who commands majority in Parliament & is able to secure the confidence of the people will be appointed within this week.

— Gotabaya Rajapaksa (@GotabayaR) May 12, 2022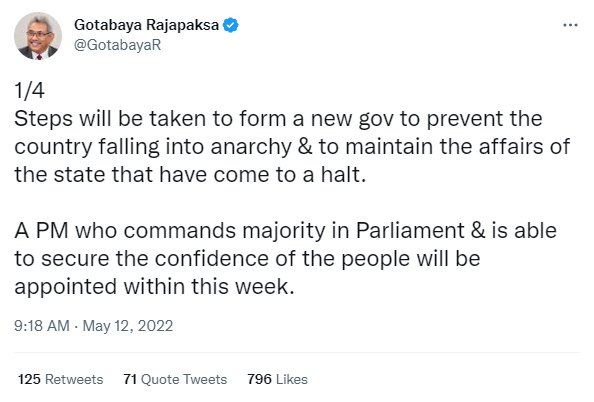 At 2PM, an overseas travel ban is imposed on 13 SLPP politicians — including Mahinda Rajapaksa, Namal Rajapaksa, Johnston Fernando, and Western Province SDIG Deshabandu Tennakoon. At 3PM, Opposition Leader Sajith Premadasa pens an open letter to the President, outlining that he is ready to accept the position of Prime Minister if the President acquiesces to four pre-conditions: agree on a timeframe for Gotabaya Rajapaksa to resign as President, immediate re-instatement of the 19th amendment to the constitution, legislate a 21st amendment to abolish the executive presidency, and agree to a date for a parliamentary election.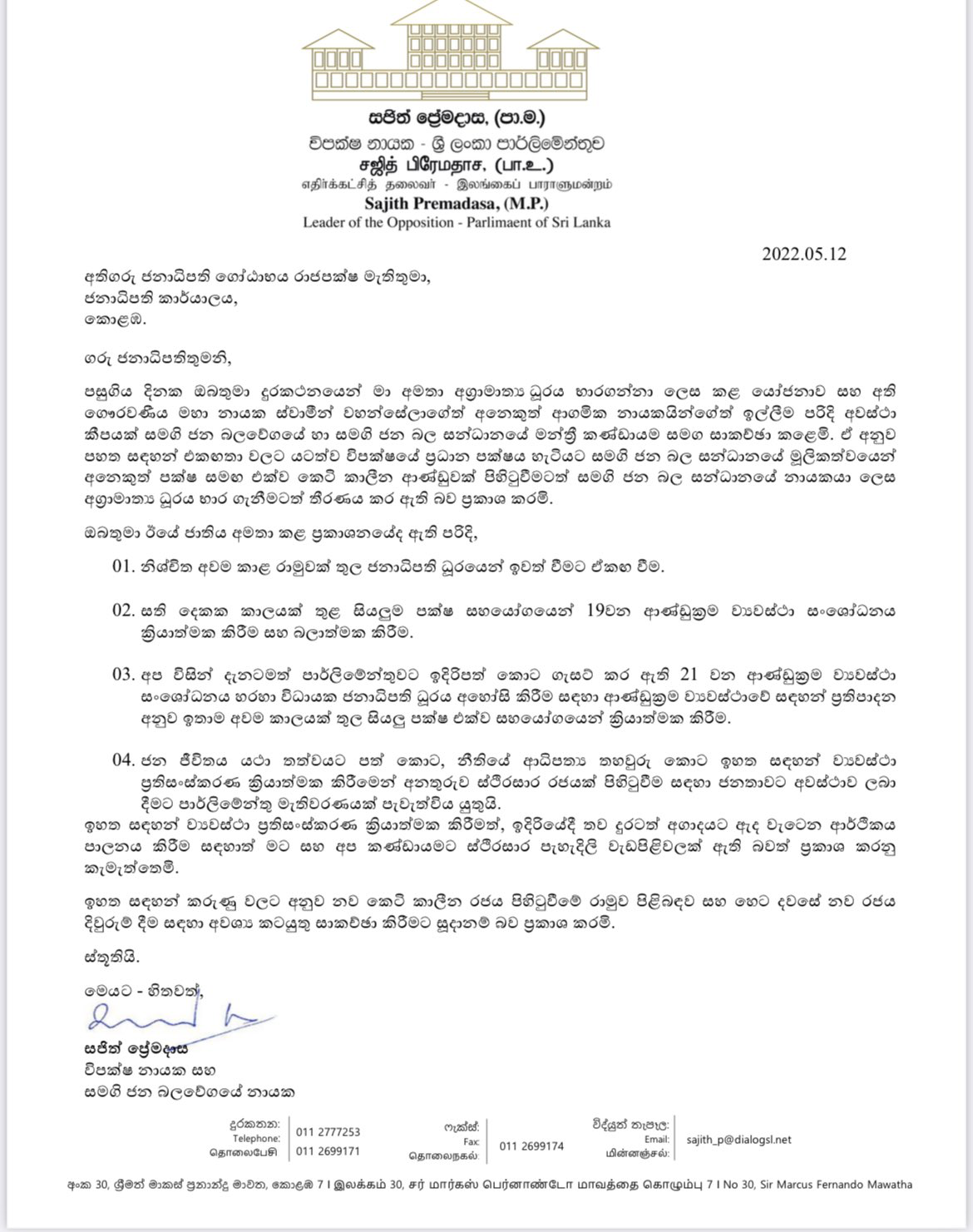 6:30PM: Ranil Wickremesinghe is sworn in as Prime Minister. Again. He holds the record for being sworn in as PM the most number of times in Sri Lankan history — six times to date. [3]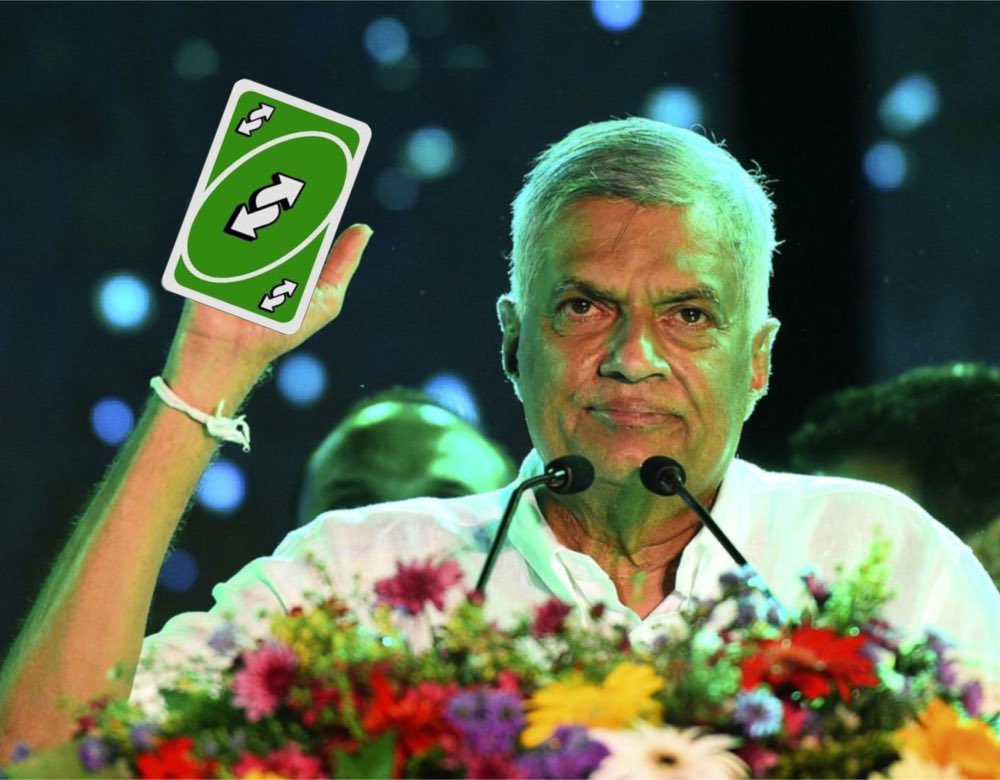 Casualties
Several protestors from the Mynagogama and Gotagogama sites needed medical attention immediately. A medical doctor and a trainee doctor at the National Hospital of Sri Lanka (NHSL) told Watchdog that the entrance to the accident services unit had been closed on higher orders, to prevent the treatment of those injured at the protest sites. Staff inside the hospital had then taken to the road in protest, and protestors were eventually admitted to the hospital.
There were 232 people who were hospitalised after the attacks, with 217 of them being treated at NHSL.
Anuranga, who sustained a severe blow to the back of the head, has had surgery and is recovering, though his left hand remains paralysed.
Vishwa, who was seen being dragged along the ground by pro-Rajapaksa supporters, was treated and is back at the protest site.
Akila, a photographer who was attacked and whose camera equipment was destroyed, is also recovering with physiotherapy.
These are the cases of a few protestors we've been able to follow, though many more were treated and are back at Galle Face.
According to the police report as of 10 May, 88 vehicles and 103 homes were damaged or torched.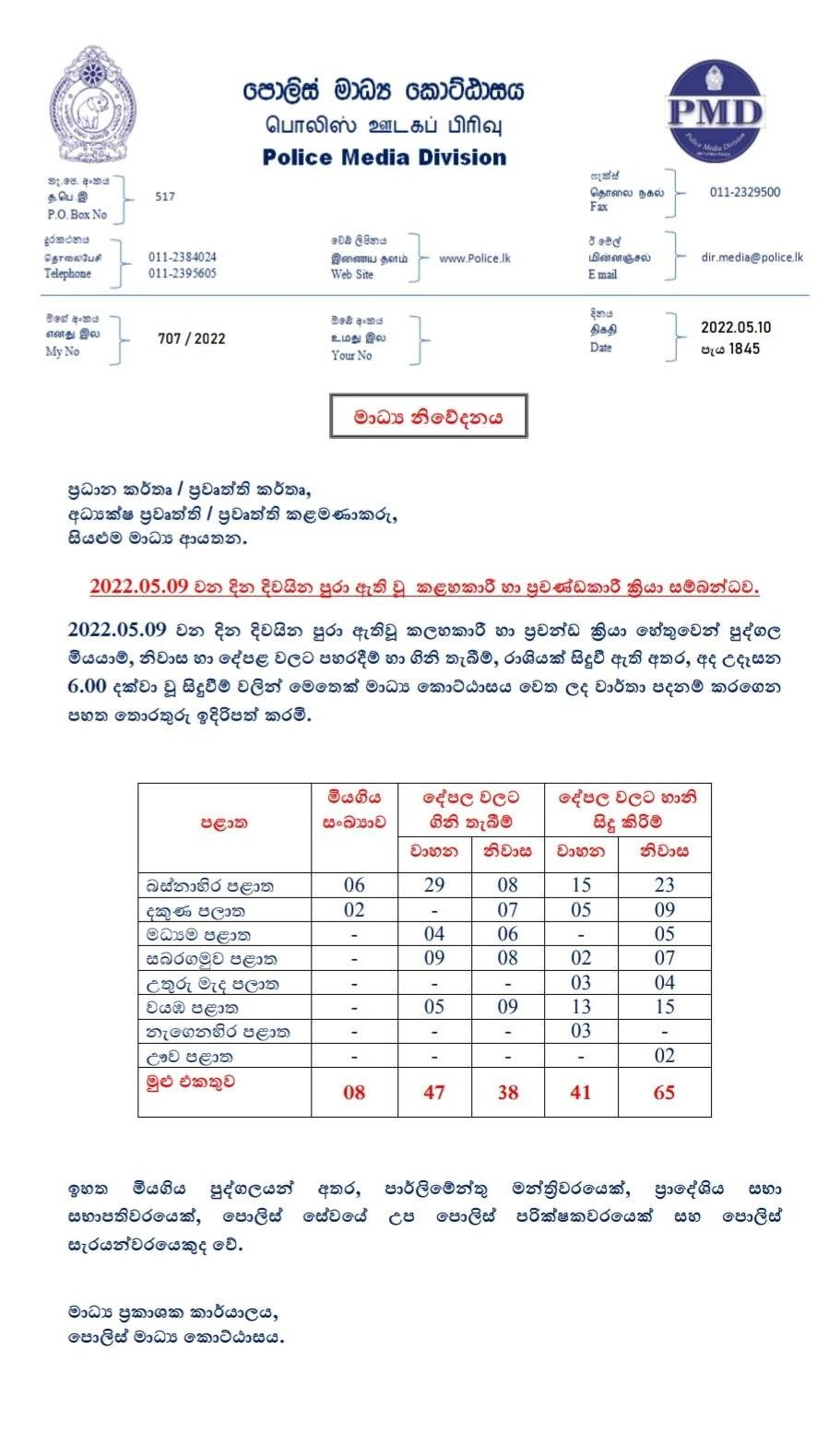 Eight people lost their lives:
Amarakeerthi Athukorala - the SLPP Polonnaruwa District MP who reportedly opened fire and critically wounded two people blocking his car in Nittambuwa, was later found dead after trying to take refuge in a nearby building
Police Sergeant Ahangama Vitharanalage Jayatta Gunawardena, Amarakeerthi Athukorala's bodyguard
Harsha Nadeeshan Jayaweera - injured in the Nittambuwa shooting and later succumbed to injuries
A.V Sarath Kumara - Chairman of the Imaduwa Pradeshiya Sabha, died following an attack on his residence
Mohamed Nafais - killed in shooting near the home of the Weeraketiya Pradeshiya Sabha Chairman
Sugath Janaka - killed in shooting near the home of the Weeraketiya Pradeshiya Sabha Chairman
Police Sub Inspector at Temple Trees - died of a heart attack when a tear gas launcher exploded during attempts to disperse crowds opposite Temple Trees
Priyantha Kumara - killed in an attack on a leading hotel in Negombo
We'd like to thank everyone whose footage and work went into this piece: the journalists, especially Daily Mirror and NewsWire, and everyone who recorded, tagged us, and otherwise participated in finding this information out on Twitter at #AttackonGGG. The rapid-fire documentation of the event was critical to this work, and the public id'ing of politicians helped immensely.
We've done our best to name the sources of the content we've used - some footage remains unattributable, owing to us being unable to verify who originally generated it. In every instance, we've cross-verified footage across multiple sources; we chose to present to you the clearest of them. As always, don't take our word for it: check out the evidence presented and verify whether the timeline is accurate.
For a stunningly clear set of images from the site, we recommend following Dinuka Liyanawatte on Instagram.
Footnotes
[1] Nazeer Ahamed and A.S. Raheem are both technically members of the opposition; however, they were both instrumental in providing the SLPP the two-thirds majority it needed in Parliament to adopt the 20th amendment to the constitution.
[2] We recommend that everyone watch this press conference. It's an eye-opener on the state of things today. Here it is in full:
[3] At the 2020 general elections, the United National Party (UNP) led by Ranil Wickremesinghe only mustered 249,435 votes (2.15%) islandwide. The UNP received only 30,875 votes (2.61%) in the Colombo District, which is where Wickremesinghe contested from, failing to secure a single seat in the district; a first for the party.
In June 2021, almost a year after the election, the party eventually nominated the defeated Wickremesinghe for the one national list seat it was entitled to in Parliament.
Long story short, Wickremesinghe does not have the people's mandate. Now more so because he has accepted the post of PM in a situation where Gotabaya Rajapaksa gets to remain President - despite thousands of people protesting over the last month at Galle Face and other places around the country for him to step down.